Beryl Wanga Itindi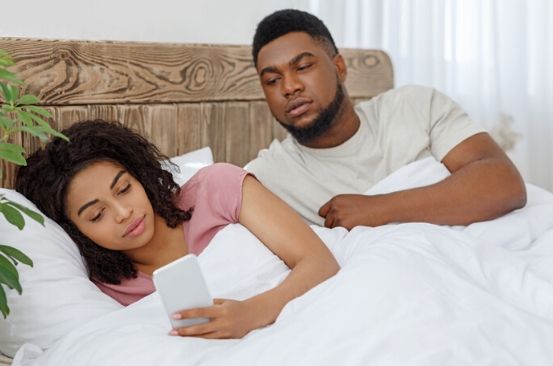 I have always wondered how married couples handle each other's phones. Do you snoop or do you just mind your own business? I am not married but I vowed to never snoop on my partner's phone even though sometimes a small devil pulls me from the comforts of my chair and drags me to his phone to snoop. I did it once sometime back and, trust me, I regretted it.
You see, even a little "hi" from a female contact, to me, looked like "I love you too". It was even more heartbreaking when my man responded to the "hi". It felt like they were about to elope and leave me with a broken heart. That's just how far my imagination goes. You see now, I have applied social and physical distancing between myself and his phone. That's the only way we will both remain sane.
I have seen people who dread their spouses because of mobile phones -- they have to spend some time clearing their phones before they get home every evening. By clearing, I mean deleting all the little 'devils' that have the potential of graduating into a complete court case. We women are known to blow some of these things out of proportion. It's really nothing to be sad about, that's how we were created. That simple missed call from a female on our husband's phone is enough to make us cause a tsunami in the house. Because of this, our husbands' phones are as clean as a new book whenever they get home.
You husbands just have no idea what it takes to cram your phone passwords or unlock patterns. We could be leaving you in the bedroom and walking towards the kitchen with our eyes facing forward but, believe me, we will still get that password if you try to unlock your phone anywhere near us. We were created like cobras, with another pair of eyes at the back of our heads.
So you can imagine how much it hurts if we use the pair of eyes to get your password and unlock your phones then find nothing! There is no way you can be walking around with no call log on your phone and just a single message from your service provider.
This article isn't only about men; it's equally about women. We have women out here who are experts at lying low like an envelope yet they are deeper than the Bermuda Triangle. Woe unto you if you slip and fall inside them. Why would you as an adult have a hard time managing your own phone? A mobile phone is private property and I believe not even your spouse should be allowed to access your phone with the aim of causing chaos.
I don't mind if you accessed their phones once in a while for a different good reason. But seriously, you cannot make someone act like a slave when next to you because of his phone. We have pushed some people to even sleeping with their phones under their pillows through the night for fear of waking up single yet they slept married with children.
I have even heard of someone who gets into the shower with their phone because of a paranoid spouse! Others switch their phones off as soon as they get home because 'prevention is better than cure'. Others have two phones, one for the house and another one that is activated as soon as they leave the house.
I think we are pushing our spouses to the edge with this phone snooping. Some of them cannot even receive a call in peace because our ears join the conversation immediately. One weekend when I called a male friend, he picked the call and responded with, "Sema Mkubwa!" I was quiet for a few seconds before it hit me that he could be sitting next to his paranoid wife. So I ended the conversation as fast as I had started it.
The following week, he called me and confirmed what I suspected. I didn't understand what that had to do with me calling him because we were not even dating! If anything, we were both working on a project and I only needed some information from him. That's when he explained to me that his wife causes chaos whenever he receives a call from a woman. I just sighed and pitied him. What kind of life is that now?