Home
/
Beth Njoroge:My life on an oxygen machine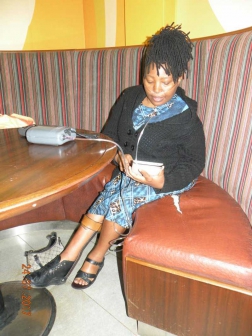 Beth Njoroge, 47, cannot survive without an electric oxygen supplying machine for more than 30 minutes. She tells Lucy K Maroncha what keeps her going
Breathing happens so naturally, and effortlessly that people never think much about it. When they are sleeping, they breathe easily, completely oblivious of what is happening in the outside world.
But for me it is a different case. My breathing costs money and is an item in my monthly budget. Most of all, I have to be alert all night. I live on an electric oxygen-supplying machine.
I am a 45-year-old career woman. I am positive that every tomorrow brings a better day. Save for the life-giving machines, I have a great life: I have a well-paying job in a major telecommunications company in Kenya, a loving family and hundreds of friends.
I love to travel a lot but since I was put on the machines over five years ago, my destinations are limited as the availability of electricity and hospitals dictate where I can go. Most people worry about WiFi or phone chargers or TV when they travel but my worry is whether there is electricity to charge my oxygen machine. That is my life!
I wasn't born with a problematic lung; that is a result of my main health problem. I was diagnosed with polio when I was only two years old. My mother tells me that I was in a hospital in Nyanza for almost one year. Polio being a manageable condition, I had to learn to live with it even as a girl.
But not before it robbed me of one of my lungs — which never developed because my back was curved — and also left me with one leg which is shorter than the other.
Polio is the mother of all my medical woes including hypertension. Living with polio and its subsidiaries wasn't a big deal but responding to health-related stigma was. It takes alot of strength, grace and patience for me to manage to narrate my health experience without shedding tears.
I was brought up by my grandmother from when I was four years old. My mother wasn't married when I was born so when she got married, she left me under the care of my grandmother.
Grandma was a great life coach. She taught me how to love and to smile even when I was in hopeless situations. It was that strength I stood with when at 40, doctors confirmed that I had grown with only one lung which was then ailing and I had to start depending on Bilevel Positive Airway Pressure (BiPAP) machine. By then, my grandmother, had already passed on but her mentorship lived on.
In a span of two years, I was put on yet another device that would clean the carbon dioxide from my systems. The longest I can stay without the machines is only 30 minutes!
My memory on how the machines became my life-partners is vivid. Growing up managing polio came with occasional different muscle pains and I had multiple visits to physiotherapists and orthopaedic surgeons.
However, no medic had ever detected that I had only one functioning lung until 2012 when I suffered a bout of pneumonia and I was unconscious for three weeks.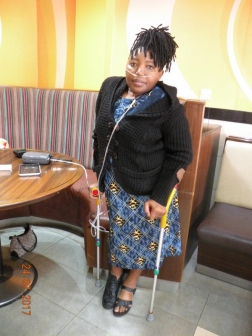 The scans and X-rays revealed that due to the shape of my back, one lung didn't develop. The healthy lung was almost completely destroyed by pneumonia by the time it was detected. Consequently, the bloodstream couldn't deliver enough oxygen to cells or remove carbon dioxide through internal respiration. That prompted the need for the machines to do what the ailing lung couldn't do.
The need of the machine was so dire that the where I had been admitted to, had to hire a BiBAP machine to keep me alive before mine was shipped in from Germany.
Unfortunately BiPAP machines are not available in Kenya and even when acquired from abroad, they cost about Sh500,000.
It also took almost 30 days to clear it at customs. My joy with the BiPAP machine was short-lived. Three years after I acquired it, doctors recommended another device to remove carbon dioxide from my system because I couldn't exhale well. This would also cost another half a million shillings. I guess if the condition of my lungs had been detected earlier, I wouldn't be dependent on machines today.
Being a polio survivor and living with only one sickly lung is just a small segment of my life. Breathing through machines and walking on crutches notwithstanding, I am as good as any other normal woman.
I am a sister, an aunt, an employee and a friend to hundreds. I purposed to excel and be an exemple to my siblings when I was still a young woman.
That is why when we moved from Nakuru to Elburgon with my grandmother and she was reluctant to enrol me in school, I walked to Marioshoni Mills Primary School and enrolled myself.
When my grandmother frantically came looking for me, the head-teacher denied seeing me but advised my grandmother that I should go to school the following day. That's how I began school in a institution where teachers helped me grow as an active child despite my physical challenge. I was 11 years old then.
I attended Marioshoni from 1980 to 1989. I repeated Standard 8 due to lack of fees. True to my willpower, I passed exceptionally well and was called to a national in Nairobi school.
I remember my childhood days with nostalgia. My grandmother was a peasant and I used to accompany her to the farm. I never felt inadequate or different in any way and neither did I see other children looking at me as if there was something wrong with me.
Marioshoni Mills Primary School was heavenly. Teachers were kind and they allowed me to play with other children.
I liked climbing trees and engaging in races never mind that one of my legs was short. My teachers cheered me on even when I came last.
Thinking about it today, maybe I expected the same treatment in high school but that was not to be. I felt stigmatised and unsupported by both teachers and students.
It was while in high school (1990-1993) that it dawned on me that I was different. Everyone rubbed my disability in my face and kept reminding me that I could not do what other students did.
What I went through is something I'd call "positive stigma" because the teachers particularly over-protected me and though they meant well, the over-protection almost robbed me of my self-esteem.
They never allowed me to make an effort and I was exempted from games and sports like swimming which I really desired to learn.
I perceived myself as incapable and had to make an effort later in life to regain my confidence. That is why today I can stand on local and international platforms to recount my story.
Though I made a few friends in the school, I still felt lonely and missed my primary school life. I remember once when we went for a fellowship at the nearby high school and all the girls went out with their boyfriends and I was left alone. That was the saddest day in my journey with polio.
That however didn't deter my willpower to shine. I had dreamt of joining university but the stigma at the school compounded with my mother's inability to pay school fees foiled my plans. I got a C-, which was unexpected from a national school. I didn't share my difficulties with the teachers because I was already infamous for having fees arrears.
My mother was a househelp and was struggling to raise my school fees. In 2012, I joined Tangaza University after saving money I used to earn from a clerical job.
After graduation in 2005, I was employed by the Government but my medical needs were expensive and the pay was not enough, so I quit and got my current job where I have been for eight years.
I have medical insurance and that is how I managed to pay for my machines.
I love family life though I cannot have children. I have dated a few men but they seem to shy away because of my disability.
I don't want a man who will pity me. I want a man who will fall in love with me regardless of my health challenges. Until that happens, I enjoy my life to the fullest and before I go to bed every night, I tell myself: "Well done girl, today has been a great day, tomorrow will even be better!"
I have a very personal life with God. I know he understands my every move, and controls even the electricity that I rely on to breathe.
Next time you open your mouth to grumble, remember I use my breath to thank God that I can afford to pay for it. Yours is free, don't use it to grumble.
What did you want to be when you were a kid?
Related Topics