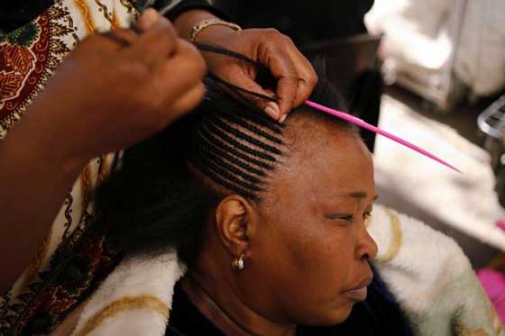 Ladies can concur with me that when you walk into a salon you walk in with every intention of coming out more beautiful. I mean you do not waste hours seated only to come out looking like what the cat brought in. Whether you are there to wash and straighten, braid your hair or have your weave fixed you expect to come out with a million dollar look and even more importantly, without a burn or scratch.
So how does it happen that a beautiful lady, lets call her Ray, walks into salon X to have her hair relaxed and walks out thirty minutes later looking nothing like a million bucks? To top her unsightly look is a livid expression that will send you scampering for cover the moment she lays her eyes on you.
The reason for her anger is the salonist refused to wash off the relaxer/chemical in time even after Ray had begged her to do so. Now, anyone who has gone through the procedure of applying chemical on their hair knows that once it starts itching you can pretend to ignore and sit through a few minutes of pain. However when it starts to burn, my friend, you will call a fire brigade. They do not call it chemical for nothing, in fact I wonder why the label reads relaxer. It is nothing near relaxing when your whole head is literally on fire.
Anyway, back to Ray. Even after she raised alarm over her hot head, the hairdresser attending to her continually assured her that it was normal procedure, it had to burn a little for the best results. All the while she was busy braiding another customers' hair. Ray had no choice but to sit through the pain, after all, pretty hurts, right?
When the hairdresser finally gave her the much needed attention, it was too late. A large piece of skin peeled off with lots of hair as she washed off the chemical. Ray's voice had since gone hoarse with all the yelling and threats she had been dishing, all she did was wince in pain as other salonists looked on.
When she looked in the mirror after drying her hair, she was far from pleased. She had lost half of her precious mane and in its place was a wound that was going to take quite some time to heal. The look on her face was priceless. After recovering from the shock, she gave the salonist a piece of her mind(mostly expletives) and stormed out cursing vehemently under her breath.
At this point you wonder what explanation the salonist had to give. Apparently all the while, she just stood there and took in all Ray had to say, maintaining it was an accident.
READ MORE
When this happens there are three things in play. One it is an honest accident. Two the salonist may be plain jealous of your mane and finally, she is paying back for snobbish treatment.
What my hairdresser told me once was quite interesting. After she was done, we had a short chit chat and she pointed out that I was not like the other customers. I probed on to see the group I was being compared to.
She added, 'Some people come into the salon and think we woke up one day and decided to be salonists, they really look down on us. One day I remember burning a customer intentionally because she was so disrespectful, sometimes the little burns are never accidents by the way.'
There you have it ladies, some 'accidents' procured at the mercy of our hairdressers may have been well planned out. While I will not advocate for this behavior, I will say this, there are people who do good by us. We must learn to treat them with respect regardless of our rank in society because truth is, we need them.
They are human and when you sit on that chair, you entrust your whole image to this human. Their output will depend on multiple factors like how you speak to them. Do you dish out orders or belittle them so that even before they start working on your head they have a heavy heart? If you give them an unpleasant time they will reciprocate it in your looks.
So next time you are at the Salon, do watch your tongue, it will save you a lot of money, hair and shame if you treat your hairdresser well.