Home
/
Trendsetters
Beauty billions: The cost of styling and applying makeup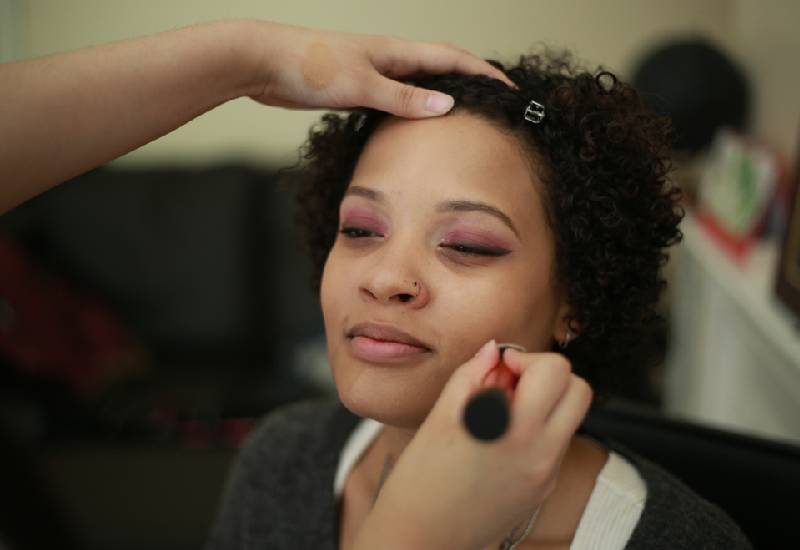 The global beauty industry is a phenom raking in billions of dollars. That is why it is not surprising that some of the youngest and newest to the world dollar billionaires' list are the likes of Rihanna with her Fenty Beauty line and Kylie Jenner with her KKW Beauty.
The Kenyan market has not been left behind and has in fact seen an unprecedented growth in the last ten years.
It grew from Sh26 billion in 2011 to over Sh100 billion in 2015, according to KPMG estimates.
As of 2017, statistics show that Kenya's colour cosmetics market was estimated to be worth Sh5.4 billion and was expected to grow to Sh6.6 billion in 2018. So much so that the beauty industry has been labelled by some as one of the most lucrative in Kenya right now.
This growth is often propelled by the fact that human beings are visual creatures and have been obsessed with beauty since time in memorial.
A person's appearance is the first thing, we notice about them upon meeting. Fortunately, or unfortunately how one looks will determine how one is treated, the opportunities one will attract and even sometimes how far how one will go in life.
A research done by Jacyln Wong and Andrew Penner found that beautiful people tended to attract higher salaries.
Further, that practices such as applying makeup and styling one's hair and clothes was a major deciding factor for nearly all of the salary differences for women of varying attractiveness.
For men on the other hand, grooming did not make as much of a difference. Hence it is understandable why for women, beauty is not just about looking good, but it is a tool, a door opener, and that is why they are willing to pay an arm and a leg for it.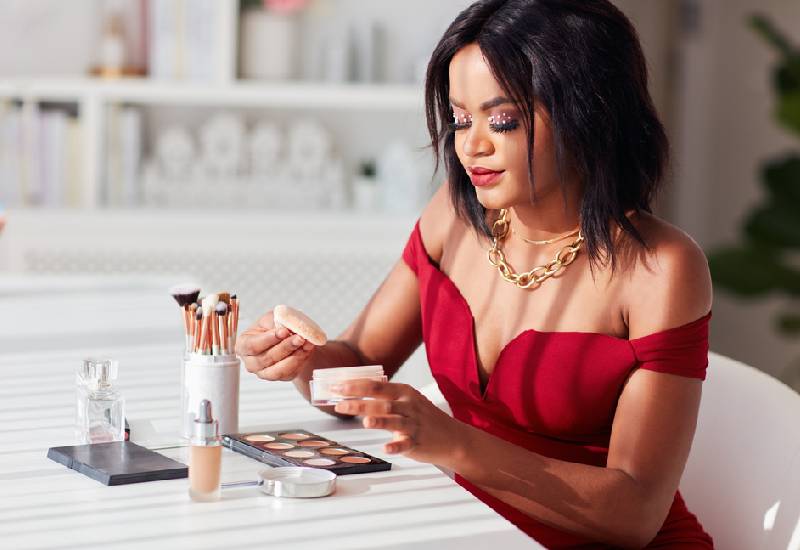 The growth of the beauty industry in Kenya can also be attributed to the rise of social media use and exposure as currently Kenya's beauty industry is heavily influenced by the modern trends in grooming and fashion internationally.
Kenyan women are increasingly using cosmetics in their daily routine including various types of fragrances and deodorants; and on top of that are willing to spend regularly on hair, nails, trendy clothing and other beauty routines.
Hence, there is a new wave of consumers seeking the latest norms and niche beauty products and services.
Interestingly enough, a recent post on Instagram by social media influencer Ivy Mugo asking her followers how much beauty costs them, elicited interesting and very illuminating answers as they gave a little glimpse on what Kenyan women spend on beauty in 2021.
With some followers claiming to spend anything between Sh8,000 and Sh30,000 on a monthly beauty regimen; to Sh70,000 on sister locs.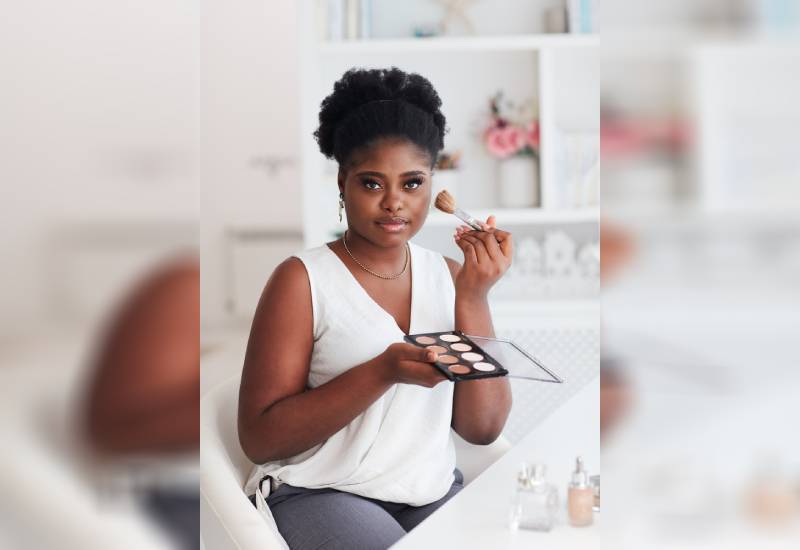 According to skin care specialist, Sonnie Kamau, who has been in the cosmetology industry for the last ten years, the reason why women are often willing to spend on beauty is because how a woman looks in 2021 matters both in her personal and professional life.
"We live in a world where how you look matters a lot, people will treat you according to how you look. Plus, when you feel beautiful everything feels better and one is more confident as they go about their life whether personal or professional."
Sonnie specialises in skin care treatment and deals with everything from acne, to hyperpigmentation, and to sensitised skin.
"Most of my clients are monthly clients and my days are usually very busy. When they first come to me, I do a consultation and come up with products that the client will need and then import them for the client. My costs are between Sh1,500 for consultation, to about Sh6,000 for treatment. There are those in my industry who charge as much as Sh15,000 and there are clients who can afford this."
Sonnie says that when Covid first hit she was very worried about business, but it actually increased. "I had new clients who were coming in because their skin was reacting to the masks. Also, I have learnt that people always want to be beautiful no matter what is going on."
Tony Airo who has been in the beauty industry since 2005, says that he has watched the beauty industry grow to the point where it is now when women are more exposed, and are now demanding niche services and products.
"When I first opened my salon, it was all about making hair which included: doing a perm, lines or braiding. Now things have changed because our clients are more exposed and having different spending capacities. The natural hair movement has brought in new products and treatment. Nails, make up and wigs have also become very popular with women. Also, we now provide spa services and even tattoos depending on a client's needs," says Tony.
Seeing the trend for niche products, Tony decided to dip his feet into the production of beauty products.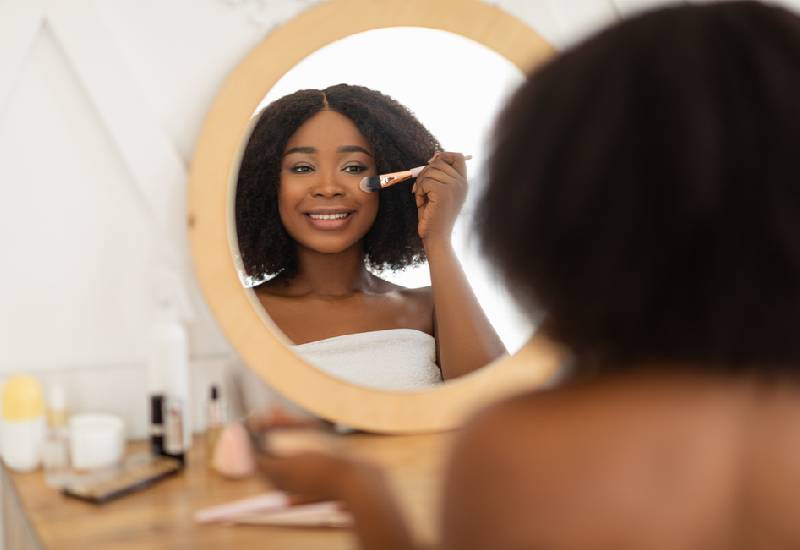 "I went to the States and was trained in beauty product production. My products include: perfume, kid's hair products, to shampoo, protein treatment, spa body scrub, moulding gel, shower gel, hair growth booster, and sheen spray. All are made locally, and my products really came through during the pandemic when salon walk-in clients were few. I believe that Kenyans have reached the point where they are willing to spend on local niche products," says Tony.
According to Tony, women are willing to spend if they believe they will get their money's worth. "I have had clients who will come in and spend Sh1,000, and others who can spend Sh10,000 in one sitting. They will do hair for Sh6,000, nails both hands and toes for Sh4,000. They are others who can even add a massage, a tattoo, and facial and other products and spend Sh50,000 in one sitting, but that is not every client. Different clients have different financial capabilities," he says.
"I try to cater for different clients. Example when dealing with wigs any salonist will tell you that it is advisable to cater to the market across different price rangers. So, when selling wigs provide wigs that cost anything from Sh3,000, to Sh60,000. However, you could also have the one-off client who is willing to spend Sh150,000 on a wig."
Dr Joyce Gikunda, who is the founder of Lintons, a leading beauty brand in East Africa, agrees with Tony on the fact that the beauty industry has grown as clients have become more exposed.
"We opened our first shop was on Mama Ngina Street within the CBD and for 10 years we sold pharmaceutical and beauty products. We then opened another shop at Hilton, and have been there for over 30 years now where we offer top of the line skincare, colour cosmetics, luxury fragrances and day-spa experience," she says.
Lintons has grown to include Lintons Beauty World with 28 shops in Nairobi, Mombasa and Kampala; Lintons Trade business exclusively distributes global brands in skin, make-up and hair care categories; and Lintons Academy that upskills aspiring beauty professionals, professional make-up artists, and therapists.
"The beauty industry today cannot be compared to what it was 30 years ago. Now, there are specialised products for unique skin types. As people become more informed, they find a need to use quality products. This is increasing the market share in the region. There is room to grow and improve; mergers and acquisitions are good for healthy competition and also this opens up room for professionalism in the industry," says Dr Gikunda.
She says that when they started Lintons, they only stocked one global brand and now they stock over 15 global brands. "Times have really changed, and this is a blessing because the world is now a global village. The internet has opened up the world for our customers. They now come to ask for new products which they have discovered online. Nowadays, we do not have to wait or travel to bring in stock. Communication is easier and faster; we procure our products online, and they are delivered within no time."
On why she believes, the beauty industry was still able to survive even during the pandemic, she says: "A person wants to feel good, smell good, look good and carry themselves with confidence whether during a virtual meeting or not. Before the pandemic, we never appreciated that the beauty industry is there to serve a need. During lockdown when physical offices were under total closure human and business interaction was moved online.
"We were therefore compelled to complement our physical shops with our ecommerce platform. Through partnerships with logistic companies, we successfully delivered products that consumers ordered. We now not only have a presence online to enhance communication, but we give customers options either to come to our shops or to order online."
Terry Mungai, the founder and chief executive of Ashley Kenya Limited, and who has been in the industry for 26 years, states that the beauty industry has changed and evolved since she opened her first salon. Ashleys has grown to include 15 Ashleys Coiffure and Spas, 13 in Nairobi, and one in Mombasa and Nakuru; and a beauty school.
"When I first got into it, going to the salon was all about meeting basic needs or for necessity, and mostly included braiding hair or doing a perm. Now, it also includes acrylic nails, professional colouring, massage, wigology, and spa experience. Also, the natural hair movement has grown, and new natural hairstyle like sister locs are very popular," explains Terry.
"I think the growth in the beauty industry is because of exposure. As our clients have grown through exposure, so have their needs. Now people come to the salon for a beautiful ambiance, professionalism, status, for relaxation and to unwind, to feel beautiful and appreciated, and to be taken care of. They do not just want to be made beautiful, they also want to be pampered, and they are willing to pay for it."
Terry says that this need to be beautiful and attractive is also drawing in men who are becoming consumers of beauty products and services.
"These days, men's barbershops are not just for cutting hair. They also get their hair washed. Others get their nails done and even get facials."
Related Topics