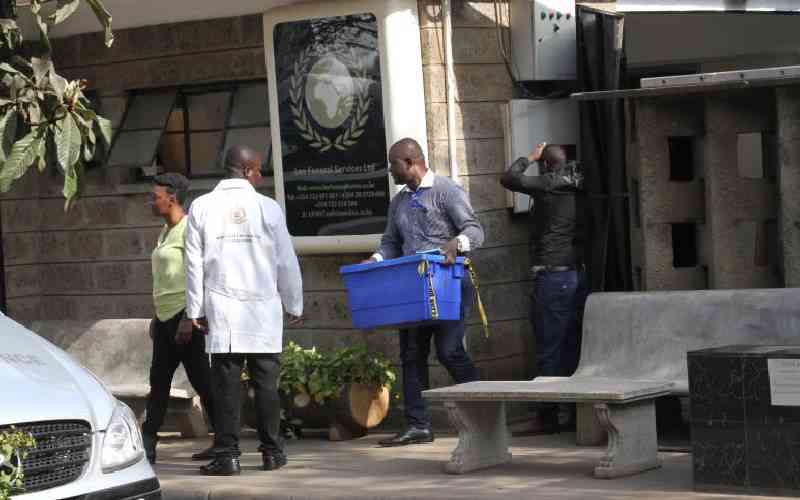 Lawyer Paul Gicheru died of a heart attack, sources who were at Lee Funeral Home have told The Saturday Standard.
However, the cause is still unknown even as the Directorate of Criminal Investigations Homicide detectives carried samples for further tests.
Those who attended the exercise in Nairobi said the exercise did not bear fruit in terms of establishing the actual cause of the lawyer's death.
The family's lawyer John Khaminwa said the exercise went well but Kenyans have to wait for results on what killed Gicheru, an International Criminal Court (ICC) suspect.
Government pathologist Dorothy Njeru conducted the autopsy. She did this in the presence of the family, DCI Homicide Unit detectives led by Martin Nyuguto and lawyer Katwa Kigen.
Kigen said Gicheru was his friend and that he was there as a representative of his family.
At the morgue, Katwa did not comment on the process. He said he could not comment following instructions from the family.
The exercise that began in the morning and took five hours was led by pathologists and homicide detectives drawn from the Directorate of Criminal Investigations (DCI).
At the time of his death, Gicheru was facing charges at The Hague-based ICC for allegedly bribing and threatening prosecution witnesses in the case against President William Ruto following the 2007 post-election violence.
Gicheru surrendered to The Hague authorities in November 2020 after evading an arrest warrant issued in March 2015.
Gicheru is said to have improperly engaged witnesses in the case against Ruto, who was then Deputy President and journalist Joshua Arap Sang, which was terminated in April 2016.
Once the government sends Gicheru's death certificate to the ICC, The Hague based court said it will close his trial file.
Court spokesperson and head of the Public Affairs Unit Fadi El Abdallah said the court is awaiting confirmation by Kenyan authorities to terminate the trial.
The matter was at the trial Chamber III judge Maria Samba's desk for a judgment on whether Gicheru was guilty of witness tampering and bribery.
Abdallah said ICC has no powers to settle disputes involving dead suspects. At the same time, while speaking to the International Commission of Jurists mid this week, Abdallah said the court is in contact with Kenyan authorities.
However, if Kenya is slow in confirming Gicheru's death, Justice Samba might deliver her verdict. Abdallah said time is of the essence in the process. "Confirmation of death is for the national authorities," he added.
"According to the ICC legal framework, jurisdiction cannot be exercised over a deceased person. Upon receiving confirmation of an accused's death, the ICC Chamber would then issue a decision to close the case. The time necessary for that purpose depends on the receipt of the confirmation or evidence on his death. The court is in contact with the national authorities in relation to this matter," Abdallah said.
Related Topics