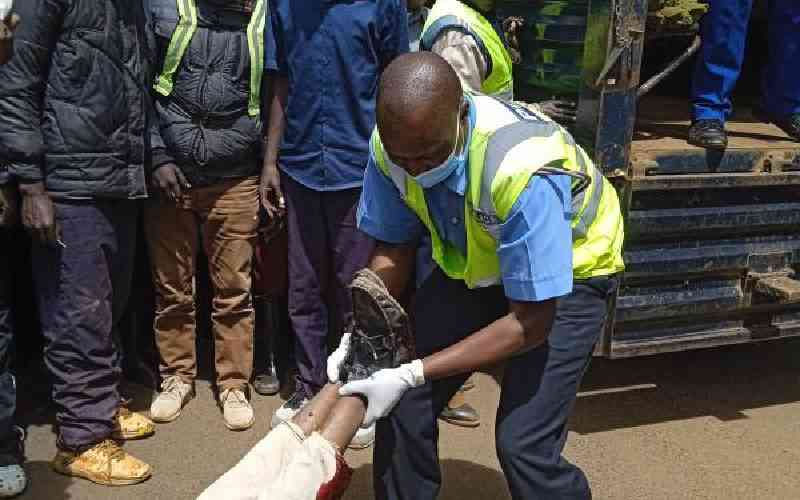 Pedestrians remain the highest number of fatalities on Kenyan roads compared to motorcyclists and passengers, latest data shows.
A report by the National Transport and Safety Authority (NTSA) indicates that by September 26, 1,269 pedestrians had lost their lives on the roads compared to 1,144 in the same period last year.
Motorcyclists were second at 941 compared to 912 last year then passengers at 634 compared to 527 last year.
Pillion passengers and drivers tied at 324 compared to 326 and 314 respectively last year as pedal cyclists tailed at 49 for 2022 against 63 for 2021.
This means a total of 3,541 road traffic deaths were witnessed in nine months this year compared to 3, 320 in 2021.
Last year, more pedestrians died on the road in July at 432. January had 354, February (356), March(312), April (352), May (399), June(383), August( 395) and September 337.
For this year, July also led again with 487 followed by January at 433 and August at 423. June had 373, May (372), April (375), March(372) and February(375).
John Cheboi, Head of Corporate Communication at Kenya Urban Roads Authority(KURA), said drink driving is the main cause of accidents involving pedestrians crossing the roads.
''Also, pedestrians who drink underestimate the speed of vehicles thus being killed by hit and run vehicles,'' said Cheboi.
''Some Kenyans are just hard-headed and do not want to use footbridges but deliberately compete with speeding vehicles on roads. We one day along Outer Ring Road arrested about 300 pedestrians for not using footbridges,'' Cheboi added.
A spot check along the road at Pipeline and Fedha bus stops reveals recklessness of pedestrians who cross the roads dangerously.
The same is witnessed at Fedha stage on the opposite side near Kenya Railways station.
Here, touts compete for passengers coming from Fedha and Kwa Ndege estates, oblivious of the dangers they are exposing themselves or passengers to.
''This stage should be removed so that passengers use the footbridge. They can board vehicles at Stage Mpya because that is where the footbridge ends,'' said John Njuguna, a fruit seller.
At Tassia stage, there is no footbridge and people from the estate heading towards Donholm are exposed to twin dangers.
They have to first cross the two-way feeder road, pass the main road that goes towards Taj Mall area to the lanes that go towards Donholm.
Kware Stage is another dangerous place. Though there is a footbridge, pedestrians use the long footbridge that takes one to the other side of Kware stage to board a matatu towards Donholm.
Luckily, those from Pipeline estate, Avenue Park and Tumaini estate have a service road near the estates that passes near stage Mpya.
NTSA Director General George Njau said pedestrian deaths and injuries, like any other road traffic crashes are both predictable and preventable.
''Risk factors associated with pedestrian safety relate to driver behaviour and failure to use available facilities such as sidewalks and pedestrian crossings,'' said Njau.
He added: ''Motorists contribute to pedestrian fatalities in actions such as distracted driving, speeding, drunk driving and inexperienced driving, among other risk factors. These, coupled with delayed post-crash care or first aid, thwart interventions to save pedestrian lives in the event of a crash.''
But pedestrians say some footbridges are poorly designed and thus not convenient to use.
''Why should one walk all the way from this side to the other side to get vehicle to town when I can easily risk to cross the road and board it so long as I am careful?'' posed a passenger.
According to Chris Kost, a transport planner with Institute for Transportation and Development Policy, there is need to ensure all streets have high-quality walkways, cycle tracks, and pedestrian crossings well marked.
''Footbridges should be avoided because they are inconvenient and increase walking times. Instead, all crossings need traffic calming or signalisation to manage vehicle movement.
He added: ''We also need to ensure that people travel at safe speeds of no more than 50 km/h on urban streets," he said.
Related Topics