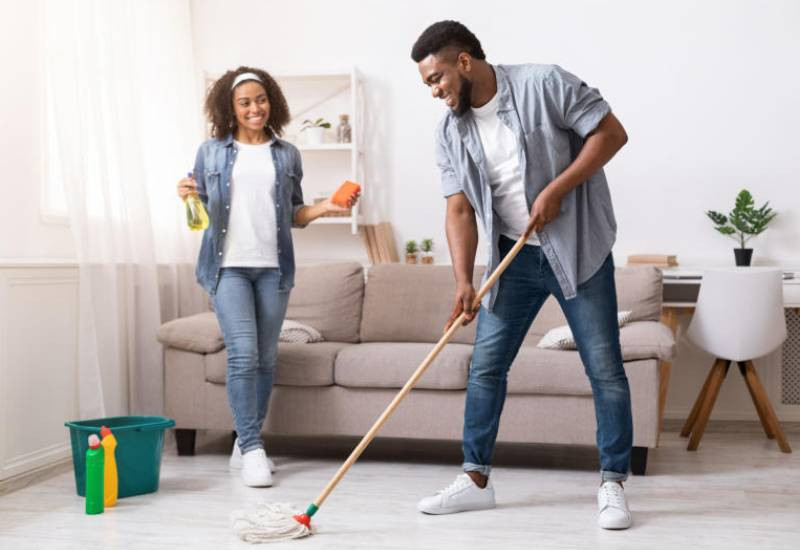 Hi Chris,
I've always encouraged my husband to help me with the housework. And he does! He's really great and does loads of stuff in the house.
I really love him for it, but somehow something's going wrong. Our sex life has faded away completely. It's almost as if we're so nice to one another that we've become boring.
How do we get the spark back?
Gone Flat
Chris says,
Hi Gone Flat!
I'll probably get endless criticism for saying this, but when husbands do the things their wives say they want help with, like cleaning for example, then the couple's sex life often does go flat.
When women concentrate on the more female chores, and their husbands do the more masculine things, then everything's fine. The one exception seems to be cooking! A man who's a great cook can be a real turn-on.
It's as if males doing female tasks turns off something very primitive in our brains. While with a more traditional division of labour, both husbands and wives have a much better time in bed.
So I'm sure you really love your husband for helping. But are you really aroused by a man doing dishes? Because what makes for good relationships doesn't necessarily drive lust.
In fact, we're often turned on at night by exactly the same things that we'd hate during the day. A woman who wants her husband to take charge at bedtime might well say that he was being controlled in broad daylight.
So it seems like the fewer gender differences there are in your marriage, the less sexual desire you'll feel. Everything else will be great, but the sex will be lifeless.
This means that the sexes are not as interchangeable as they seem. And the traditional roles are more exciting! OK, we're talking averages here, so no doubt there are women who think that watching their husbands making the beds is really sexy. But not many.
Clearly, husbands should help their wives, and wives should help their husbands. Because that's what good spouses do. But there's a delicate balance to be struck. Because having lots of passionate sex is a surprisingly important part of being married.
It's amazing how much it brightens up both your lives, improves your creativity, makes you look younger, and helps you get along and to feel loved and content.
So it may go against your feminist principles, but you'll have more fun in bed if you encourage your husband to stick to more masculine chores. Especially the ones that show off his muscles and make him sweaty!
All the best,
Chris
Related Topics