Home
/
Living
Woman in awe after president held her baby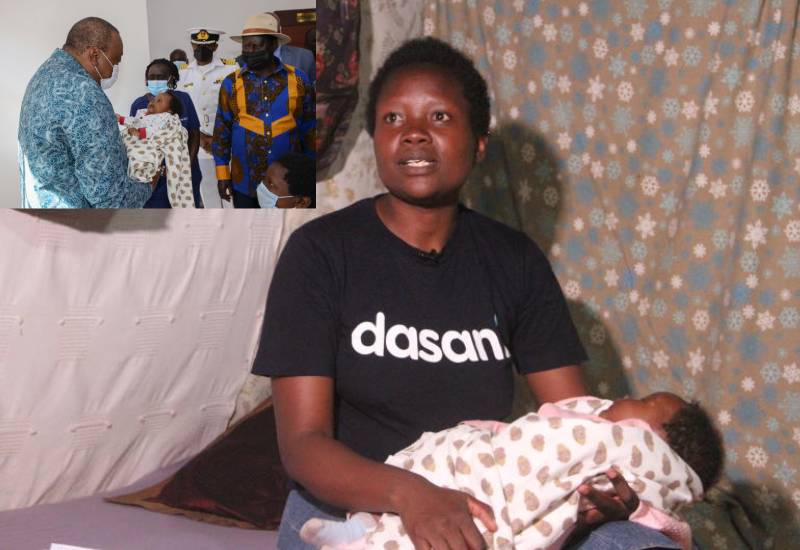 The last thing on Eunice Liavuli's mind when she took her baby to the new Kibera Level Three Hospital for immunisation on Wednesday, was meeting President Uhuru Kenyatta.
Yet that is exactly what happened. During their brief encounter, the president chatted with the young mother and then cradled her two-month-old baby, Shaisly Imbuhira.
"I had just entered the consultation room with my baby, and she was being attended to when President Kenyatta walked in. I didn't know what to do. I thought of standing up as a show of respect. I also felt like I should walk out because I was not part of the president's entourage. I didn't know what to do," Liavuli said during an interview with The Standard at her Kibera home.
And while she was still at a loss, ODM leader Raila Odinga walked in, followed by Nairobi Metropolitan Service (NMS) Director General Mohammed Badi. Liavuli said it seemed like a dream, to interact with people she only sees on television.
"President Kenyatta stood in front of me and smiled. He gave me a fist-bump and put his hand on my head. I could not believe I was interacting with the president. I was shocked and excited at the same time," said the mother of two.
The moment became even more fascinating when Uhuru asked Liavuli to hand him the baby.
"He also asked me the baby's name and age. For my baby to be in the president's arms was too exciting. It was the first time I was seeing President Kenyatta face-to-face," says Liavuli.
She added that: "I was tempted to whisper something to the president but I was scared. I wanted to thank him for the new hospital but he was surrounded by so many people.
"If I had the chance, I would also have asked him to help me get a job or start a business so I can raise my two children with ease," said Liavuli.
She became the talk of town after her chance encounter with Uhuru. Liavuli's photo with the president holding her baby also went viral on social media.
"Many people called me to say they had seen my baby in the news being held by the president, it was a good experience for me," she said.
Uhuru and Raila were in Kibera to commission two new hospitals as part of ongoing efforts by the national government, through NMS, to increase access to health services for city residents.
The president said Kibera Level Three Hospital and Undugu Highrise Hospital would help decongest Mbagathi and Kenyatta National Hospital.
He said NMS had completed nearly half of the hospitals it is building across the city's 17 sub-counties, with most located in informal settlements and under-served neighbourhoods.
Related Topics