Home
/
Health
I want people to talk about menstrual disorders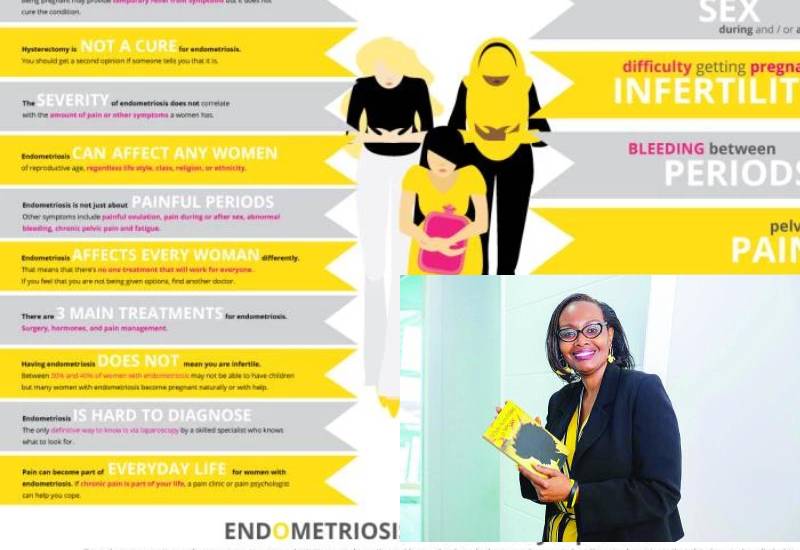 As an adolescent, Doris Murimi assumed the pain she experienced during ovulation and menstruation was just a 'bad period' and she was ashamed that she had a 'low threshold for pain' compared to other girls.
She tells Caroline Njoroge how getting an endometriosis diagnosis when she was 45 changed her life and why she wants everyone, not just women, to know about the condition
For 30 years Doris Murimi, suffered heavy, prolonged and painful menstruation and a host of other symptoms without knowing what was wrong with her. Her journey to getting a medical diagnosis was characterised with shame, humiliation and depression.
Only when she was 45 did she finally get to know she had endometriosis, an incurable disorder where tissue similar to the lining of the uterus grows outside the uterus, most commonly causing pain and menstrual irregularities.
"I started experiencing symptoms with my first period. I'd be in pain during ovulation and then again during menstruation, and the bleeding would be heavy and prolonged. I'd have pain in my abdomen, lower back, and pelvis. I just thought I had bad periods," she says.
She was in boarding school at the time, and the fact that the other girls didn't seem to experience such excruciating pain made her feel ashamed thinking she had a low pain threshold.
Her mother took her to four different gynaecologists who only checked for fibroids (growths in or on the walls of the uterus) and pelvic inflammatory disease, an infection of the female reproductive organs. It wasn't the standard then to check for endometriosis.
"Every time, the tests would turn out negative at which point they'd tell me to wait until I had a baby and then the period pains would disappear. Coincidentally, my mother also used to have bad periods and, after she had me, she got better. So by the time the fourth doctor said the same thing, she got convinced and told me to be strong," Doris says.
In college she went to see yet another gynaecologist. "I was in so much pain during an exam and she told with contempt that if I couldn't even endure an exam, how did I think I would endure childbirth. She said it with so much contempt that I never went to see a gynaecologist for another 20 years.
I was so ashamed and I knew I wouldn't put myself through that again. I simply continued taking painkillers and accepted that this was my life. The next time I saw a gynaecologist, when I was 37, was for a pap smear in 2006," Doris narrates.
Take a quick survey and help us improve our website
Take a survey
Turning point
In 2012, Doris's condition got worse. "My periods came and didn't stop. I'd have them for 20 or 25 days, get a short break then they'd be back. I went to see the gynaecologist I saw for the pap smear who put me on medication to try and stop the bleeding," she narrates.
"All through to 2014, we were focused on managing and trying to stop the unexplained bleeding. He suspected fibroids but that turned out not to be the case at the time although I later developed fibroids. I became anaemic and it took nine months for my blood levels to be restored."
It wasn't until 2014 when investigations showed that she had Stage IV endometriosis, when the disorder is at its most severe stage. The diagnosis brought relief, but only so much. She was still in pain and the bleeding hadn't stopped.
She had her first surgery in 2015 to remove endometrial growths. Her periods disappeared for nine months and then they came back worse than before.
"This time the pain was crippling and the bleeding got worse. I'd bleed for 30 days, followed by a little spotting, then I'd start bleeding again. The medication I was on came with bad side effects and I lost a lot of weight. I had a consultancy firm and had to stop working. I couldn't lie horizontally because of severe discomfort," Doris says.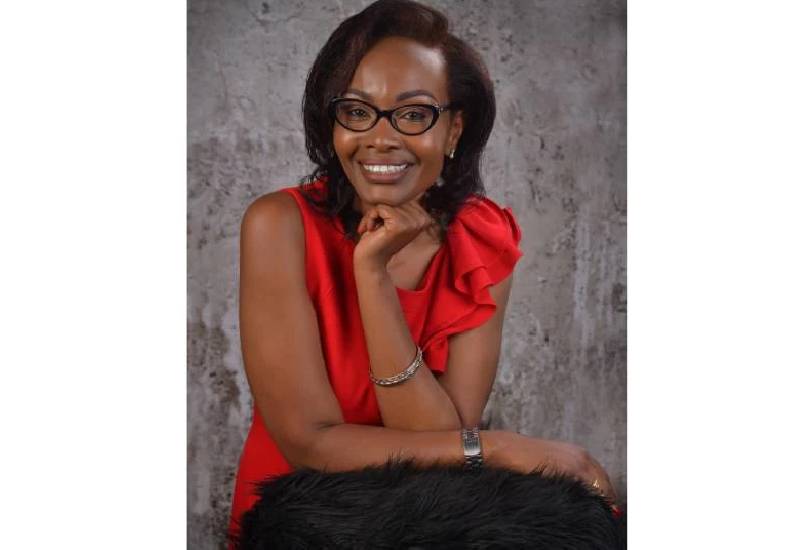 During that time, Doris says she learnt the art of sleeping while standing and leaning against a wall.
"I went into depression. Nobody understood my pain. I'd have fainting spells and low energy. Even when the doctor recommended surgery to remove my uterus to stop the bleeding, I said no. I was too weak. Something in me told me I wouldn't wake up from the operating table," Doris explains.
Her doctor later told her about a new medication that some women were responding well to it while others weren't. Doris took the chance, and she turned out to be part of the population that responded well to it.
"The bleeding reduced from 30 days to around 14 days and, by the time I took it for six months, it had reduced to 10 to 12 days. The bleeding too became lighter and I was able to manage the anaemia and improve my energy levels. The quality of my life improved. I got a long-term consultancy gig and even changed my wardrobe. Whereas before I would wear all black, I could now wear bright colours," Doris says.
She had another surgery in 2017, an abdominal myomectomy to remove fibroids as well as an ovarian cystectomy to remove a large endometrioma.
"Thereafter, I went into menopause and, besides some few unexplained episodes of bleeding, I have exhibited no endometriosis symptoms over the past 3 years," she says.
Spreading the word
Her experience led her to start the Endo Sisters East Africa Foundation with the mission of sharing information, educating and advocating for women and girls suffering from endometriosis and related ailments.
Through the foundation last year, they successfully advocated for the inclusion of menstrual disorders education into the Competency-Based Curriculum. As the Chief Executive Officer of Endo Sisters, her interactions with the Ministry of Health and the Ministry of Education led to the idea of her new book When Something is Wrong: Understanding Menstrual Disorders.
The book aims to advance awareness of menstrual disorders outside the classroom through real stories, research and case studies.
"I hope the book to be a conversation starter between adolescents and their parents or guardians. I wanted the most simplistic understanding of menstrual disorders and to advocate for early medical consultation should a girl or a woman experience abnormal periods and associated pain. Early diagnosis is one of our primary aims, and menstrual disorders awareness can help in the timely provision of appropriate medical interventions," Doris says.
"I hope the book will also open up the period poverty discussion, so that we're not just thinking about menstrual hygiene and issuance of sanitary towels but also talking about menstrual disorders," she concludes.
Related Topics