Home
/
Living
'I still care about him' says woman whose husband left for 47 years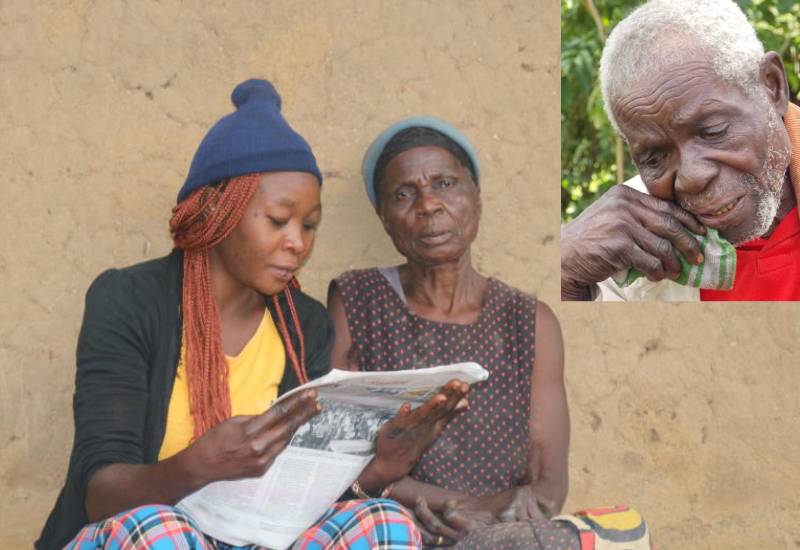 For Elimina Mutole, her relationship with Peter Oyuka was an affair that was ignited by love at first sight. The two lovebirds met at a nocturnal funeral vigil on December 12, 1963, and the following day, they were husband and wife.
Elimina was 15, and Oyuka 26 when they met. Oyuka went ahead to cement their relationship by paying Sh2,000 and two cows to Elimina's parents as pride price.
"We got three children, even though one later died," says Elimina. But even as the couple settled into marriage, little did Elimina know that her husband, the love of her life, would later abandon her and their children for 47 long years.
Now 73 years old, Elimina says she was quietly taking her lunch last week when she heard news that her first husband and father of her three children had returned to his home in Makale village in Malava, Kakamega County.
Okuya, now 84, went back home sickly, poor and full of regret. He was apparently reunited with his family through social media.
It was his first-born son, 56-year-old Aggrey Osanji who saw a post of his father on Facebook, by someone who indicated that the old man was looking for his family. On seeing the post, Osanji traced his father and later brought him back home.
And now, his once youthful wife Elimina, whose body has bowed down to the ravages of time, has to decide whether to take her husband back after his 47-year sojourn.
"He may have neglected us, but he was the husband of my youth. I still care about him. It is not easy for me, learning that he is critically ill," said Elimina from her Naluchira village home in Navakholo Sub-county.
She adds: "I felt so much pain, learning of his suffering, especially when I remember the days we spent together as husband and wife, the good memories we shared. I could not withstand that pain. He was loving and caring, only that I did not understand why he abandoned us."
Elimina says Oyuka left for Nairobi in 1970, after seven years of marriage. He told Elimina and her co-wife and their children that he was going to work for a construction company. By the time Oyuka was leaving, his second wife, too, had two children.
Elimina says when life became unbearable, she decided to go back to her parents, along with her children. Her co-wife also left.
Five years later, she re-married and moved in with her second husband. They later got two children together, although the man later died. Elimina says she had visited her children in Malava in 2002 when she bumped into Oyuka.
"He told me he had come to see the children. He pleaded with me to come back to him," says Elimina. However, she declined the request and told him she had re-married.
And September 21, as he walked back to his home, only a few individuals could recognise Oyuka.
The old man was informed that his wives had long remarried. He was happy that his family had accepted him back, but disappointed that his wives had left.
Elimina now says she is not sure she can get back with Oyuka, but is thinking about it. She says she feels sympathy for him, especially now that he is ill.
"When he left, I was a strong woman. All I wanted at that time was to be pampered and shown love. However, he left and cut off communication. He has resurfaced when I am also old and ailing. I can't even see properly. I will need to think deeply about whether I can go back to him," says Elimina.
Her daughter, Martha Salano, says she will support her mother if she decides to reunite with Oyuka.
"That will be her decision and I cannot stand between them... As a family, ours should be to support them in whatever decision they make," says Salano.
Related Topics