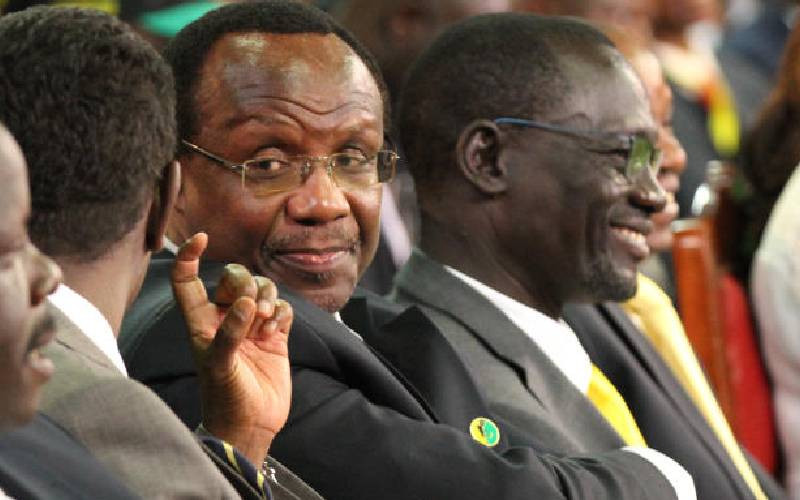 State House's top economic adviser David Ndii has punched holes into previous governments' infrastructure and manufacturing-led economic growth model.
Mr Ndii says the model popularised by the late President Mwai Kibaki's and retired President Uhuru Kenyatta's administrations does not guarantee economic returns and removal of the poor from poverty.
Mr Ndii in a newly-published paper backed by, the Carnegie Africa Program, based in Washington DC, argues that successive State plans to increase the capacity of the country's manufacturing sector by building new roads and railways and beefing up electricity generation have been futile and do not guarantee adequate economic growth.
His piece was written while he was an independent analyst before joining the new Kenya Kwanza government, according to a disclaimer on the research. He instead argues that the government should take advantage of the country's arable land and cheap labour to instead invest in agricultural production for assured economic growth.
"Over the past few decades, several low- and middle-income economies in Africa and elsewhere have sought to turbocharge growth by adopting an export-led economic model premised on heavy investments in infrastructure and building up domestic manufacturing capacity," writes Mr Ndii.
"But this strategy has often not produced the economic gains that have been promised for a variety of reasons. The continued emphasis on infrastructure investment fails to account for the fact that even those African countries that have invested a great deal in infrastructure continue to lag other countries in Asia (like Bangladesh) in key manufacturing sectors like textiles regardless of infrastructure quality."
Mr Ndii is among a group of economists and experienced technocrats recently appointed by President William Ruto to help steer the battered economy and implement the bottom-up economic model touted by the ruling Kenya Kwanza administration as the panacea for the country's economic woes.
President Ruto's economic blueprint emphasises empowering the economically underprivileged through what he earlier called the "bottom-up economic model."
Dr Ruto, who was elected on a platform to grow jobs and lift the poor out of abject poverty, has promised to support the establishment of agro-processing industries for farm inputs such as animal feeds and fertilisers.
He has blamed the current food shortages on the previous government's alleged failure to implement food security policies under former estranged boss President Kenyatta's Big Four agenda. Dr Ruto said he will scale back spending on mega roads, rail and energy projects, rein in debt and pump more money into small businesses.
The country has been spending massively on infrastructure projects, a trend that Mr Ndii argues is not sustainable.
"In addition, this approach overlooks the fact that African countries do not have the same comparative advantages as the Asian Tigers that perfected and popularised the export-led growth model. While those Asian countries had an abundance of low-wage labour, wages in Africa are typically higher than those of other countries at comparable development levels," argues Mr Ndii.
He was tapped by Dr Ruto to be the chairperson of the President's Council of Economic Advisers alongside Augustine Cheruiyot (Senior Adviser and Head of the Economic Transformation Secretariat), Mohammed Hassan (member, the President's Council of Economic Advisers), and Nancy Laibuni (associate member, President's Council of Economic Advisers).
They will be part of a "dream team" of advisers who will be called upon to help the new administration fulfil its pledges to create jobs and improve incomes.
The team will work closely with former Central Bank Governor Prof Njuguna Ndung'u, who is now the Finance Cabinet Secretary to steer the economy through rising inflation, a heavy debt burden, and drought.
The new team faces the uphill task of helping the Ruto administration stabilise government finances and bring surging living costs under control. President Ruto created a new structure of government that includes economic and budget-focused offices domiciled at the State House, underlining his bid to have a tighter grip on the budget-making process.
They include the Office of the Council of Economic Advisers, the Office of the Fiscal Affairs and Budget Policy, and the Office of the Economic Transformation.
The new offices to be domiciled in the presidency will help the new administration oversight public finances and expenditures and ensure fiscal discipline.
Related Topics