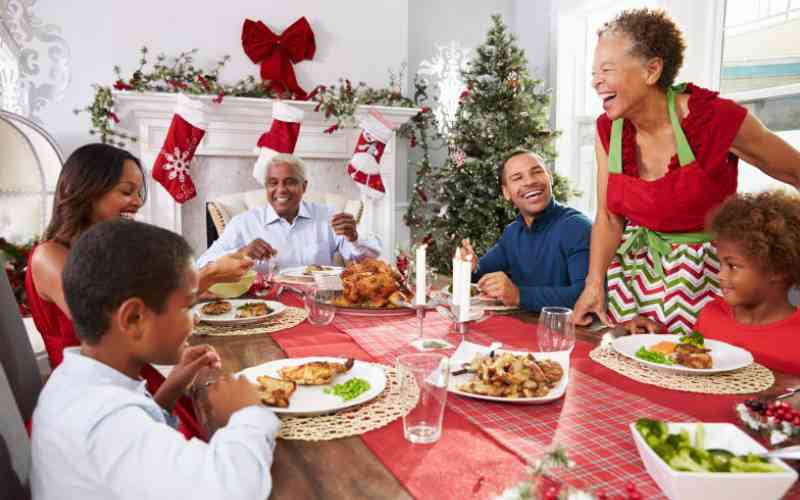 This week, Kalasha award-winning short film Christmas Love has been enjoying a watch party in Nairobi as the holiday season starts to pick in the Kenyan capital.
The film is a heartwarming story about the struggles of a man trying to balance his time between his family, a lucrative career and his waning faith. With help from the most unexpected place, he has to make hard choices as he encounters the true reason for the season.
Away from old traditions, Christmas is no longer the same for this man and his family, a true picture in most families that are now struggling as lifestyles and priorities change in modern times.
What happened to families doing tonnes of groceries shopping, getting new Christmas clothes and travelling upcountry to be with grandparents and everyone along the bloodline? Times when nephews and nieces would have their aunties spoil them as they got to know the rest of the family members. When the PlayStation and the bike ride would be replaced by a gathering together at the village church and a walk at the muddy family farm.
As much as the feeling of being surrounded by all those loved ones is something no one would want to wish away, the idea of enjoying the Christmas holiday around aunties, uncles, grandparents and the lot is slowly fading away.
FOUR-DAY AFFAIR
It is an issue that has split Alex Okello's family in the middle. A tour operator, the 40-year-old businessman and his 34-year-old cabin crew wife have two children who are 10 and 12.
A modern-day nuclear family residing in Nairobi where most of their friends also live, the Okello's have always attended an annual family Christmas gathering comprising of their extended household in Western Kenya.
It is usually an elaborate four-day affair that involves intense planning, time and financial investment.
Last year, Okello did not attend the family party. Neither did his wife and children. With the tourism industry booming back after the Covid-19 economy lull, his tour operator business had just picked up with bookings to Masai Mara and the Coast spread across the season and through to the New Year. Though his cabin crew wife had a free Christmas holiday, the plan this time round was to spend time with their family friends, a family that runs a ranch in Kajiado. They gave the family gathering a wide berth.
It wasn't just them missing the usual family-significant celebrations. Okello's sister, a single mother of an 18-year-old son was away at the luxurious white sandy beaches of Maldives. It has been a holiday on their bucket list, a December deal she always forfeited because of the family get-together.
Amidst fears of being viewed as a rebel and a likely backlash from their ageing parents who always use the gathering to bless their all-grown children and the springing grandchildren, the break of the tradition ushered a fresh conversation during the gathering on the reality of its sustainability. This year, things have changed.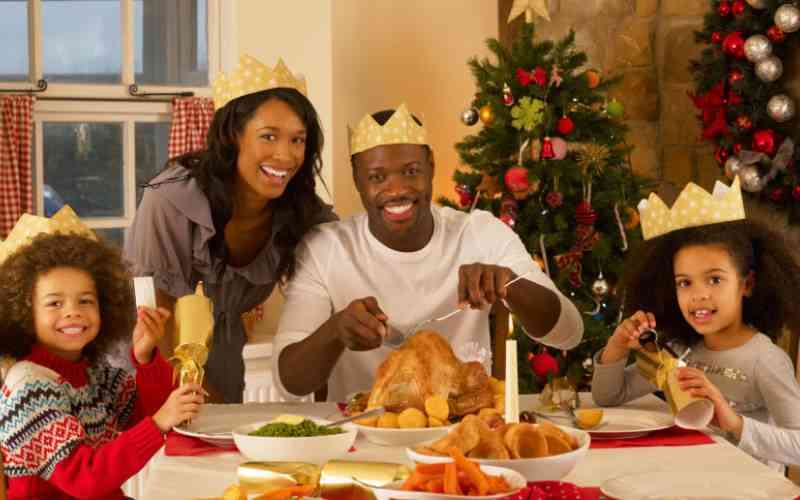 CHANGE OF WIND
A month ago, the siblings had their end-of-year planning meeting where they agreed to fly their parents to Nairobi and host them for a holiday treat, a moment they will seize to share family dinner, make thanksgiving and exchange gifts.
As the parents get treated to a trip to Diani with the full services of a tour operator, an expense that has been catered to by the children, the siblings will for the first time enjoy their newfound freedom to plan their holiday season according to their wish. It is a reprieve, a change of wind that redefines the Christmas holiday season in modern times.
There is no denying that at the convergence of Christmas holiday celebrations and family rests the foundation of tradition where the extended family and feasts rise to the occasion. Whether it is a reunion upcountry where mbuzi choma happens or the toasting of wine and exchanging gifts around the Christmas tree, the moments are always magical.
And even though this is a culture many have grown with having been practised since time immemorial, the pressure to maintain such ties has gotten many to give in to the stark reality of the times. The reasons for the change are unique and diverse, propelled by different family situations.
"Growing up, we always used to travel upcountry for Christmas where we would join our grandparents, uncles, aunties, cousins, nephews and nieces for celebrations. We don't travel upcountry anymore. Our grandparents passed on and our parents live here in Nairobi since we are all grown, everyone always seems to have their holiday plans. We pick a day to have a family holiday lunch or dinner at our parents' residence for thanksgiving after which everyone goes on with their plans," says Eve Maina, a 24-year-old business executive.
"My fiancé and I have planned to spend the season together with a one-week holiday trip planned for Dubai. This does not mean that I do not love my family. It is just the reality of the times. As much as mum and dad would like me to be around them as their last born, I cannot do so as I am a grown-up who is entitled to live life as they wish," says Eve.
According to her, some holiday family practices will have to die naturally with new generations dictating what is good for them according to changing lifestyle trends.
PURCHASED PRESENTS
Elsie Mwaisakeni, who got married to her long-term boyfriend Kevin Musyoka, this year, will for the first time have her Christmas celebrations outside her father's family setting. The couple has been discussing holiday plans with a dilemma of keeping their two sets of parents happy.
While Elsie's parents would wish she takes her new husband to Taita Taveta where the parents reside, Kevin's parents have been keen to have him introduce the new member of the family to the rest of the homestead as they await to celebrate her.
"As a new couple, we honestly find it tricky balancing the act. There is so much expectation from our in-laws and everyone around our families, yet we also have to keep the focus on our plans as a couple. We are also trying to be clear in our mind that we are an independent family that has to run its plans," Elsie tells Eve magazine.
"As much as we have purchased presents for our parents and have the best for them at heart, we might not have as much time with them as they would probably wish," says Elsie.
Elsie says that ordinarily, she and her siblings would drive to Taita Taveta to their parents' where they would all enjoy Christmas. It is something they would traditionally do over and over. Like her, two of her siblings are now married with children and are finding it hard to keep the old tradition. She says the conversations during family meetings have been tough with the new shifts becoming inevitable.
"We all want to keep those old values. Our parents still want to see their grandchildren and be part of them as they grow. There is probably a need to have honest conversations about why things might not remain the same. There is also a need to spare time to keep the family bond even if this does not happen around Christmas time," says Elsie.
For some, the issue of holiday visits comes with challenges bordering on culture and traditions. Koome Mwiria* comes from the Meru community where one is not allowed to spend a night in his father-in-law's house. And as much as he would not mind sharing some Christmas holiday time with his in-laws so their two children can bond with the rest of the larger family, his luxury to do so is limited.
Koome's wife on the other hand has kept a strong bond with her family since she got married to Koome seven years ago. Thus, the couple has an agreement that every alternative Christmas, she visits her parent's family.
"Since traditions are that he cannot spend a night inside my father's, his father-in-law's house, he usually drives me and the children home where we share Christmas Eve before leaving us behind for several days. During such times, I can say we have separate plans as he can end up visiting the other family back in Ukambani. Still, then, it remains a thorny issue as his parents will always question why the children and I did not accompany him," says Koome's wife.
Monumental moments can also change how we treat the holidays. It could be a divorce, the death of a loved one or even family differences.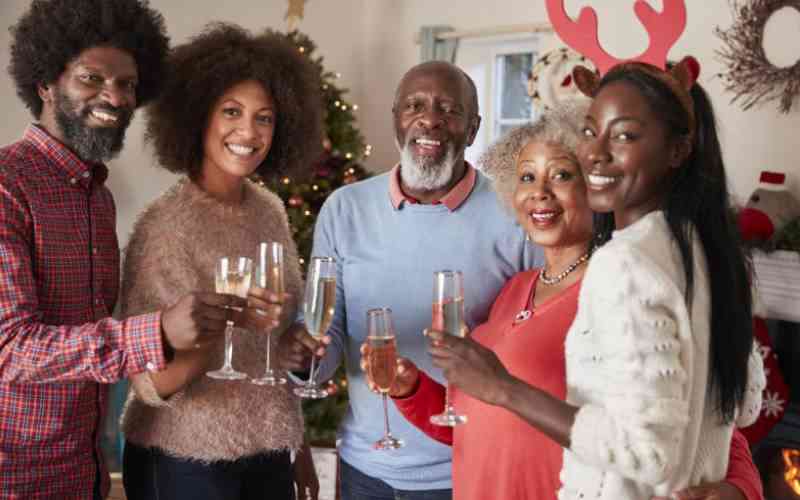 DARK THOUGHTS
Tabby Mwende* (not her real name) lost her husband four years ago and the relationship between her and her in-laws has not been rosy. To make it worse, the timing of Christmas, which happens to be the season the husband died is a dull moment that brings with it gloom and dark thoughts.
"I have found it hard to spend the holiday at my in-laws since. I opt to spend time with a close friend or my brothers and sisters. I no longer plan for a big celebration as I used to do when my husband and I would lead those family feasts. Times have changed for me," she says.
Trying to please everyone in your care for them during the holidays by devoting hours and days of visits and being together can be overwhelming. While the challenges of adjusting to the realities of an expanded family and changing priorities remain real there is a need for understanding from everyone why these changes are necessary.
Gabriel Gichuru, a 68-year-old is a retired civil servant. Together with his wife, ditched family holiday festivals and traditions years ago after they had their firstborn. They would stay at their South C, Nairobi, residence and invite any of their relatives or friends who would be available for the Christmas feast.
As much as Gichuru's mother, their only surviving parent, would want time with them, it became more clear that Gichuru and his wife had to get time to celebrate with their children.
Now, their children are grown and married. The in-laws are more. It is back to reset as Gichuru's children have their plans – and their children too are calling for flexibility in Christmas plans.
Related Topics