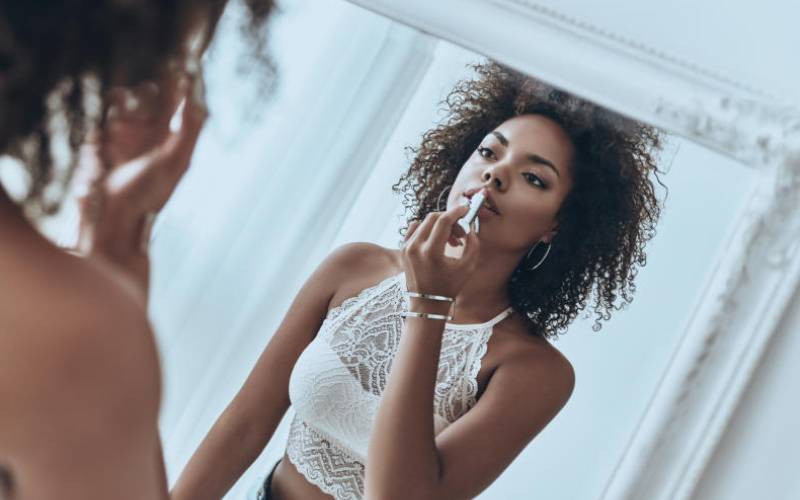 All of us have our own definition of makeup. For some, it's as easy as applying light foundation and mascara and for others, it is everything including contouring, highlighting and blush.
But if we are being truthful, most people can agree that having too much makeup on looks terrible. It might be hard to know whether you're on this list of people who do it excessively. So, here are some hints that might let you know whether it's time to tone to down a little on that clown paint:
You get awkward stares in public
When something doesn't look right, we tend to stare. And if you're not aware that your makeup looks off, you might think that people are looking at you because you look so amazing.
Pay attention to notice if people often look at your face with confused expressions. If they do, then your makeup might be the problem.
People have commented before
We also can't always control the comments we receive from others. This could be rude jokes by people at the office or even your relatives during a family gathering.
But, sometimes those comments might help you know what you need to change in case something isn't working out. So if people have joked about you having spider-like eyelashes or clownish blush, then that is a major sign that you should pick up on.
You look unrecognizable without it
The whole point of makeup is to enhance how we look. On special occasions, we might apply a little more but generally, it looks better to apply an amount that still allows your natural features to be seen.
Definitely, you will know there might be a problem if people are shocked at how you look the day you don't have your makeup on. This could mean that you usually have on an excess amount that makes you look like a completely different person.
Washing it off is a process
The other thing that might give you a clue is how long it takes you to wash it all off at the end of the day. We all have different routines for sure but, there is no way you can take an excessive amount of time to remove it.
If it takes you 30 minutes or more just to wipe it off, you could be doing too much. Plus, it's another indicator if you usually still end up with a lot of makeup stains on your pillowcase after doing all that.
You always have a cakey texture in natural lighting
Lighting makes a very big difference in how your makeup looks. Artificial lighting can hide some of those details and if you don't know that, you will assume that your makeup looks good when you're in natural lighting.
So, check whether you have a rough, cakey look when you step outside. If your foundation kind of looks like mud and you have lines and creases all over, you should definitely reduce the amount.
Related Topics