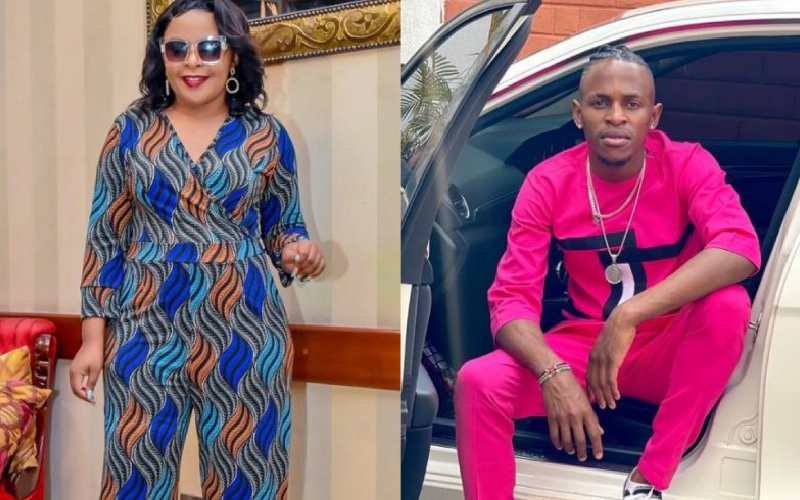 Size 8 Reborn's new album has various collabos, and one surprising feature is Iyanii, the 'Pombe' hitmaker.
The song is now better known as 'above the head below the belly', a contemporary anthem for partygoers.
So how does a gospel artiste and pastor, who has confessed does not even listen to secular music work with the maker of such a song?
Size 8 sought to address this in an interview on Radio Maisha with Emmanuel Mwashumbe and Shuga Boy.
"I met this young guy, he was kind, respectful. It's hard to find that in young people. When I heard he is a secular artiste, I did not want to change my perspective about him, so I did not listen to his songs. We just went to the studio and recorded a song together," said the musician as she sat with her husband DJ Mo for the interview.
In the same interview, Size 8 revealed that she does not receive royalties for the secular songs she did before turning to gospel.
She said she has never received a single penny or bothered to follow up after seeing the light. "When you decide, you don't go back. That life is way past me now. I only receive royalties for my gospel songs," she said.
The celebrity couple, popularly known as the Murayas, said they never intended to release a song together.
They said it was a random idea that came to both of them, a time Size 8 was doing the final touches of her recent album.
According to DJ Mo, his wife Size 8 was busy in the studio and he jokingly started dedicating a song to her.
"We never planned to have a song together. Size 8 was recording her album and I heard the beats, I started dedicating her a song and that's how our collabo came. I dedicated the song to her," he said.
Despite this, their song together, 'Songa', is doing quite well, with over 480,000 views on YouTube just three days after it was uploaded.
Speaking about her new album dubbed, Gospel Anthem, Size 8 revealed through the help of her husband, the aim is also to support upcoming artists.
"I would love to see upcoming artists thrive. My husband and I have decided to support young and upcoming artists. We have featured a lot of them in my new album. Our aim is to see growth in the industry. We are planting good seeds," she revealed.
Related Topics