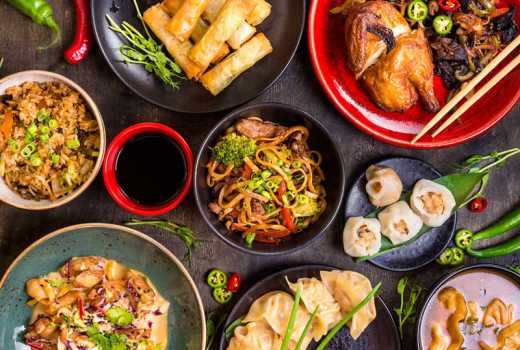 ALSO READ: How to thaw meat and chicken safely
'He that has never traveled thinks that his mother is the only good cook in the world,' a popular Kenyan proverb says.
And while mothers are considered the best cooks, how many mothers exist in this world? We all know food is an essential ingredient of human life in terms of survival, culture, tradition, lifestyle, festivals, relationships, comforts etc.
Food basically plays a part in everything.
And if you didn't also know, people are making a career from travelling for food by journaling and sharing their experiences.
For your next adventure, here are some of the countries worth travelling to for their food you should consider.
Poke (Hawaii, USA)
Freshly cut cubes of raw yellow fin tuna known as ahi combined with soy sauce, sesame oil, sea salt, chili pepper, sweet onions and limu seaweed is one of the great culinary creations from the beautiful island. The fish has the texture of ripe papaya which is smooth and tender is usually served with rice.
Poulet Yassa / Chicken Yassa (Senegal)
Yassa is a marinade of lemon, onion and chilli which is often taken to the next level with a touch of dijon mustard and some freshly grated ginger. Chicken is slow cooked in this flavorful mixture before it is served over rice.
Nasi Lemak (Malaysia)
This combination made in heaven comprises rice cooked in coconut milk, chili sambal anchovies, half a hard-boiled egg, deep fried chicken, sambal squid, peanuts and cucumbers.
Panang Curry with Chicken (Thailand)
This is a thick, coconut cream-based Thai curry with a peanut flavor. Red peppers add spice; however the heat level will depend greatly on who's preparing it and who's eating it. A versatile recipe, the chicken can also be substituted for beef, tofu or vegetables and it's typically served with jasmine rice.
ALSO READ: Four things that cause urine to smell
Pastel de Nata / Pastéis de Belém (Belém Bakery, Portugal)
Portugal's legendary egg custard tarts are a full bodied, velvety cream encased in a flaky caramelized pastry crust that is a must try in this lifetime.
Jalebi (India)
Indians love their food and they love their sweets! Jalebi's are made up of flour dough and are crisp, soft and plump at the same time. The dough is rolled out into hot ghee in a specific round shape and then deep fried until they become crusty and crunchy. They are finally dipped in a special kind of sugary syrup called chashni to give it the desired sweetness and taste. It is served either hot or cold as a breakfast snack with hot milk or as a dessert.
Potato Wedges / Sour Cream & Sweet Chill Sauce (Australia)
Served either as an appetizer or as a side meal, the wedges with sour cream and sweet chilli sauce is exactly what it sounds like! Seasoned potato wedges are dipped in a mix of sour cream and sweet chilli sauce. Simple and absolutely scrumptious.
Samoosas (South Africa)
South African Indians have developed their own unique interpretation of Indian food. Samoosas (spelled with two 'O's not one), is the ultimate South African Indian snack. It comes in a wide variety of flavours and are far tastier than samosas in other countries. There are varieties of samoosa's including spinach and feta, cheese and onion. It can be washed down with a cup of sweet masala tea. Yum!
Do not miss out on the latest news. Join the Eve Digital Telegram channel HERE.