Home
/
Parenting
What is your child doing over the holidays?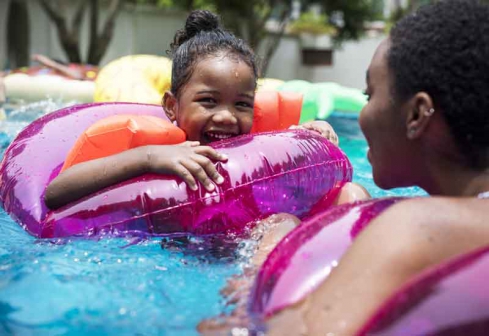 We're just two weeks into the two-month school break, but already some parents are wondering how to keep the children entertained during the long holiday. As Gardy Chacha finds out, there are several options out there to keep those little minds preoccupied
When schools closed last July, Christie Weche travelled with her father to Zimbabwe.
Father and daughter visited Victoria Falls among other places. And before schools opened for third term, Christie had also interned at a law firm in Botswana.
Christie is 15 and in Form 2 at Loreto High School Valley Road.
This week, Christie has travelled (with friends visiting from United Kingdom) to the Kenyan coast. "We will be touring different places; learning in the process as we enjoy sights and sounds of the coast," she says.
Next week Christie will be helping her father organize a Disaster Preparation and First Aid Seminar for Teenagers at MOW Sports Club in Nairobi's South C.
"After the Moi Girls fire disaster, it is important for students to learn basic mitigation skills when fires break out," Julius Weche, Christie's father and the organizer of the event, says.
On December 2, 2017, Christie with other high school students will be sitting through a mentorship seminar with Vimal Shah of Bidco as the main speaker. Weche has organised similar seminars throughout the long holidays and Christie will not only be attending but also helping with administration.
In short, Christie's long holidays are packed with activities that circumvent personal development, leisure and academics.
Take a quick survey and help us improve our website
Take a survey
"It is important to me that my daughter spends her time productively," Weche says.
Christie loves the long holidays. It offers her change – from the 5 to 9 school routine. And change, as they say, is as good as a rest.
"I love organizing and attending the seminars with my father," she says. "Once in a while I will catch a movie at home."
Christie's sense of preoccupation is having something to do. The alternative, she says, would not work with her.
Weche is one of the among few parents who are not worried about the unusually long school holidays.
He recognizes though that some parents are worried; miffed and uncertain about the long holidays.
This worry, says Weche, stems from the fear that the holiday may not end without drama.
On one hand, he says, parents who have been bribing away their children to afford them time apart – so that they can chase money or other pleasures – feel cornered.
"For such a parent children being in school gives them the space they need. But now the kids are back home and you can't ignore them. They will want to ask questions (even the uncomfortable ones). They will be in a position to notice that their father is cheating on their mother. They will know that their mother is an alcoholic."
According to Weche, such parents need to start taking parenting seriously.
The second aspect to this fear is genuine concern that due to adolescence reality the young are too foible to avoid costly mistakes.
And why wouldn't a parent worry!
It is in this country that students (one girl and five boys) were found holed up in a one-roomed house in Eldoret abusing drugs and engaging in orgies.
It is in this country that more than 500 school going children (also in Eldoret) were snuffed out of a club in the dead of night – drinking alcohol and getting risqué with each other.
It is also in this country that a party, dubbed Project X, was advertised on social media – inviting young people to risqué fun. 'Everything goes', the posters announced. 'No one goes home a virgin', another one added.
In other words, evidence is sufficient that there is plenty of harmful "fun" that young people can engage in during free time.
Parents would therefore worry because by this time next year, a daughter may be nursing a child of their own, says Weche.
"An idle mind is the devil's workshop," says Tom Lichuma, an author on the subject of marriage and parenting.
According to Tom, under no other circumstances, compared to the life of a teenager, does this belief make more sense.
"Young people are better off utilizing their time. The long holidays shouldn't mean that children sit at home and do nothing other than watching movies and interacting with age mates of questionable character."
During the long holidays, they can play sports to help them develop life skills, to visit members of the extended family, to volunteer for charity, Lichuma says.
Christie's hands are full – travelling, attending seminars and resting her body and mind in preparation for schools opening in January.
"But even in the absence of the seminars that my father organizes for young people, I would have found myself other productive work: like volunteering at a children's home," she says.
It is ideal that home becomes the first school for children as they grow up, says Lucy Kung'u, a counselling psychologist at USIU.
Parents should therefore be looking forward to long holidays instead of fretting.
But such an ideal, Lucy notes, remains a distant dream when parents only want to spend time chasing after money and not spending time with their children.
"A parent who is present in the life of their child wouldn't be worried because they will be able to confidently supervise how their young are utilizing their time," she says.
Ann Kimani is a mother of two whose eldest child is in college and the younger one is in high school.
"During the long holidays, my husband and I supervise our sons. They usually come home with a lot of homework. We supervise them when they are at home," she says.
Ann's last born will also be attending a church camp for teens from December 16.
"I trust that he will be learning skills to prepare him for the next phase of life at the camp," Ann says.
This is also the time, Ann says, she wants her son to understand how to be a morally upright person.
"I don't have a house help. My sons cook and clean. They do the chores themselves. These are skills that they learn when they are at home," she says.
Weche is the founder of Akad Education Group, a mentorship organization for young people.
Having worked with hundreds of young people – many of who have ended up getting admission to Ivy League universities in United States – Weche advises parents to lead their teenagers towards productive activities.
"They are just coming from handling daily academic work. This is the time to direct them towards non-academic activities that build character as well as proffer skills that will be helpful in their adult lives and could even become their careers," he says.
These could be sports, career mentorship, volunteering for charity, growth and development seminars and so forth.
It is also important, he adds, that young people travel upcountry to visit and know their uncles, aunties, cousins and grandparents.
Appropriate leisure activities may also help them unwind.
"But as long as young people are left to their own devices, with nothing productive to spend time and energy on, they are bound to end up in the wrong quarters," Weche says.
Related Topics