Shirley Genga
ALSO READ: Kenya's Amina Mohamed for WTO top job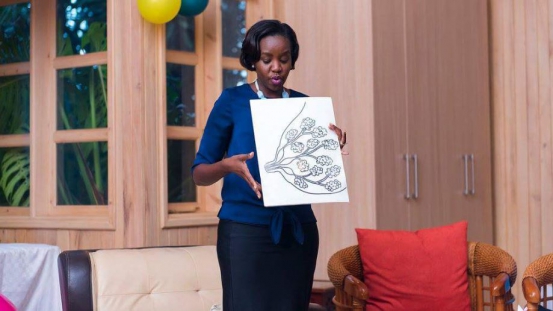 Ciru Ciera, 37, is the founder and CEO of Nurturing Moms a business that mainly deals with pregnant women and their babies. She started the business in 2014 after quitting her nursing job so she could have more time with her family
My background is in nursing; I did my degree in nursing at Curtin University in Perth, Western Australia where I lived and worked for 5 years at Sir Charles Gairdner Hospital in Perth. I then decided to return home as I had missed my family so much. Since my Nursing registration was Australian, I got my Kenyan Nursing registration and started working at the Aga Khan University Hospital Accident and Emergency Department. I loved my job!
I also have a Masters in Public Health from University of Liverpool, a certificate in Monitoring and Evaluation from AMREF, Nairobi. And I am also a certified Labour Support Specialist (Doula), Lactation Educator and a child birth educator with Lamaze international through Elizabeth Project International. When I tell people, I am a nurse they completely feel at ease and trust me even more because they are sure I know what I am doing.

However, when I had my first born in 2012 my priorities completely shifted. I felt I wanted to spend more time with my son. I loved my job but the working hours were long. I would be away from home for about 14 hours! It didn't work for my family and I chose to leave. And of course, making this decision during the first 6 months of your baby's life is never a difficult decision! You are sure without a shadow of doubt that you want to be home with your baby. I have never regretted the decision although I really missed the clinical environment.

I am now the founder and CEO of Nurturing Moms, a business that mainly deals with pregnant women and their babies. We opened shop in 2014.

Nurturing Moms was born out of the realization of the huge gap of information for first time mums and their partners. We aim to support, educate and empower pregnant mums and their families on all things pregnancy, labour and delivery, breastfeeding and child care.

Almost all women will remember their birth experience regardless of the number of births they have had. My desire is that this memory be a positive reminder of their birth.

I came to the realization that most expectant mums and their partners spent more time at the doctor's office waiting area than they did inside the doctor's office. They had questions but by the time they went into the doctor's office they were so tired of the wait that they forget all the questions they wanted to ask. There is a lot of fear around the unknown world of labour and birth. Many mums are told to prepare to leave dignity at the door when they go to give birth, but I believe that birth can be dignified.
ALSO READ: KenGen MD Rebecca Miano joins World Bank Group's Advisory Council

Nurturing Moms comes in to bridge this gap of information through Child birth preparation classes. These are classes that cover almost everything from pregnancy, labour and delivery, breastfeeding and child care. These classes ran for 4 weeks every month.
The services we offer include: We offer Lactation support, Labour support (Doula services) as well as teaching Child birth preparation classes. Lactation support requires home visits and this is part of the service we offer.
What is a Doula
A doula is a labour support specialist. A professional trained in Child birth. A doula provides emotional, physical and educational support to a mother who is expecting, experiencing labour or has just recently given birth. Doula's ensure that a mother has a safe, memorable and empowering birth experience whether she has a vaginal birth or a caesarean section. Numerous research studies have documented the benefits of having a doula present during labour and birth: the main one is that having a doula present during labour and birth helps increase positive birth outcomes, a woman tends to require less pain relief, caesarean rates decrease by 50% and it also helps reduce a mothers stress and anxiety levels.
Although these days fathers are present in labour, not all want to be the primary labour coach. For dads, having a doula present allows them to support their wife or partner while enjoying the experience without the added pressure of trying to remember to rub their backs, offer them water, help them go for works as well as everything else they learnt in the childbirth class they attended.

Running a start-up
In the beginning getting the first few clients is a challenge, but once you have a happy client they refer others and this has helped a great deal in growing Nurturing Moms. My business journey has been amazing, you know you are passionate about something when you can almost do it for free. Sometimes it is difficult to get to all the mums who require home visits because of their location, so it helps collaborate with other lactation managers. Every day is a learning experience for me. I was not a business person before. I knew how to take care of the sick and nurse them back to health, but I have had to learn the business aspect of it with the help of my husband who gives me good advice.

I offer something unique in the market targeted to pregnant women and their families. It has helped me grow my client base as well as their loyalty. With the increase in clientele there's a greater demand for my time. I just have to plan my time a lot better as well as collaborating with other doulas to help support me when I am overwhelmed.

When it comes to marketing, I have found that the best way to market our business is through a satisfied client. In fact, the best marketer is a mother or their partner who have attended a child birth class, a lactation class or had labour support during their labour. They help spread the word about the type of service and their experience. I also provide free online content twice a week on YouTube on all things pregnancy, breastfeeding, labour, delivery and child care. Nurturing Mums is the YouTube channel.

Where I am now
The business is currently growing as more people become aware of the services we provide. I am also the acting chairperson of the Kenya Association for Breastfeeding. The purpose of Association is to improve the health, nutrition and wellbeing of infants and young children, as well as the health and wellbeing of mothers by protecting, promoting and supporting breastfeeding in Kenya.
ALSO READ: Hon Millie Odhiambo: The best performer in Parliament 2019
The Kenya Association for Breastfeeding (KAB) is the brainchild of a group of breastfeeding counsellors and lactation educators who are passionate about providing much needed support to mothers and families who choose to breastfeed their babies. KAB's primary objective is to provide mothers with practical support and information, thus enabling them to establish and continue exclusively breastfeeding their babies from birth to six months of age, with continued breastfeeding after complementary foods are introduced, until the recommended age of two (2) years.

TIP
I'd encourage anyone who wants to join in to please do. Doula's and Lactation specialists are still very few. We need to increase our numbers, which will in turn increase awareness that you do not need to labour all alone. There is help. I strive to be very organized and have a strict schedule for the kids. I have never had a live-in nanny, I am therefore very hands on. My husband also helps out when he can so that makes the load lighter.