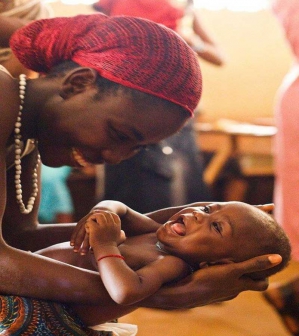 ALSO READ: A word for mums who never wanted kids
My name is Lizzy, I am 27 years old and a first time mum. My journey into motherhood began the day I saw the two lines on the pregnancy test kit. I had mixed reactions: I was happy and scared at the same time. I didn't know what to do or expect being a first time mum. The first few weeks were smooth sailing until I hit my third month when I woke up at night to cramps and blood. I later learnt that it was a threatened abortion and so my husband and I spent so much money to ensure nothing happened to the pregnancy. We didn't have a medical cover and my husband was the sole bread winner after I lost my job some previous months before. I was put on total bed rest for three months, I just thank God for the support my husband gave me because I had no one to help me with my house chores but he would help a lot whenever he was around.
I grew spiritually strong: I would pray for my baby that he would be okay and that he could soon meet his mum and dad. I will never forget the swollen feet and backache I used to have, but 40 weeks flew by so quickly. I was woken up by cramps and my water broke - I thought that was it! I didn't know what going into labour was all about, so I rushed to the hospital only to realise I was merely 2 cm dilated. I genuinely desired a natural birth but had to undergo an emergency C-section due to prolonged labour, which was causing fetal distress.
My son was born on 8th May 2016, on mother's day.
We named him Baraka(Blessing) because he was a blessing to us despite the financial challenges we had faced. On the night of 22nd May 2016 I noticed my baby foaming at the mouth, his skin was white and cold. I had to think fast and try to give first aid as we rushed the baby to the hospital. On arrival to the hospital the baby was checked and found to be okay, to our relief.
That incident, however, gave me sleepless nights as I feared closing my eyes for a second and then lose my baby. I went through post-partum depression, I grew tired and then my milk supply went low and I couldn't breastfeed again. Baraka had latching difficulties and he really wanted to breastfeed but when I tried it, it was so hard that he would get annoyed and sleep hungry. The baby lost so much weight. I lost my confidence and hated myself for my inability to feed my child.
I had to supplement with formula but it was too costly as my husband was already financially strained due to the huge hospital bill. I introduced formula beside hand expressing milk for my baby. I tried all the herbs to boost my milk production but non seemed to work. I joined a Facebook page called Pregnant and Nursing Mums Support Group and that's when I realised that many mums go through what I was going through. I saw a doctor and I was put on Motillium medicine to boost my milk production. It finally worked and I was able to produce enough milk but by then the baby preferred the bottle to my milk. That's where the journey of exclusive pumping began.
My life revolved around pumping, feeding the baby and washing baby's bottles. I had no time for myself. I started hiding from everyone, I put off anyone who wanted to pay us a visit as I didn't want anyone to see me press milk from my breast to feed the baby. Most people would talk behind my back and it would hurt me so much that I avoided going out; the only time I would go out was when I was taking the baby to the clinic and I hated it there because of the stares I would get for bottle feeding. Some of the women even laughed at me.
ALSO READ: #FridayFashionInspo: Sizzling mum of five, Keke Cameron is keeping it hot and trendy
I have managed to exclusively pump for my baby until now and I hope to do so until he is two years old. Baraka turned a year old this month and he is a healthy, happy baby. Many people ask me how I manage but I always tell them there's no love like a mother's love; my love for my son has made me endure it all and I will go to any heights just to see my mother's day blessing (son) happy.
Do not miss out on the latest news. Join the Eve Digital Telegram channel HERE.