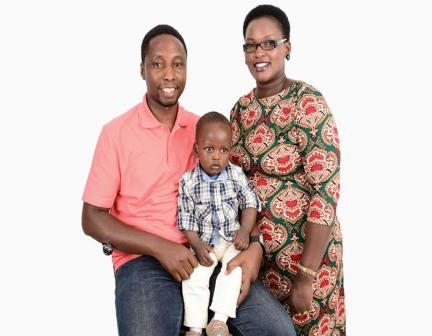 ALSO READ: What you should pack in your hospital bag and what you won't need
My story is not different from any young girl out there who is looking forward to getting married and start a family.
I met my husband, Isaac, in college in 2002 through my friend Judy. She introduced me to a group of her friends and my husband was among them. We would hang around during break and I genuinely enjoyed his company. He was bought up in the city and I in the village but we blended so well.
After dating for about 2 years, he completed his studies in accounting-CPA- and left for The United Kingdom for his Masters Degree. He was away for 11 months but it felt more like 11 years. I guess that happens when people are in love. He came back in 2006 and in two years we got engaged and married.
After we got married, we both agreed that at first I would go back to school to pursue a Masters degree. This would allow me later to have children and take care of them without any interruptions. By the grace of God in 2010 my employer sponsored me for the 2-year program at Strathmore University, which I completed successfully.
Things began to take a different turn as we began planning on expanding our family. I woke up one fateful morning feeling sick, fatigued and kind of bloated. I knew immediately I was pregnant, and so I decided to buy the home test kit and confirm before visiting a gynecologist. The test turned out positive.
After carrying out a few tests it was confirmed that we were 6 weeks pregnant. The excitement filled the room and we couldn't wait to share the news with our family and friends. The doctors advised that we see her at 10 weeks and then later at 14 weeks as per the recommended doctors visits when one is expectant.
We saw the doctor at 10 weeks and all was well.
ALSO READ: Ways to support a new mum (including things not to do)
On Good Friday in 2010, we woke up to a seemingly normal day. I wasn't feeling the nausea or exhaustion most women experience in their first trimester. After all, I had not been pregnant before so I didn't know what to expect.
On going to the washroom, however, I noted some blood dripping and screamed. My husband immediately came running. We feared the worst and so we didn't waste any minute calling the doctor who coolly told me to have some rest and calling her the next day. But this was my first pregnancy and we were scared.
so we defied her advice and rushed to The Nairobi Hospital at Warwick center.
After a few tests the sonographer confirmed that we had lost a pregnancy –it had been twins. The sadness that engulfed that room was almost tangible. It has never left my mind 7 years after.
I was advised that I needed to go to theatre for dilation and curettage, a one-day procedure to clean up the uterus of the pregnancy. Though I was sedated, the whole experience was horrifying. When I woke up my husband, in laws and friends were around my bed comforting me and assuring us that all would be well.
After the gynecologist carried out the procedure, she asked us to see her in a week's time for a follow up in case of any infection. She also advised that I see her immediately I get a headache or dizziness. The week passed and we went to her clinic. All was well and she recommended I be put on contraceptive for next three months after which we could try for a baby. I finished the one-month prescription and was then put on iron pills for a week.
One day while I was I the office, I felt something coming out of me. It was the size of a tennis ball. I immediately rushed to the washroom immediately and called the gynecologist who told me to rush to her clinic and bring the 'ball' with me. She didn't quite say what it was, but assured us that it was nothing alarming. She prescribed some medication and recommended I continue taking the contraceptives.
ALSO READ: YouTube star Myka Stauffer 'rehomes' autistic son three years after adopting him from China
After about 4 weeks, as I was expecting my periods again, blood gashed out of me like a flood while I was busy in my office. It was a mixture of heavy blood clots and fresh blood. I dashed to the washroom as it continued oozing. Later on it stopped and I was rushed to Warwick center again. After the scan, the doctor could not see anything alarming. Everything seemed to have cleared.
It's at this point that my husband and I decided to change our gynecologist. Knowing my history, the doctor at Warwick recommended Dr. Wahome Ng'ayu, who has remained my gynecologist to this day. The hospital booked us an appointment with him and he consoled us and assured us that he would walk with us through the journey. He recommended that I stop any contraceptive and that we continue trying for a baby again as soon as possible.
For More of This Stories Subscribe to the Standard Epaper to get a copy of Eve Woman in the Standard
In about 2 months I conceived again. This time we kept it a secret - no one except Dr.Ng'ayu, my husband and I knew of this pregnancy. When I was about 14 weeks, the nausea disappeared and I felt relaxed. I thought I was beyond the danger zone- the first trimester. During the next clinic, I told Daktari about this and I was surprised he got very concerned.
I thought the first trimester was over and I should be feeling better. He recommended for a scan. The scan confirmed his fears. There was no heartbeat. I was devastated. How could this happen? What were we doing wrong? I felt less of a woman. I asked many questions including my ability to carry a pregnancy to term and bear children like any other woman.
Eventually our parents and a few friends got to know of this and they really sympathized with us. For the next year or so I did not get pregnant. Not that I was on any contraceptive, but it just didn't happen.
Soon thereafter, questions started emerging from some family members as to what was wrong with me. I became the one with the problem. There were many suggestions as to what I should do and whom I should see. I kept my cool but at times I would break down and cry. My husband stood by me and he has remained so to this day. At one point he threatened to confront some close family members who were beginning to talk behind our backs.
Fast forward, in September 2013, I conceived and carried another pregnancy to term. A baby boy weighing 4.01kg was born on 15th May 2014 at 7.57pm in Nairobi Hospital. Oh the Joy of holding my own bundle of joy in my arms! Our lives have never been the same again. God shone his light upon our faces and made us parents for the first time. Although later than our peers. But we are grateful and thankful! The boy turned 3 years in May and is now in school.
We lost another pregnancy in 2015 but lo and behold, in December 2016 I conceived again and this time it was a twin pregnancy. This was the easiest pregnancy I've ever carried. However, being a twin pregnancy, I was on doctor's radar for almost 24/7.
On Saturday 27th August 2016, at 36 weeks and 3 days, my waters broke after attending a cousin's wedding. We rushed to Nairobi hospital and I gave birth normally to two wonderful baby girls weighing 2.5kgs and 2.5kgs. The labor was short and no episiotomy at all.
Raising multiples is not easy but God has been gracious and faithful to us. We have not lacked and we trust He shall continue providing for us.
We were once an empty nest for 6 years, but now we are full house : a family of 3 children: one three year boy, Ng'ang'a Kamau and two eight months old twin girls, Wambui Kamau and Waithira Kamau. To those still waiting on God , don't give up. He will bless you one day and make your nest full.
Do not miss out on the latest news. Join the Eve Digital Telegram channel HERE.