Nancy Roxanne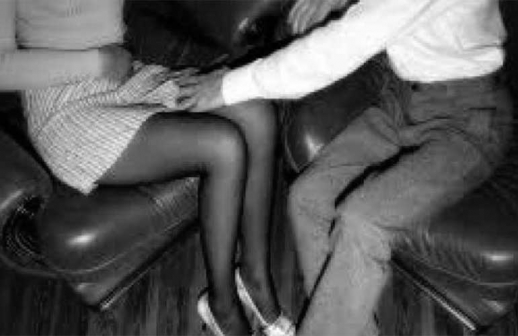 The streets of Nairobi are crawling with creeps. These are men who try to get close to a woman without her noticing or consent, presumably with sexual intentions. Granted, there is a section of the menfolk out there who have been unreasonably labelled as 'creepy' by women who were miffed by the impudence of 'losers' who dared approach them. But with the number of misogynistic jerks going around, who can blame them?
True, every now and then you will cross paths with women who will call you 'creepy' just for the hell of it and not because you actually did anything creepy. However, if you have been labelled a creep one too many times, you have to admit that you are the common denominator and start examining your behaviour towards women.
There are things that men do that anyone with two brain cells to rub together knows is creepy, such as sending unsolicited nude pictures and unwelcomed groping. That said, there are other creepy things men do but are not aware that they are being creepy. I have highlighted a few below.
Asking for hugs
We all love a good, solid hug from someone we know and trust, but if the person coming towards you with arms wide open is a stranger, then it just feels inappropriate. If the stranger in question is a man, the situation moves from inappropriate and to 'creepy' pretty fast. Unwanted touching and hugging is a problem among women.
We understand that hugging is a standard form of greeting among many people, but when a man goes around hugging women he is not well acquainted with, he comes across as creepy, even if his intentions are strictly platonic. If you are trying to create a rapport with a new woman, hold off hugging until you are completely sure she is comfortable with it, otherwise you will find yourself in her list of creeps to stay away from.
Send me your pics
If you have ever sent a text asking for pictures, don't wonder why the recipient suddenly stopped talking to you. Other than the fact that she was put off by your inability to spell 'pictures' properly, asking a woman to send you her photos is creepy as hell.
Unless you met through an online dating forum or something like that and you have no idea what she looks like, you have no business asking her to send you her 'pics.' When I am chatting with someone and they suddenly ask for pictures, my mind usually jumps to the conclusion that he wants to see me naked even if that was the last thing on his mind. You know what I look like and, heck, you follow me on Instagram. Stop asking for 'pics.'
Staring
Fact: Men like to stare at women they find attractive. Needless to say, it creeps the hell out of women. You don't necessarily have to stare at my boobs or butt for me to consider you a creep. Any kind of staring makes us uncomfortable. There is no such thing as a flirtatious stare exchange. If you like a girl, go over and talk to her instead of just staring from across the room. It is creepy and annoying.
Personal sexual questions and stories
This is always happening to me! I meet a guy and five minutes later, he is telling me about a blow job he got while he was driving. Or that time I changed my profile picture and an acquaintance casually commented that I must have been getting mind-blowing orgasms because I was glowing (whatever that means). Sex-related conversations are a horrible way to strike a conversation with a lady.
@roxannekenya