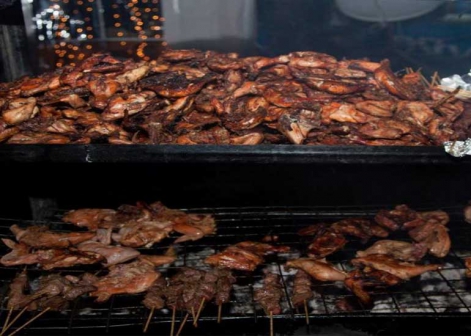 The construction of bypasses and upgrading of major roads is a boon to business people offering recreational facilities. "Nyama choma" and drinking joints now litter highways and bypasses around Nairobi, making them favourite outing venues for many city dwellers.
Around the Eastern Bypass, for instance, Fahari Garden Hotel, is famed for weekend getaways and weddings. And then there is Tripple O's Hotel near Utawala and boasts spacious gardens, a large swimming pools, and idyllic terraces. Near Triple O's Hotel is Funcity Amusement Park.
According to Monica Kamau, a supervisor in marketing and banquet department, the hotel was started a year ago after the construction of the bypass. She says they target motorists who use the bypass: "We are best known for nyama choma, indoor and outdoor games for children and adults.... Business is good."
On Waiyaki Way, there is the Njugunas, a roast meat and bar haven. However, this does not make it conducive for family outings.
On the other hand, the completion of the Thika Superhighway a few years ago has seen the establishment or refurbishment of recreational joints. Natives and Blue Springs Hotel located opposite Garden City Mall are such venues where you can visit for individual and family enjoyment .
Blue Springs has bouncing castles, kids cars, swimming pools for both adults and school-going children for a fee.
"This is a nice place for families that live on Thika Superhighway," says Fred Munyalo, the hotel's manager.
And anyone living around Mombasa Road will be spoilt for choice as many establishments exist.
Residents of South B, C, St James, Balozi, Hazina, and Diamond Park no longer have to struggle with traffic jams to go to the city for recreation. They can go to Capital Centre, the newly-established Nextgen Mall, Eka Hotel and Panari Hote.
With Sh3,000 per day at Panari Hotel, one can enjoy swimming, gym services, sauna and steam bath. Swimming is only for adults.
For the kids, there are games like hockey, bouncing castles and treadmill for Sh200 per child per day.
And for residents of Pipeline Estate, Avenue Park, Tassia, Imara Daima, places like Sahara City and City Cabanas offer recreation.
Do not miss out on the latest news. Join the Eve Digital Telegram channel HERE.