Beryl Wanga Itindi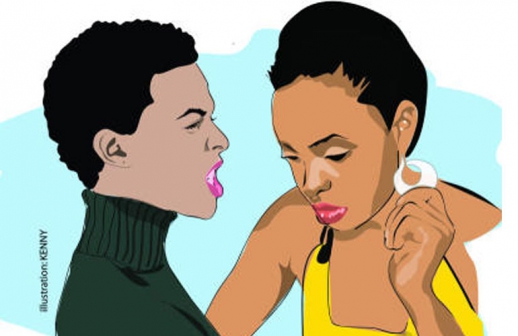 Ladies, si we have come from far, yawa. Fresh out of campus, my friend Faith and I were lucky to have landed jobs right away. We reported to work on the same day. Our offices were divided by see-through glass. Unlike Faith, my office was right in front of my boss. Whenever I lifted my head, I found her staring at me.
On our first day, I texted Faith at exactly 1pm asking her to join me for lunch. As I switched off my computer to walk out, I heard someone shout, "Beryyyyyl! What are you doing?" I looked up wondering who would call my name that loud. The voice was coming from my boss's office but I could not imagine it was her. I stood still for a while wondering what I had done wrong.
I finally got the guts to answer, "I am switching off the computer." Her: "Why?" Me: "I want to go for lunch." As I answered her, I realised all eyes were on me. Everyone was looking at me in shock. I looked at my watch again just to confirm it was lunch time, then turned and looked at my boss. I then spotted one of my colleagues signaling me to sit down, which I did.
Faith was nowhere to be seen. My heart was beating fast. What had I done? As I struggled to switch on my computer, my boss shouted. "What are you doing?" At this point, I was even afraid to respond because I was not sure what answer she needed.
Then I gathered courage and answered, "I am switching on the computer because I don't want to go for lunch." The next thing I heard was yelling that ended with the words, "You are fired!" I looked at her just to confirm she was still talking to me and indeed she was.
"Get out! You are fired!" ...and as she was saying this, she charged towards me. Wololo! Nani angojee 'Kidero' slap on a Monday morning on your first day at work? I almost packed the monitor in my handbag as I scrambled for my belongings and rushed out. I had heard a lot of stories about bosses from hell but I had never experienced any. I ran past the receptionist almost falling down and straight to the nearest Kenchic.
I had barely begun eating when Faith called me! "Beryl uko wapi?" I told her where I was and she quickly told me to go back to the office. What was wrong with her? I had just been fired, I was not going back to that office. I hung up and continued eating.
Then she sent me a text. "Beryl, rudi, mdosi akisema amekufire hamaanishi unafaa kuenda. Nimeambiwa inamaanisha utoke tu mbele yake kidogo coz amejam, uende boardroom halafu urudi kwa desk yako after ten minutes kama hasira imeisha. Huku hakuna lunch break." (Come back to the office the boss doesn't mean it when she fires you, she wants you to get out of her face. And here people don't go for lunch breaks.) I read and reread the text more than four times, then quickly left the table and started rushing towards the office.
I was still trembling when I got there, I avoided my boss' eyes. I knew her eyes were all over me. Everyone was quiet and looking at me. Then she broke the silence, "Beryl, where were you?" I innocently looked at her and answered "Boardroom." I heard giggles.
What was wrong with these people? I thought the text made it clear that my absence at my desk meant my presence in the boardroom.
At 5pm, I lifted my head pretending to be scratching it, I wanted to see what happens at five because to me, it was home time. Everyone else was working. Things remained that way until 6.30pm when the boss left. Yaani, she left her office, people were very quiet, walked out, still very quiet, but as soon as we heard the lift, you could have thought that there was a stampede. Everyone ran home!
Faith and I kept the job for some time until we were experts in the game. Being fired more than once a day was now fun. I memorized my boss' footsteps and she never caught me off guard. In short, I survived till I resigned.