How to make the best Cinnamon-vanilla french toast with bacon
The Standard By
Wambui Kuria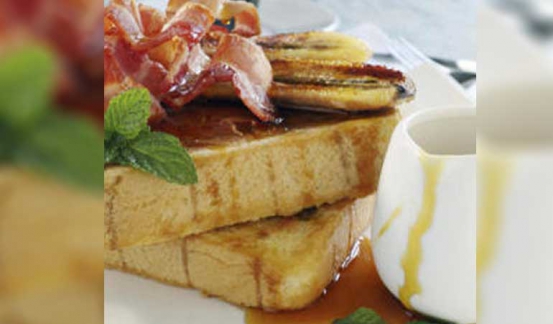 This French toast fills the air with vanilla and cinnamon, two scents that trigger hunger big time.
Serves 2
Ingredients:
4 slices bacon
2/3 cup milk
2 eggs
2 teaspoon vanilla essence
1 teaspoon cinnamon
1/8 teaspoon nutmeg
Salad oil for frying
4 slices hearty whole-grain bread
Apple slices (optional)
2 tablespoons maple syrup
Directions:
Preheat oven to 375°F. Place bacon on a baking sheet lined with grease proof paper; bake for 18 to 20 minutes or until crispy. Remove from oven and transfer to a plate lined with paper towels.
While bacon is cooking, combine milk, eggs, vanilla essence, cinnamon, and nutmeg in a small bowl; whisk until well blended. Pour mixture into a pie plate or shallow bowl.
Dip two bread slices into egg mixture and let stand 30 seconds to absorb the liquid. Flip bread over and let stand in mixture another 30 seconds.
Heat a non-stick frying pan lightly coated with salad oil over medium heat. Add the coated bread slices two minutes or until lightly browned. Flip over and continue cooking for one minute or until done. Repeat steps 3 and 4 with all the coated bread slices.
On each plate, place two strips of bacon and two slices of French toast. Garnish with apple slices, if you'd like, and serve with syrup.