Home
/
My Man
'Brawn does not equal no brains'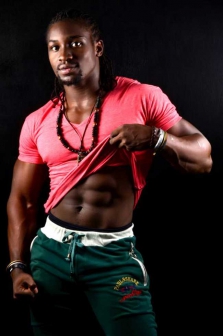 If you ever thought body building is for failures and for the less educated Keith Budoyi, a profession body builder and model will change your mind. He takes us through the ABCs of acquiring six-pack abs.
Who is Keith Hosea Budoyi?
I am a dark-skinned, 5 feet 9 inch tall, well-built gentleman. I am self-driven and motivated to do greater than just the normal. I push myself beyond limits; I am disciplined and dedicated to doing all that I purpose to do.
What do you do for a living?
I am a professional body builder, fitness model and personal trainer.
How would you describe body building?
It is the use of progressive resistance exercise to control and develop ones musculature. Body building involves body weight exercise, weight lifting and exercising. It is just like any other. Consistency and discipline are key to making it in the bodybuilding industry. I train once a day for 2-3 hours, but when I have a competition, I train twice a day.
What do you love about body building and how long have you been doing it?
For me, bodybuilding is not only about the body but about health - fit body and fit mind. I love body building because it keeps my muscles strong, maintains my body proportionately shaped and fit. Maintaining a clean diet has helped me realize my goals. So far, I have been training for six years and have worked professionally for four years.
Greatest career high in body building?
I have had numerous high moments in my career but my favourite and most memorable is showcasing my skills at Mr. Flexx competition. This major competition not only brought fellow competitors together but it marked a turning point in my life. The long lived dream in me to be on stage was brought to fruition.
What is the main challenge associated with body building?
It is expensive to be a successful bodybuilder especially in Kenya where bodybuilding is still a new sport to many. The cost of gym memberships, food and supplements is relatively high and we are prone to injuries which may sometimes take too long to heal and this paralyses our career until recovery. The sport is not taken serious as many associate it to be for the least educated.
You are also a personal trainer tell us about that...
I am a freelance trainer and I strictly train male clients. I charge Sh2,500 per session. I have been doing this for two years now.
Why male clients and not female?
(Laughs) I am a better coach when dealing with male clients, I am more free and it reduces the chance of things being misconstrued as romantic advances where they are none. Plus I have a girlfriend and because of boundaries, I choose to only deal with male clients.
What do you love about it?
As a personal trainer, it is priceless to see my clients change their lives and get their ideal dream bodies which boosts their confidence and well-being. What I do not like, however, is clients who complain about my charges or who pay but are inconsistent with training and dieting.
When you say you model, what does that entail?
I have work mostly with fashion stores like Shop 66. I showcase their products like boxers, bags, shoes, socks and other outfits. Plus I have done some catwalk shows. I never work with agencies though because many are unscrupulous especially in the modelling industry. Agencies always ask for a huge cut for any modelling work they get you, and there are so many cartels.
Tell us a little about your background?
I was brought up by a single mother and I am the only child. I grew up in Nairobi. I was thoroughly spoilt by my mother. My dream was to be a pilot but when I discovered rugby, I wanted to be a professional player. Although I loved playing rugby, I ended up getting too many injuries. I took a break from it and that was the beginning of my love for body building. I studied fitness at Mombasa Polytechnic.
Apart from weight lifting, modelling and personal training what else do you do?
I am a consultant in fitness and help make diet plans for my clients.
Any one special in your life?
Yes I am dating and her name is Mary. My lady is beautiful, loving, kind-hearted and physically fit. She is a PhD student at the University of Nairobi.
Most men seem to be very fearful of women who have PhDs, what makes your relationship work?
I am never intimidated by a woman's education. In fact, I think that is what makes her stand out.
Away from work, how do you relax?
I love to spend quality time with my woman. We go training at the gym together, cook together and just sip natural cocktail juice as we watch movies.
What projects do you have lined up for 2016?
I plan to physically improve myself, take my career internationally and work with sponsors; to take Kenyan bodybuilding to a new higher level. I hope to compete in South Africa this year, and in the future maybe the Olympics.
Related Topics