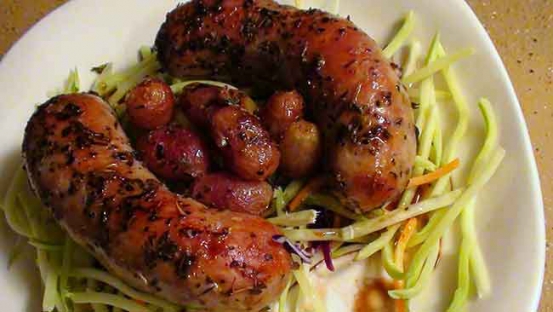 Who would have thought one can combine sausage and grapes as a meal? I tried this out over the weekend and I was amazed by the taste...awesome
I live in an amazing neighborhood, where we have groceries delivered to your house. One of my dear friends delivered fruits. This time round, I had excess grapes so I fished around for a grape recipe. This recipe caught my eye. It's simple, inexpensive, I used just a pan and it has just three ingredients.
I did not have Italian sausage, so I used spicy chicken sausages. My meal was ready in 30 mins and eaten with brown buttered baguette slices. Yummy.
Serves: 2-4
Prep Times: 5 mins
Cook Time: 25 mins
Ready In: 30 mins
READ MORE
Ingredients:
500g (about 10/12 pieces) Italian sausages
4 cups (250g) seedless grapes, washed and dried
2 teaspoons balsamic vinegar or lemon juice (or to taste)
Directions:
Fry the sausages in a heavy pan until cooked through. Do not let them burn, once browned, prick with a fork – juices will seep out, then continue to cook until done.
When cooked, remove and set aside on a serving dish.
In the same pan, add the grapes, turn heat to medium high and cook. Stir occasionally until the grapes collapse. Add the vinegar or lemon juice, cook for a min.
Pour the grape mixture over the sausages and serve