Crystal Okusa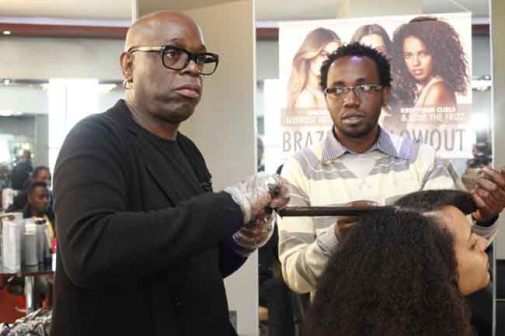 An international hair educator who has rubbed shoulders with celebrities like Beyoncé and Naomi Campbell was in the country recently. Here is what he had to say.
ALSO READ: What is a hair gloss treatment?
You seem to be very popular with the hairstylists, have you been to Kenya before?
Yes, I used to come in and out of Kenya while I worked at Revlon for almost 15 years. We had an academy here and I would come to train the hairdresser.
I used to spend forty to fifty percent of my time in this country. This was before my position become redundant and I got retrenched.
You stated being a freelance hairdresser, how does that work seeing that you cannot have salons on the go?
I have company called Whitely Gray hair that does fashion shows, photo shoots, education, training, product knowledge.
Like now I have a contract with Africa Trading Group who have a portfolio of products distribution, Brazilian Blowout is one of them and that is the reason I am back in Kenya.
I have come to give product information, user training. At the moment I am working exclusively for them because they like what I do and it keeps me very busy.
ALSO READ: Seven kitchen ingredients that can help with oily hair
But I still do that fashion shows, before I came to Kenya I was in Paris doing the couture fashion week.
Do you ever work in a salon?
I stay in London and also work depending on the duration I am stationery there, I work at a salon in Belgravia, Nights Bridge. I have always lived in London, but I go back and forth so it is not constant.
Which one is more lucrative, working at a stationary salon or being freelance?
It is definitely more lucrative being freelance if you build your reputation well and you are good at what you do.
Like my current contract, was through the work I had done, Africa Trading heard about me because they wanted someone who can do afro hair as well as European hair and explain how products work effectively.
You know the way conventional jobs have consultancy, yes, I am a consultant for hair and it definitely pays well than if I was employed. It does have its risks, because when you are not working you do not get paid.
ALSO READ: Five home remedies for dandruff
What is your feel with hair stylists and product acceptance locally?
I know a bit about the market in Kenya given my interaction and all people want to know about new products is the consistency.
To be sure if it will be here tomorrow and the day after. Kenyans also want to know how truthful one is being if you are bringing outdated stuff because you want to dump it here.
I do not think Kenya should get third grade products, but it is so difficult to get products into the country because of the long winded bureaucracy and I suppose it could be what is discouraging genuine distributors of products lines from coming here.
How long have you been doing hair and with age is there retiring?
I have been doing hair for about 28 years. I am 58 years old and there is no retiring. I love what I do, I would never retire, unless I am retiring to die.
For as long I can stand and do hair, I will do hair and I like when these young people in the industry ask me loads of questions and want to feed off what I know then I will give it.
The problem with Kenya, is people have knowledge but give away about seventy percent and keep the other thirty for themselves. They give everything because I would anybody to be able to do what I do.
Who is Randolph Gray away from the hair?
As I have grown older I have become quieter. I have had a crazy night life since I was 14 but not anymore.
I have my little sports car that is my baby. I drive to the beach, shop or just relax. Or maybe I hang out at the theatre with friends or dinner or attend fashion shows and exhibitions. And I also just like being at home.
Did you always have the passion to be a hairdresser from a young age or you stumbled into it?
I left secondary school at 17 years without qualifications to go straight into hairdressing.
I am just no good at school and I have recently been diagnosed with dyslexia disorder because back then we did not know how to define such behavior.
My mum was a hairdresser and I wanted to do that, I was fascinated by hairdressing but then she prompted me to apply for an engineering job.
If I did not get selected, it was for me to get experience on interviews. I had no idea what engineering was and neither did she.
Strangely enough I got the job and left school Friday and started work Monday. It was a progressive training program for repairing industrial electric motors.
I did it for 13 years and I loved it. My only issue was it was dirty and I hated getting dirty. A friend of mine had a hairdressing school and invited me to go take a course and got in between odd jobs and started my career in hair.
Are you married or have any children?
No. I have never been in London long enough to establish a relationship. Always being on the road tends to get in the way.
When I was at Revlon, I was home for a maximum of four weeks only. I even lost friends because of the distance.
But I do not have any regrets because I love my job. I travel all over the world and go on safaris at somebody else's expense.
I have met Beyoncé, done Naomi Campbell's hair, you name a model I have done the hair or even a designer, I have done their show.
I have done the New York, Milan and Paris fashion weeks all the various designer from Dior, Paul Gautier, and Hugo Boss just to name a few, hey it is amazing.