Jacqueline Mahugu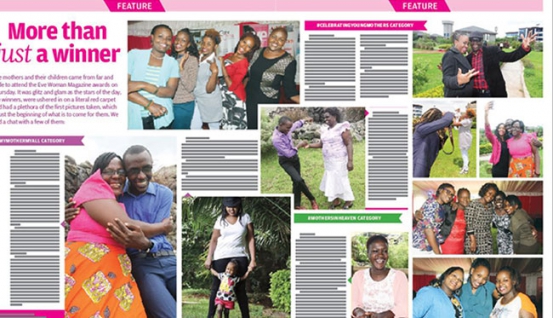 The mothers and their children came from far and wide to attend the Eve Woman Magazine awards day, which was more like a day of glitz and glam. As the stars of the day, the winners were ushered in on a literal red carpet and had a plethora of the first pictures taken, which is just the beginning of what is to come for them.
#mymothermyall
1. Peter Okumu
You can sit all day just listening to Peter Okumu and his mom, Salome Nekesa, talking and making fun of each other. They are such balls of energy, and relentlessly tease each other. "You should have seen mum acting like she was not that excited about winning, and then she spent hours at the salon preparing to come for the ceremony!"
His mother laughs, says it was true. In fact, she heard that she was on the papers on Saturday having won in the #mymothermyall category and she did everything possible to get the paper. When the paper would not arrive fast enough, she called one of her friends to send her a screenshot of her in the papers before it arrived, which she then proceeded to forward to all her friends.
"Since then her status in the society has been elevated. Kila mtu anamtambua sasa (everybody recognized her)" says Peter, as his mother laughs coyly. He had posted a picture of her doing business selling fish and her customers and friends have not stopped talking about her being in the newspapers as a winner it since.
"Her hard work cannot be matched by anyone, and I do not expect any woman to ever do it," says Peter. "By 6am, she is in Gikomba and will have done 5 odd jobs by the time she leaves at 9 or 10pm." For those who know her, they say if anyone deserves a two-day holiday and lots of pampering, it is this woman.
"We have always wanted to give her a holiday so that she could relax and it came in the most unexpected way, " says Peter. "I'm just happy," she says. "Thank you, Eve Magazine. I will really enjoy myself," says the 52-year-old mother of seven.
2. Richard Kariuki
"Pleasant" is the word that comes to mind when we meet Margaret Nyawira Wambui, 48. Her son, Richard Kariuki, submitted her picture for the #mymothermyall category and emerged first runners up. As the 3rd born of five, he is full of praise for his mother, whose breathtaking smile can light up any room. "My mother has gone through so much while raising us single-handed," he says.
"She always puts me in line when I deviate from the right path and she is just the best," he says. For her, seeing her children succeed amidst all the struggles makes them worth it and she says she thanks God for it. The Eve Woman Magazine win was simply an additional cap in her feather, placed there by her son. "Asante, mwana (thank you, child)," she says, as she beams at him.
#Celebratingyoungmothers
1.Veronica Chege
Spending two nights at the Voyager Beach hotel may have been a free offer for the Eve Mother's Day winner, but Veronica Chege earned every bit of it. She discovered the competition the night before it closed and moved mountains to win it. "I did not sleep at all," she told Eve on Thursday. "The minute I put up my picture, I started calling people all over, even family outside the country to tell them to like the picture and tell their friends to tell their friends to like it." She did this the whole night, and her husband was more than a little worried.
"We had participated in the Valentine's competition and lost, so I didn't want her to get disappointed again," he says. Luckily, her efforts paid off, and he laughs about it, saying, "I'm glad she won because if she had not, I would have been the one doing the consoling and I would have had to take her on holiday myself."
To Veronica, motherhood is a wonderful experience that can be bittersweet. The most challenging part for her is when their baby, (Jermaine Jeremy) falls ill. She says, "I don't know how, but fevers only strike at night." The lovely moments are many though, and she would not trade it for anything. She can hardly wait to get to the Voyager Beach Hotel, courtesy of Eve Woman Magazine for two nights of relaxation, in addition to the professional photoshoot, spa makeover treatment and bottle of wine. "I have already googled to see what it looks like and I am so amazed," she says with excitement.
2. Rahab Mwangi
"Motherhood has for me has been a major catalyst to my personal growth, especially emotionally," says Rahab Mwangi, who just turned 25 and was the first runners up in the #celebratingyoungmothers category. The 25-year-old mother of one is so passionate about motherhood that she has a blog, www.moda.co.ke dedicated to it.
"My most memorable experience has to be when she was born," she says. "I am still in awe at how magical that moment was. She is our little miracle after suffering a miscarriage just 2months before she was conceived," she says.
The category was perfect for her, as young mothers have always been close to her heart. "I celebrate all young mothers out there who made the right decision to turn a deaf ear to all the societal stereotypes and naysayers who think having a baby at a young age makes us failures in life," she says.
#mothersinheaven
1. Jay Wambui
Jay Wambui's mother was amazing, by her own daughter's account. She particularly remembers their time together when she became pregnant with her first child. Her mother was the first to find out, and it was not long before everyone else did as she could not contain herself in spreading the news.
"She called all her friends, telling them I was going to give birth to her namesake," says Wambui. Unfortunately, her mother was soon to pass on in November 2011 following diabetic-related complications, but what made her most happy admit her illness was that her legacy would be carried on through her grandchild.
"She would take me to the antenatal clinic and tell me how my life should now be dedicated to the well-being Of my child," she says. Jay submitted the picture for the #mothersinheaven category, in memory of her mother, who she believes is looking down on them. She emerged as the automatic winner as she was the only one to do so and will be treated to a full photoshoot, spa and full makeover treatment and a bottle of wine.