Protus Onyango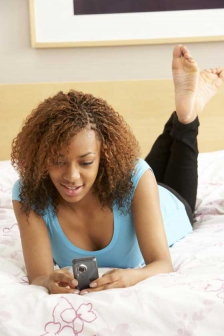 The debate whether cell phone use can cause cancer and other tumors has been ranging for some time now.
Though medical experts worldwide differ on this, some like Ruchira Misra are convinced of the effects of prolonged cell-phone usage.
Dr. Misra, a consultant Paediatric Hematologist and Oncologist at Fortis Memorial Research Institute in India, believes that prolonged use of mobile phones exposes the user to radio frequency radiation which can cause cancer.
"There are not enough studies to prove this; but we have seen that there is radiation exposure from the batteries that can cause cancer, and so should not be held close," said Misra.
The doctor wrote to the the family of a 15-year-old girl fighting for her life for the past three years with T cell Rich B cell Lymphoma, saying the condition was as a result of exposure to cell phone radiation.
Merlyn Adhiambo's family believes their daughter's condition is as a result of side effects of mobile phone use.
"The most devastating thing is that Merlyn was innocently exposed to cell phone radiation throughout the year 2012 when she shared her bed with my teenage cousin who used to talk on her cellphone throughout the night on free promotion, and was oblivious that high resistance when cellphone are used under blanket cover, causes radiation beyond acceptable range," said the father, John Owiti.
Ms Adhiambo, who is admitted at Fortis Hospital, had been responding well to treatment after undergoing three operations, before her condition started to worsen.
The family said the girl now requires urgent bone marrow transplant at a cost of Sh10 million.
"Adhiambo began to show signs of loss of concentration in school in 2013 while in Standard Seven," Owiti recalled.
She later developed a unique cough and a very tiny swelling near the neck. Medical check-ups involving blood tests, ultra sound and fine needle aspiration showed no diagnosis for the problem.
She would later start complaining of a throbbing pain at the right side of her neck and a cardiovascular surgeon recommended a CT scan.
The results revealed that the swelling was pressing on her veins, thus restricting blood flow from the brain to other body organs. Surgery was done and a big neck mass removed.
She was put on antibiotics for one week, pending a pathology report.
"When the final report was received in August 2014, it had not pinpointed a particular diagnosis and apart from ruling out any malignancy, the report had a suspicion of possible chronic viral infection," Owiti said.
MORE SWELLINGS
He added that the report did not advise on how to go about investigating the suspected infection. It, instead, started
a whole new round of consultations and diagnosis with haematologists because Adhiambo had started complaining again of pain on her neck.
The family was forced to seek specialised diagnosis and management in India. By this time she had developed more swellings at the groin and on the neck where the first swelling was.
In India, Dr Misra advised another surgery for a fresh pathology investigation and diagnosis report, and a tumour was discovered at the same spot earlier operated on in Kenya.
The pathologist's analysis revealed that the condition was a T cell rich B cell lymphoma, which was cancerous and had spread to her groin, spleen, bone marrow with a threat of upward movement towards the brain.
After six cycles of chemotherapy, her doctor said she still had a five per cent risk of relapse to the brain and that she required two cycles of high dose MTx to protect her from brain relapse.
Merlyn underwent another CT scan and Fine Needle Aspiration (FNA) as a follow-up after PET scan confirmed a new swelling (not seen in previous PET scan reviews) but unfortunately the sample was too tiny for a biopsy to be undertaken before she travelled back.
"By this time, the family was suffocating under heavy medical loans burden which had accumulated to Sh5.3 million," Owiti said.
Adhiambo's case is bound to draw varied reactions from medical experts who have differed on the dangers of use of cell phones.
Moses Makokha of Alupe Hospital in Busia County said there is real danger in the use of cell phones.
"Cell phone batteries are known to cause cancer but more research needs to be done to establish if the cancer can be malignant," said Dr Alupe.
The World Health Organisation (WHO) in 2000 connected brain cancer with radio frequency exposures, and have determined that the most thermally vulnerable organs include genitals and eyes.
Other effects include a stinging sensation and a feeling of heat in the facial skin Non-thermal effects such as headache, dizziness, fatigue, stress, difficulties in concentrating and nausea.
In 2011, the International Agency for Research on Cancer, a component of the WHO classified cell phone use as "possibly carcinogenic to humans".
Adhiambo's father is reaching out to well-wishers in their medical journey.
"As a family, we are appealing to well-wishers to walk with Merlyn on this challenging journey so that she can complete treatment and return home," Owiti appealed.
Well-wishers can donate through pay bill number 200801, account number Merlyn or account number 01255069738100, National Bank of Kenya, Kenyatta Avenue branch under her name.
Parents can also be reached through +254722313428 (Dad) and +918130634937 (Mum).