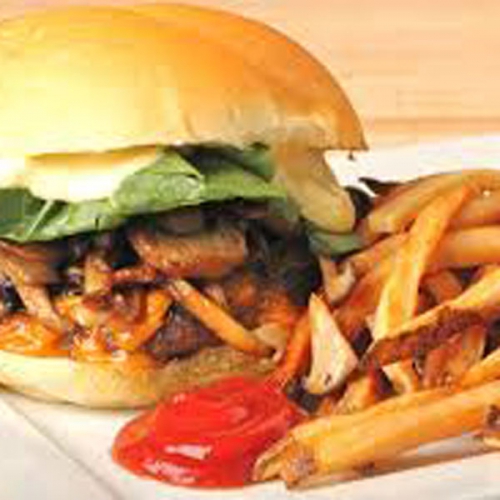 Slimming World recipes: Burgers with fries and pepper sauce
ALSO READ: Is late night snacking all that bad?
Serves 4
Ready in 50 minutes
2 garlic cloves, finely chopped
1/2 onion, finely chopped
800g lean steak mince (5% fat or less)
A small handful of fresh flat-leaf parsley, finely chopped
2 baby gem lettuces, leaves separated
ALSO READ: The best and worst foods for your teeth
4 plum tomatoes, sliced
1 red onion, thinly sliced
For the sauce:
1/2 red pepper and 1/2 yellow pepper, deseeded and finely chopped
1/2 onion, finely chopped
2 garlic cloves, finely chopped
1 tsp smoked paprika
ALSO READ: Foods that you can make into crisps
400g can chopped tomatoes
Salt and freshly ground black pepper
For More of This Stories Subscribe to the Standard Epaper to get a copy of Eve Woman in the Standard
For the fries:
3 baking potatoes, peeled and cut into thin fries
Low-calorie cooking spray
Method
Preheat your oven to 180°C/Fan 160°C/Gas 4 and line a baking tray with baking paper. Put all the sauce ingredients in a pan and bring to the boil. Turn the heat to low and cook, covered, for 12-15 mins, stirring occasionally. Season, set aside.
Boil the fries for 3-4 mins. Drain, return to the pan and cover. Leave to cool slightly, then shake the pan to roughen up their edges. Arrange on the baking tray in a single layer. Season, spray with low-calorie cooking spray and bake for 15-20 mins, or until golden.
Meanwhile, preheat your grill to medium-high. Put the garlic, onion, mince and parsley in a food processor and blend until well combined. Divide into 8 and shape into burgers. Spray with low-calorie cooking spray and grill for 12-15 mins, or until cooked, turning halfway.
To serve, divide the lettuce, tomatoes and red onion between 4 plates and top with the burgers. Spoon over the sauce and serve with the fries on the side.
Do not miss out on the latest news. Join the Eve Digital Telegram channel HERE.