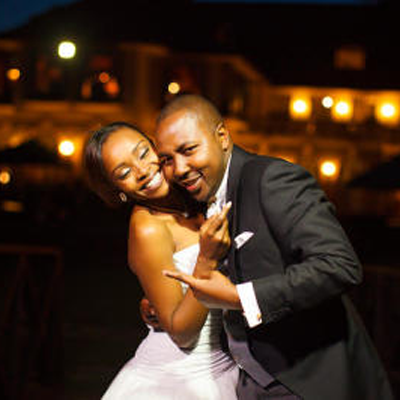 BRIDE: Tina Yabann
GROOM: Robert Ndirangu
DATE: September 13, 2014
GUESTS: 300
VENUE: Windsor Golf and Country Club
FIRST DATE
Tina: I was a civil engineering student from Moi University, Eldoret, looking for an internship when I landed a post at the firm where Robert was working.
Robert: I was just fresh out of school, and was barely a year in the job when this pretty lady came looking for an internship. I remember telling our front office assistant that they should find a permanent position for her. Several times thereafter, I tried to get to give me her number but to no avail. I even tried asking her out for lunch but her constant response was 'I do not go out with people I work with', which I found very weird.
Tina: Then one day as I was on Facebook, he sneaked behind me, searched his name on my Facebook page and sent himself a friend request.
Robert: Then one evening, she finally invited me for a drink with her friends. We became fast friends and when her internship time was over, we made a bet during the farewell party at the office. The deal was that if she loses the bet, I got to kiss her. She lost the bet, though I tend to think it was an intentional loss on her part.
Tina: We would chat on Google Talk from then on. Then on my birthday on Feb 15, 2011, he surprised me with an expensive ipod. I remember crying when I received it then getting angry thinking he was trying to buy my affection then getting more angry for him surprising me given that I hate surprises. We became official in May 22, 2011 while on a road trip from Nakuru, I asked him to define what we were. It was then that he said I was his girlfriend and on the way back we stopped five times by the road as his friends made him declare he would take care of me. It was such great fun. It was our road side declaration.
THE PROPOSAL
Robert: We were just returning from a retreat from Kilifi with my colleagues who double up as my friends when I came to the conclusion that it was time I got married, much to the applause of my friends. I even went further to appoint my best man and my other groomsmen. The idea of how to propose came up to me during a monthly meeting we have with my boys. It was almost ruined when she decided to visit her parents two days to the surprise proposal.
Tina: On the day of the proposal, my cousin Winnie and sister, Ng'eno, insisted I dress up for Dj Kamjo's birthday party which was taking place at Best Western roof top. When we got to the party, one of Robert's friends stood up to make an announcement before ripping off his shirt buttons, sending them flying everywhere, to reveal an inner t-shirt with my name 'Tina' printed on it as the spotlight shone on him. I found that creepy. Then a second guy with 'Yabann' on his t-shirt stands and followed by a third to fifth guy with the words 'will you marry' on each of their t-shirts as they ripped off their shirts while Robert had one written 'me'. I said yes more to the t-shirts than to him. It is surprising that he had the t-shirts on the back seat of his car but I never gave much thought to them.
THE DRAMA
Robert: When I went for the introduction, the relatives were a bit hostile towards me. In fact, one of them threateningly told me that I had better have in mind that Tina had more than 200 suitors.
For More of This Stories Subscribe to the Standard Epaper to get a copy of Eve Woman in the Standard
Tina: Robert convinced me to leave my job so as to concentrate on the wedding planning, which I did since I did not like it very much anyway. The freedom he gave me to plan and choose is the best gift he ever gave me.
IN HINDSIGHT
Robert: I learnt that there is no need to get worked up when things do not go as planned. Also, keep your committee lean - a maximum of four people - as a big one derails the process and frustrates the couple even soiling down their dream.
Tina: I have learnt that people will always have their own opinions about other people's relationships as was our case where it was said that a relationship between people in the same field would not work. I have found beauty in writing your own relationship script since a relationship is about the two of you.
MEMORABLE MOMENTS
Tina: The reception was such great fun. The groomsmen even choreographed a dance which they presented at the reception. It was so well done. The honeymoon was also something else. We spent four days in Mauritius and three in Dubai. While in Mauritius, Robert sprained his leg while playing badminton and from then on were were given VIP treatment all through. It was a blessing in disguise.
Robert: The cake, which was in form of a construction site, had been made to such intricate detail that the baker, Mudi Cakes, had to be there for the cake-cutting session to separate the edibles from the plastics.
WORDS: ROSE KWAMBOKA
PHOTOS: BEN AND GATHONI KIRUTHI
Do not miss out on the latest news. Join the Eve Digital Telegram channel HERE.