Mirror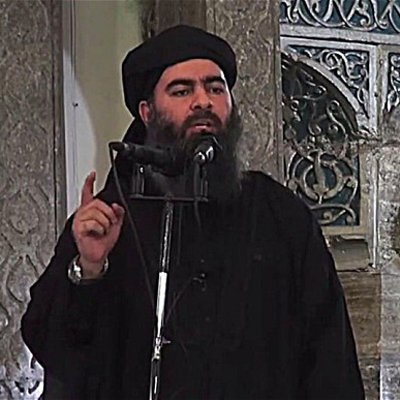 The world's most feared terrorist Abu Bakr al-Baghdadi has been dealt a devastating blow after he learned his wife and daughter had been seized leaving Syria.
A woman believed to be Saja al-Dulaimi was arrested by the Lebanese Army trying to cross the border from Syria and is being interrogated in Beirut by security officials.
Her arrest could be used by Lebanese military intelligence as a bargaining chip to swap for the many hostages being held by ISIS fighters.
A Lebanese security source said the arrest was "a powerful card to apply pressure" in negotiations to secure the release of 27 Lebanese soldiers captured by militants.
The woman - billed as "one" of Baghdadi's three wives - was among 150 women prisoners released from a Syrian government prison in March this year but she remained in the country.
She and her child were captured by the Lebanese army as they crossed from Syria nine days ago- just as her husband's forces were suffering huge military losses.
Saja al-Dulaimi Arrested: Image from a video of a woman believed to be Saja al-Dulaimi, the wife of Abu Bakr al-Baghdadi
Al-Baghdadi's network has been pounded in recent days by American war jets in Syria and British planes in Iraq, whilst US and UK special forces have also battered the group.
The CIA has slapped a £6.4 million bounty on the head of al-Baghdadi - whose real name isIbrahim Awwad Ibrahim Ali al-Badri al-Samarai.
His network has now executed five British and American hostages who were all journalistsand aid workers.
The main suspect for the beheadings is a British jihadist nicknamed "Jihadi John."
A senior Lebanese security official said Baghdadi's wife had been travelling with one of their daughters and DNA tests were conducted to verify it was Baghdadi's child.
They were detained in northern Lebanon and the seizure was kept secret whilst checks were made on the woman's identity.
When Dulaimi was released from a Syrian government jail in March it was as part of a prisoner swap that led to the release of 13 nuns taken captive by al Qaeda-linked militants in Syria.
Iraqi intelligence is thought to have confirmed the captured woman was an Iraqi wife of Baghdadi's.
Baghdadi has three wives, two Iraqis and one Syrian, according to tribal sources in Iraq.
Islamic State has seized wide areas of Iraq and Syria, Lebanon's neighbour to the east.
Lebanese security forces have cracked down on the group's sympathizers and the intelligence services have been extra vigilant on the borders with Syria.
They have arrested over the past few months dozens of Islamic militants suspected of staging attacks to expand Islamic State influence in Lebanon.
A U.S.-led alliance is trying to smash Islamic State's rule over large swatches of Syria and Iraq.
President Barack Obama has vowed to "degrade and ultimately destroy" Baghdadi's group, which is seeking to reshape the Middle East according to its radical vision of Islam.
photo:www.telegraph.co.uk