Wilberforce Okwiri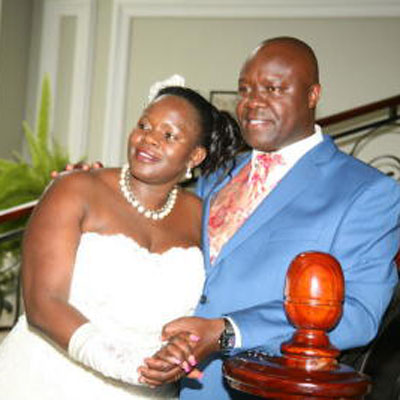 ALSO READ: Cultivating peace of mind
BRIDE: Marren Awuor Anot
GROOM: Tom Omondi Okeyo
DATE OF WEDDING: August 23, 2014
GUESTS: 700
CEREMONY AND RECEPTION: Nairobi Pentecostal Church, Karen
BUDGET: Sh1.6 Million
ALSO READ: Teacher's traumatizing night that left her widowed also turned her into a counsellor
FIRST DATE
Our first date was on April Fool's Day at Roasters on Thika Road. I was then a Second Year student at Kenyatta University. It was a simple and quiet date. He ran the show for the better part of the date. Most outstanding, we both fell in love, we smiled at each other as we talked...or rather as he probed and I answered, since he was the one leading the conversation. He bid me bye with a warm long hug, gave me his business card, which from then on I carried along with my student ID. I mastered every word on the card, had the three land-line numbers and the fax off-head by the second day. I was not reachable on phone so we only talked when I called his office and only when he happened to be there. If you went to a pubic university those days then you know where the post office would be, away from the hostels and the long queues students made to call, and then there was the reverse call 'thingi.' Indeed dating has evolved.
THE PROPOSAL
I missed this one. His talks confirmed a fruitful end to a long search for a lifetime partner. Marriage was not one of those things I looked forward to but I also did not want to lose the sweet love I had just trapped myself into and so I didn't quite say NO neither did I approve. On the second date three days later, he told me I had met a man ripe for marriage and waited for my reaction. And there I was not ready to lose love by saying no, yet clear that marriage was out of the question. My excuse was school, so I told him I needed to clear campus first. His response left me confused, "That is fine, I will wait. As our relationship fared on it was clear for both of us that it wasn't just dating. He eventually proposed just before our wedding this year in June. We had class assignment in pre-marital counselling during which couples wrote and exchanged poems. After reciting his poem, he went on to say, "I know I have said this before but I don't mind saying it again." The next thing I saw, he was down asking for my hand. I quickly reached for his hand amid tears, almost kneeling along. The class went wild with cheering and clapping. Despite having lived together for close to ten years, the proposal and the wedding did reinvent us into a new love. We are both glad we had it.
THE DRAMA
We started planning the wedding in March and our first search was the church. We wanted NPC Karen and the first day we visited, they were just about to start the next pre-marital class. A ten-week class for three-hours every Sunday. At first, I thought we would drop out because the timings were crazy - from 8am- 11am. I had to wake up 6.30am on a Sunday, a day I initially reserved for morning sleep. I then embarked on an active search for suppliers. I identified my caterer and tent provider at one of the weddings I attended during the search. The team had done a great set up and did a good meal with beautiful utensils. The tent lady had very clean tents. The hardest to find was my gown! I combed through the city but failed to find anything that awed me and my plus size didn't make the search any easier. Finally, I opted to travel to Turkey after I spotted a nice petite gown on Ngong' imported from there. Generally, the planning period was fun-filled. I am most grateful to the army of girls around me during the planning.
ALSO READ: Confessions: My teenage sweetheart is being abused by his wife and I love him so much
No drama would miss in such events... The groom, best man and one of the groomsmen had a radiator burst on their way to pick me up. The decorator brought the wrong flowers for the maids, then the pastor came one hour late. Then came the rain, then the hurried photo session at Hemmingways, Karen.
IN HINDSIGHT
If I were to do it again, I would opt for a morning photo session if the church service is at 12 noon. We had to hurry the wedding. One advice every bride gets and never put into play - is early planning the pressure to get everything done is never enough until one month to the wedding. It's at this stage that you realise nothing has been done. I still love the choice of colours for my wedding and would go for them any day. Fuschia has since become my favourite colour.
MEMORABLE MOMENTS
The wedding day was great; we started the morning at my Aunt Hilda's place where the bridal party was picked by a team of Luo traditional dancers popularly known as Jopeke Dancers. I always say; the honey moon was bigger than the wedding. I did not know of my honeymoon destination until the night after my wedding. We had come to the room to freshen up for the evening party when he told me we would be leaving for Deira City - Dubai the following day. The six romantic days, just the world and the two of us were the best moments we shared together ever since. It was lovely.
PHOTOS AND INTERVIEW BY: WILBERFORCE OKWIRI