Joan Barsulai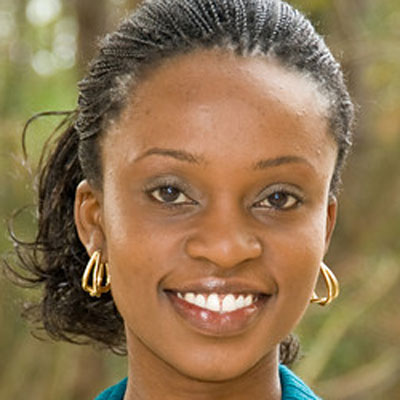 Growing up in middle class Westlands area in Nairobi, Irene Renee Okech was always a brilliant, all-rounded student. She attended Westlands Priymary School and Moi Girls High School, Eldoret. "I was blessed to grow up in a home with loving, nurturing parents. I did everything, basically. I swam, I ran, I was active in drama, dance and choir, and I represented my schools in several competitions across the country," says Irene.
But the one thing that impacted Irene, in the midst of her comfortable upbringing, were the sad and tragic stories their mother often told them about poor women and children she treated at her place of work. "In her earlier days, my mother worked as for Government hospitals and humanitarian organisations as a midwife and a registered nurse. Every time she came home, she would tell us stories about the suffering of women who could not access healthcare...the challenges expectant mothers in refugee camps faced."
The stories were enough to pique Irene's curiosity, and concern. She wanted to see it for herself, and she would often beg to tag along with her mother during her ward rounds, meeting and greeting all her patients, and especially the children. Her school holidays were characterised by visits to Alego, Siaya and Butere, Kakamega, which often entailed handing out painkillers and healthcare advice, together with her mother, to the many women who had come from far and wide to get medical assistance.
This experience impacted Irene a great deal, and when she joined University of Nairobi's Chiromo Campus, she decided to do a Bachelor of Science in Biology, having especially been inspired by her mother. Around the same time, she attained a CPA-K from Strathmore College before she graduated from UoN, having been inspired by her late father to make time for Accounting courses.
"My father was a patient man who would take his time to sit with us and work with us on our school homework to ensure we understood the concepts of the subject. I remember struggling with Mathematics in early primary school, but did very well in the other subjects. My father noticed my math struggle and designed study guides to help me," Irene says.
Core subjects
"By the end of primary school, I loved math and performed highly in the subject. This led me to select Accounting as one of my core subjects in high school, and then later on study to become a CPA (K)," she says.
Unfortunately, her father passed away in 2002 when she was smack in the middle of her university education. For a few months, the future of her education seemed uncertain as her father was the sole sponsor.
"My father sacrificed all he had to give his children the best education he could afford. For that we are all entirely grateful," Irene says, adding that the family was able to scrape together whatever savings they had so Irene could finish her degree. She graduated in 2003.
Her father's passing fuelled Irene's natural drive and she decided not to stop her education there. After months of research and dozens of applications, she secured a scholarship in a university in the US. With her continued unwavering academic excellence, Irene graduated in 2008 from Brenau University in Atlanta, Georgia with an MBA, having specialised in Healthcare Management and becoming one of the first few women in Kenya to earn that status. She also scored perfectly (4.0 grade point average) and was the top graduate student in healthcare management.
Better chance
"My mother came to visit me, with a 60-page proposal at hand, which contained her dreams of giving women and children, especially in the rural areas of Kenya a better chance at having a more enjoyable and healthier pregnancy," Irene says adding that the stories she once heard and witnessed, about poor women's inaccessibility to proper healthcare had always been at the back of her mind.
"My mother said that if we teamed up, with her skills and experience as a nurse and my background in public health policy and accounting, we could initiate something great. She believed that no matter how small we started, even if it just meant making a difference in the life of a single person, we should, at least, try and make a difference, starting from our home."
That year, Irene and her mother, Judith Okech, spent months on the phone, on research and networking, meetings, talking and praying continuously. In 2009, Imbako Public Health was born, and shortly after, it was registered in Atlanta, and Nairobi.
In regards to maternal and child healthcare, Irene and her mother have combined efforts to provide free and accessible clinical services to women and teenagers whom they target as potential mothers.
Irene has also been able to follow a passion close to her heart, which is funding college education for rural impoverished girls. "A lot of scholarships focus on students who score highly in their secondary education. But what about brilliant girls with great potential, who do not manage to do well in school? Those are the girls we target," Irene says. To date, Imbako has provided free college education opportunities for 20 such girls.
Meanwhile, Irene's academic heights continue to soar. In 2008, she was awarded the 'Outstanding Healthcare Award' during her final graduate year. In 2010, she embarked on her PhD in Public Health (Health Services Policy and Management), after having received eight rejection letters, before being accepted to the University of South Carolina for a full scholarship. Irene terms her PhD years as some of the "most difficult years of her life."
"During my Phd, I was among the few black women in my programme, studying in a predominantly white state. I constantly had to prove myself; every time grades came, out I was at the top. The experience shaped and moulded me in a big way. I have learned to take things with a high maturity level," she says. Her academic excellence has paid off, and Irene's doctoral work has enabled research into treatment methods of hydrocephalus in the United States. "My father passed on from a hydrocephalus related complication and I am so grateful to God I was able to research and publish on the subject for my doctoral dissertation, partly in his honour."
She is currently based in Atlanta, Georgia where she is a Healthcare Research and Policy Analyst for a healthcare management firm.
What keeps her going is the knowledge that that she carries the next generation with what she does. "Time is limited, and because it is equally awarded to all of us, it is incumbent upon us to use it to make a significant difference in the futures of those around us," she says.
Photo: www.sph.sc.edu