Hosea Omole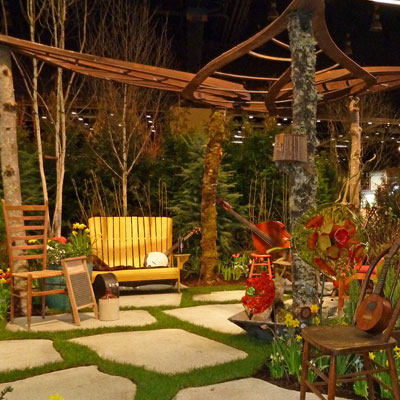 Not long ago, I got a chance to review a number of previously completed projects as well as DIY (Do-It-Yourself) projects. I learnt many lessons, which I hope to share with you in the coming weeks. But let me begin by addressing one of the most striking gaps I found in many of the gardens I reviewed; lack of space.
ALSO READ: Woman explains how you can use a tampon to save house plants
Many of our gardens don't have defined spaces. Even some of the best-planted and lush gardens are characteristically boundless. We seem to get stuck at gardening, which is the cultivation of plants for ornamental or culinary purposes.
Focus
Besides the boundary walls within which the garden is contained, there are no distinct 'room' or 'rooms' within our gardens that are designed and furnished for specific outdoor uses.
We focus only on creating two-dimensional patterns on the ground with paths and flowers or arranging plant materials along the base of the house or boundary. The result is more often a garden you can't fully utilise and experience.
We can achieve so much more if we dared go beyond gardening and started focusing on space. Space is the entity where we live, work, and recreate.
Consequently, all the site elements that make up the outdoor environment, such as plant materials, pavements, walls, fences, and other structures, should be considered as the physical elements that define outdoor space.
ALSO READ: Turn a shipping container to a lively space
We should start thinking of design as the creation and organisation of outdoor space and find out how these other components define and influence the character and mood of space.
Garden rooms
An indoor use area will function as a usable space if there is sufficient space, adequate privacy, decoration, and furnishings. Success of outdoor space can be looked at in a similar way. We find a space to be comfortable, pleasurable and successful if it provides sufficient room for the function, enough privacy for the function to occur, decoration and furnishings.
An effective means for understanding outdoor space is to think of it as a series of outdoor rooms similar to the interior rooms of a house.
Spaces
Each interior room has a definite sense of enclosure that is clearly defined by the floor, walls, and ceiling. Similarly, there are potentially such rooms as the entry space, entertaining space, living space, dining space and workspace in the exterior environment of your site.
Like their interior counterparts, exterior spaces are defined by three primary planes of enclosurels, and ceilings, collectively define the edges or limits of outdoor rooms.
ALSO READ: Woman shares 'perfect' hack to get rid of weeds from your garden