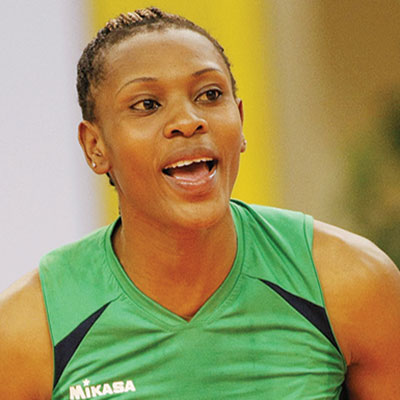 BRACKCIDES AGALA KHADAMBI is the captain of the Kenyan Women's National Volleyball team that has been unbeaten in many tourneys. She shares her hopes and dreams for the game she loves.
Her love for volleyball started in her high school days. Whenever she took part in school games and other friendly tournaments, volleyball was the only game she dared to play.
To her, it was more than just a game — it was a passion and a talent. As she played, she improved her skills and became one of the best players in her school team. Little did she know that from that humble start, she would rise to become one of the stars in the Kenya National Women's Volleyball Team.
Today, 29-year-old Brackcides Agala Khadambi, a tall, elegant and talented skipper, serves as the national team captain.
Born on May 14, 1984, in Kakamega County, little Brackcides never dreamt that she would one day fly the Kenyan flag high.
Her father, Richard Khadambi, was a musician and composer, and took part in the writing of the East African Community Anthem. Her mother was a teacher.
"They were the best parents one could ask for. They instilled in us great morals and values that have made us what we are now. They are my role models," says Brackcides, who is the firstborn of four siblings.
She singles out her years at Lugulu Girls' High School, especially Form Three, as the time that her interest and expertise in volleyball grew the most.
"I developed a strong liking for volleyball while in school. I looked forward to games time and friendly school matches and tournaments so that I could take part in the game," she reminisces.
Volleyball appeals to all types of players, from competitive to recreational, young and old. To play volleyball, players need to acquire a few basic skills, learn the rules and get the relevant equipment, and then they can play the game almost anywhere — from the beach to the gym.
The aim of the sport is to score points by hitting the ball with the hands and sending it over the net to the opponent's side. This is what Brackcides has done professionally for five years.
"Volleyball has given me the chance to travel the world and take part in numerous tournaments. It has also opened great doors for me and I now consider it a career," she says.
She and her team have recorded a sterling performance over the years, earning the title of five-time African champions. In September, the team earned additional bragging rights as they remained unbeaten to clinch the trophy during the Women's African Nations Championship held in Nairobi.
"Becoming a prolific and outstanding volleyball player requires talent. One also needs to be highly disciplined. However, in Kenya, most players start taking part in the game when they are above 18 years, yet this is a talent that needs to be nurtured from a young age," says Brackcides.
Besides playing for the national team, she also works as a wardress in the Kenya Prison Service, and is a member of the Prisons Volleyball Club.
"Because I am part of the Prisons team, I am normally exempted from going to work so that I can take part in training when we have a tournament coming up. That way, I am able to strike a balance between work and volleyball."
Despite the success they have achieved as a team, Brackcides says they have had to put up with a myriad of challenges.
For More of This Stories Subscribe to the Standard Epaper to get a copy of Eve Woman in the Standard
"During some tournaments, we lack good training grounds and proper accommodation. Sometimes, we don't even get our allowances, and have to use our own money to pay for our expenses. This can be really discouraging," she says.
STERLING PERFORMANCE
"Worldwide, we are ranked 18th, which is a drop from the position 13 we held previously.
"Another problem is that we don't go for friendly matches, yet our rivals, such as Egypt and Algeria, often take part in friendly matches. My greatest wish is for the Government and corporate organisations to support volleyball and sponsor our training in other countries. This will enable us to compete on a more even footing with teams from the rest of the world and record easier wins."
Brackcides adds that volleyball has not gained a strong foothold in Kenya, and rates it fourth, after football, rugby and athletics.
"Sports in Kenya is moving at a slow pace because many great players are offered lucrative deals to play for other countries. This situation needs to be changed. The country needs to accord sportsmen and women the support they need and deserve so that they can grow," she says.
When she grows older and can no longer play actively, Brackcides says she will either become a coach or concentrate on her prison job.
She also has a passion for children, and hopes to put up a home for orphans.
The spiker calls on the Government to put up sport academies, where children can nurture their talents.
"This way, teams will never die, but will continue growing. People need to realise that failing in academics does not mean you will also fail in other activities, such as sports.
"I'm providing for my children through volleyball, and am proud of myself. I pray that God gives me the strength to continue playing volleyball for the next ten or so years. Sport is also a career that pays," she concludes.
Do not miss out on the latest news. Join the Eve Digital Telegram channel HERE.