Tony Mochama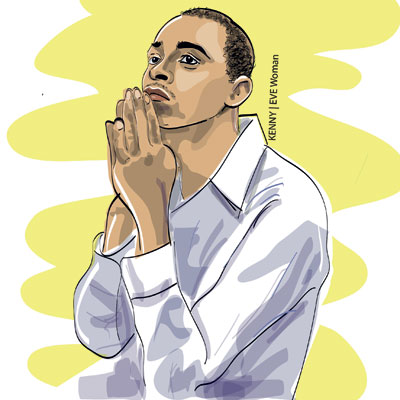 It was almost noon on a weekday and we had just been hit from behind by a car driven by a rather hangover fellow. I hurried out to warn him – (as our boss, Kipkoech Tanui, in another car coincidentally drove by with a casual 'poleni.').
"Just admit liability when my missus arrives," I whispered urgently.
"Unless you have the rest of the afternoon to waste arguing in a cop shop."
This feller, Gicheru, looked at me, saw truth in my eyes, and in that way we men sometimes bond for survival, nodded. And in half an hour, we were through with details of repair.
Generally speaking though, outside of the odd fender bender incident, I would not advice any man to give in to women's whims, otherwise they will think you are a wimp. And then your goose is cooked.
Women like strong men, and by strong I do not mean a man who chapas them, but strong in character, who knows his mind.
Never mind that line about 'I just want a good guy.' In the love game, saints finish last in the Bosom Marathon.
That's why 99 per cent of canonised saints are single.
Look at those church mice men, for example, or what we used to call in school 'goody two shoes'. I knew this guy called Gerry, very quiet and gentle and shy, the sort who would not even swat a fly.
Yet he is now getting to forty as a singleton because he can hardly communicate with members of the opposite sex. "They say I'm boring," Gerry whispers, sipping a warm Fanta orange.
Then there are the Sir Gallahad the Gallants, and Charles the Chivalrous. They think women will be impressed by their gentlemanly acts of rushing to open all sorts of doors for them, including the boot at the supermarket so the security guard can scope it out.
They'll pull chairs, take coats (instead of bras) off backs, and some even shamelessly strut about with the woman's handbag. Wooses!
I'm all for flowers and poetry, but if you buy her chocolates even for Labour Day, you better be a card-carrying, lifelong member of Cotu ( with Bifwoli, er, I mean Atwoli's framed picture in your sitting room).
Then there are those guys who are so-ooo saintly in their routine, they are at home by, say, 6pm every day after work. It is great to help with the tois' homework, yes, but do you have to clock in at home ni ka unafanya kazi kwa muhindi, Industrial area?
A friend made me laugh telling me she overheard her mom tell her dad, "Baba watoto, si Sato you should sometimes go and watch Chelsea and Liverpool ka mababa wengine?"
It's bad enough to clock in, but if you are ever cooking, cleaning and doing chores around the house so madam may canonise you, I've got news for you. A recent study conducted by one of those very-clever-wazungu scientist groups found that women, in their genes, find men doing housework unsexy. Kwani you are a houseboy?
I recently watched a Robbie Williams' video called 'Candy.' In it he has a halo and for a woman called Candice, he gets hit by a boda, run over by a car, jumps off a building, is walloped and thrown through glass by a burly Man City fan, walks through fire for his 'sweetheart.' But she doesn't notice all his 'mwanaume ni effort' moves as she walks, WhatsApping, down the street.
Lying broken on a pavement, this sweet mad saint asks: "And if it doesn't feel good, what are you doing it for?"