Home
/
Easy recipe: Pan roasted salmon, sweet chilli potato wedges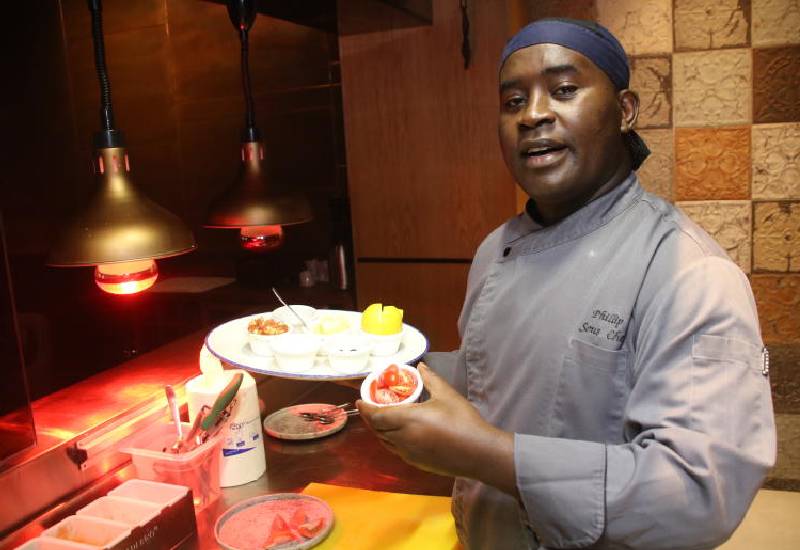 Chef Phillip, the sous chef at the Social House Nairobi, shares his favourite recipes and kitchen tips: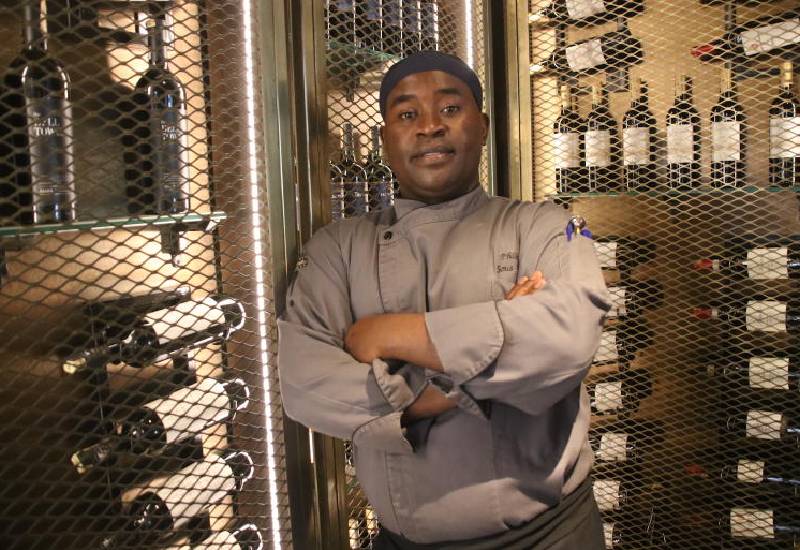 I am very passionate about the art that's food. I have 10 years' experience in the industry, but my love for food started way back in the village as a small boy.
To me, food is life and I am most happy when experimenting with different ingredients from different parts of the world.
I am currently the Sous Chef at the Social House Nairobi, a place that has given me the space and the opportunity to explore different ways of mixing ingredients.
Let's talk wine and food. What's the secret to knowing what pairs well with what?
There is no secret to food and wine pairing, all that matters is what you like. At the Social House we believe in being different, so if you want to pair a steak with your favourite white wine, then why not? Wine and food pairings should be fun and quirky just like us.
We, however, encourage our guests to take a walk through the wine wall and ask questions. Our service staffs are well trained to give guests a tour though different wine countries.
This is normally a good conversation starter in getting guests comfortable enough to ask questions about the wine.
We will then recommend wines that pair best with certain foods, but will let our guests make the decision.
For instance, Salmon pairs well with Sauvignon Blanc. You can still, however, pair it just how you like it
Is there a flavour map of sorts to help you marry the two?
Food flavours are key in wine pairing, but tasting ought to be done to come up with the best. However, individual taste and preference take the centrestage.
What's your day like?
I start my day by planning adequately in terms of mise en place, and then I use the table reservation app on our website to check the number of confirmed bookings.
This is just to make sure that I have done enough preparation with consideration of a few walk-in guess.
The most requested dish...
Pan-fried salmon - this is because of its nutritional value and most importantly the preparation is made with love like all our other menu items.
The most challenging, but satisfying dish you've ever made was...
The first time I introduced the Tomahawk Wagyu in the menu. It was a risk worth taking considering it is a highly priced steak.
To my surprise, it is now one of our top selling options at Copper Restuarant, especially with guests who enjoy the finer things in life.
Could we talk about those warus (potatoes)? My God, you're like the god of warus.
Potatoes are a favourite for most people. I tend to play around with flavours and spices hence each potato option will be different.
At Copper, our options range from the sweet chilli potato wedges, the mashed potato gratin and the famous copper fries, and each option will want you asking for more!
Pan roasted salmon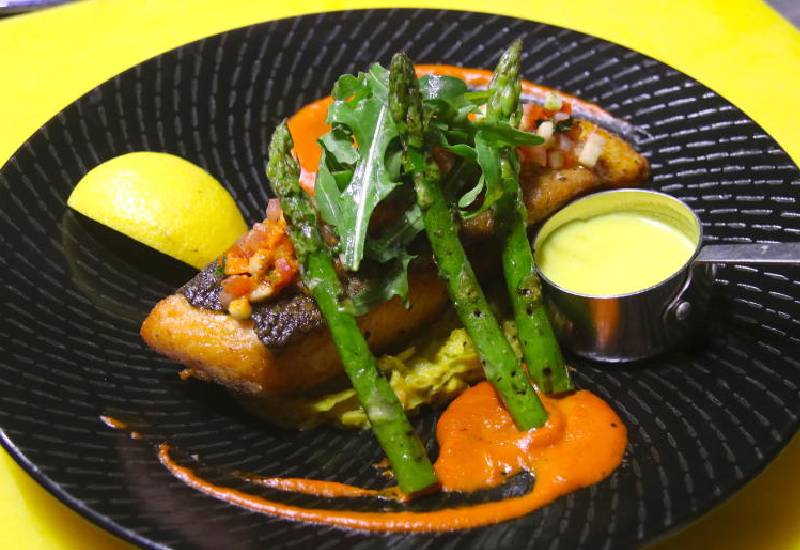 Ingredients
250g Fresh Salmon
1pc imported Lemon
10g Sea salt
5g White Pepper
200g Leeks
100g Chopped onion
60g Garlic paste
200ml Cooking cream
100g Asparagus
10g Dill chopped
20ml Olive oil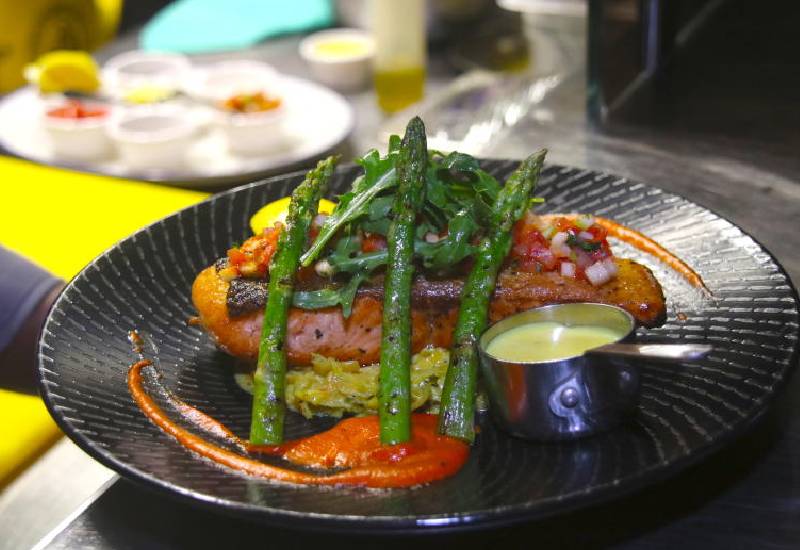 Preparation
i Marinate the Salmon with olive oil, sea salt, chopped dill and white pepper
ii. On a medium heated pan, pan fry the salmon both sides
iii. Drizzle lemon juice, melted butter, on the pan seared salmon and cook in the oven at 180 degree Celsius to the preferred doneness
iv. Sautee chopped onions, garlic and chopped leeks with butter and cook for 10 minutes, then add cooking cream and grated parmesan cheese to make leek fondue
v. Serve the salmon, with lemon, grilled asparagus, leek fondue and lemon butter sauce
Sweet chilli potato wedges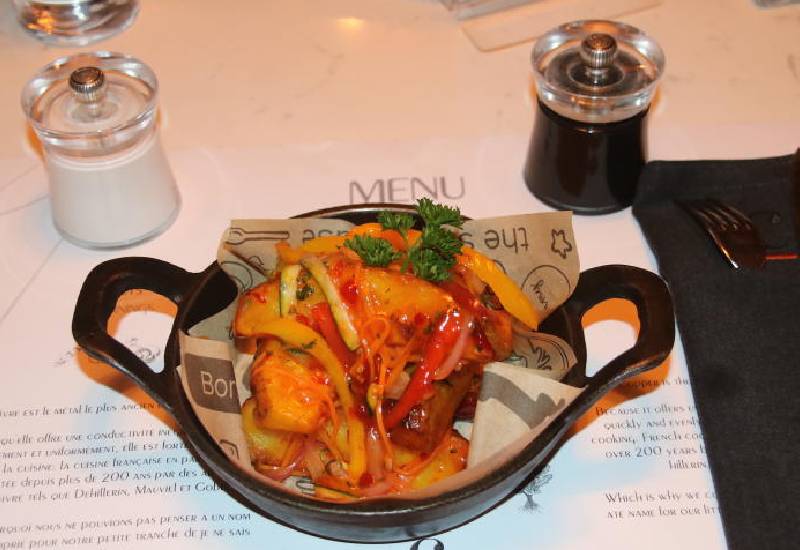 Ingredients
200g Jacket potatoes
60g Courgettes
60g Carrots
100g Red and yellow capsicum
60g Red onions
50ml Sweet chilli sauce
5g Sea salt
5g Crushed peppercorn
10g Butter (unsalted)
Preparation
i. Soak the potatoes in water and wash them clean with skin on
ii. Cut the potatoes into wedges and cook them in salty water for 15 minutes and drain off the water
iii. Deep fry the potatoes in a medium heated deep frier preferably 160 degree Celsius
iv. Put the deep fried potatoes in baking tray sprinkle chopped thyme, and flakes of butter and cook in the oven for 5-10 minutes till golden brown at a temperature of 180 degree Celsius.
v. Cut the julienne of carrots, capsicum, onion, courgettes and sautee those for 3 minutes add roasted potatoes and sweet chilli sauce. Then serve.
Related Topics