Home
/
Achieving Woman
Achieving women: Breaking gender barriers with top maritime jobs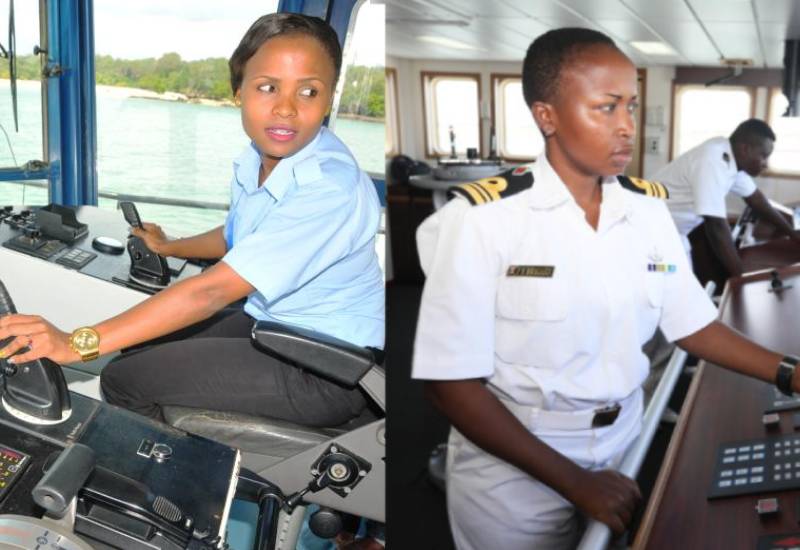 As Kenya joins in celebrations to mark World Maritime Day today, some women stand out because of their bravery to venture into careers that had been the preserve of men for years.
Mlongo Rashid never knew she would end up as a fisherwoman. It is taboo for a woman to engage in fishing among coastal communities.
However, Rashid joined her husband Tungwa Mwaruwa in fishing. It was a major issue as she was fiercely opposed by her community.
The Mwaruwas consume some of the fish and sell the rest.
So what informed Rashid's decision to venture into fishing?
"All along, I had been a housewife. My work was to take care of our home. I would just sit at home and wait for my husband to return from fishing. I would get concerned the days he came home with just a little catch and at times with nothing at all. And we would often quarrel over it," said Rashid.
"I started suspecting him. I felt he was hiding some of the fish or selling them and hiding the proceeds from me. I also feared he was seeing another woman who was benefiting from the fish," she said.
She joined her husband to see for herself whether there were days when he returned from the sea with nothing.
Her decision angered local elders. A meeting was convened to discuss the matter.
And as they say, the rest is history. Rashid is now a regular figure at Port Reitz Creek where she earns a living.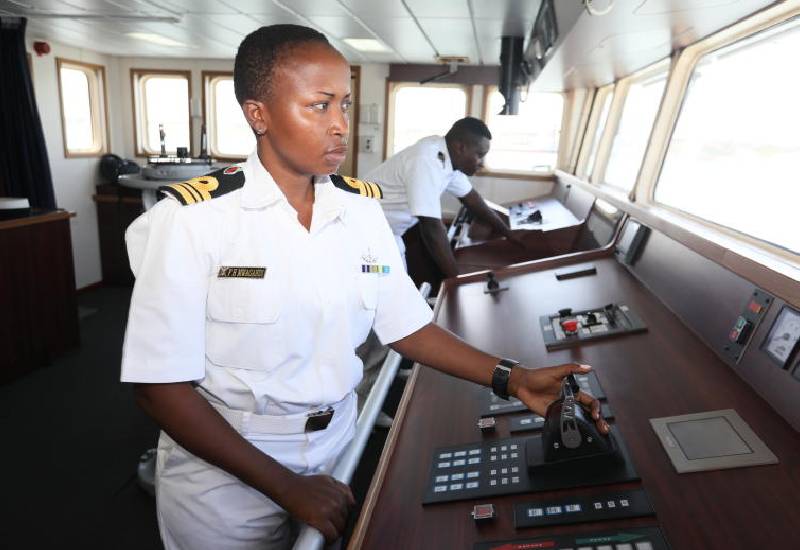 Major Faith Mwagandi made history by becoming the first woman to take command of a Kenya Navy warship.
She said despite the field being male-dominated, Kenya Defence Forces did not make it hard for her to assume the position.
Elizabeth Marami hit news headlines when she became Kenya's first female marine pilot, charting the path less travelled by women and breaking gender barriers that have hindered women for many years.
Her courage saw her take up a challenging course in navigation to become a marine pilot. She was only 27 when she became a marine pilot.
She went to Alexandria in Egypt, after winning a scholarship, to study navigation. Her motivation was she did not want to be ordinary.
The degree course took her five years. One must also get certification from the International Maritime Organization (IMO).
There is also a mandatory requirement of 18 months of sea time any time one moves a rank up.
Marami's journey to success has not been easy but inspirational. The former student of Mama Ngina Girls High School was among the first batch of Kenyan recruits to join the Mediterranean Shipping Company cruise ships. She is now serving as the First Officer aboard cruiseliner Celebrity Edge, following her elevation to the one-strip shoulder badge this month.
After her studies in Nautical Technology at the Arab Academy for Science Technology and Maritime Transport in Egypt, she returned to Kenya in 2014 but struggled to get a job.
"Getting placement on the ships was the only way I would grow my career and it was getting frustrating," said Marami.
She adds: "I walked from one door to the other but I was turned away. I did this over a period of three years. The shipping companies did not tell me why they were rejecting me but I guessed it must have been a gender issue."
"I watched in disbelief as my male colleagues got placements and progressed. Some of them were hired by companies that rejected me," Ms Marami said in a tweet after getting the job.
"I must admit that it was a tough moment for me. I even questioned what my purpose was."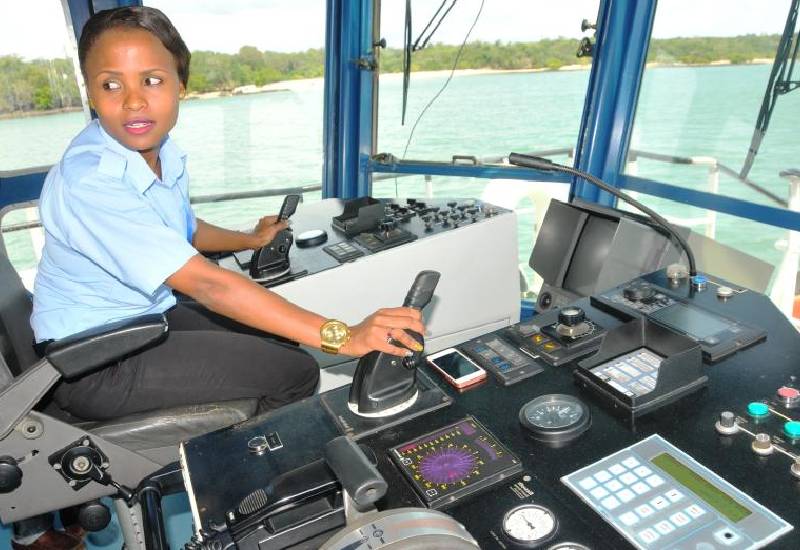 But nine years after her graduation, one company offered her an opportunity as a cadet.
"I went to study in Egypt because at that time, IMO had not allowed Kenya to offer the maritime courses," said Marami.
But now, Kenyan colleges are now offering IMO recognised Standards of Training, Certification, and Watchkeeping (STCW).
According to the Global Seafarers Workforce report 2021, women comprise just 1.2 per cent of seafarers, the figure representing 24,059 women serving as seafarers globally.
In a report, Community Action for Nature Conservation (Canco) says women remain marginalised and poor despite government reforms and the advent of devolution.
Mr Richard Bemaronda, Canco's head of Marine Fisheries Project, said more needs to be done in training women. He was speaking during a recent workshop in Mombasa held under the theme Women in Fisheries: Dialogue and Networking.
Related Topics