Home
/
Achieving Woman
Women stone crushers of Nandi defying cultural stereotypes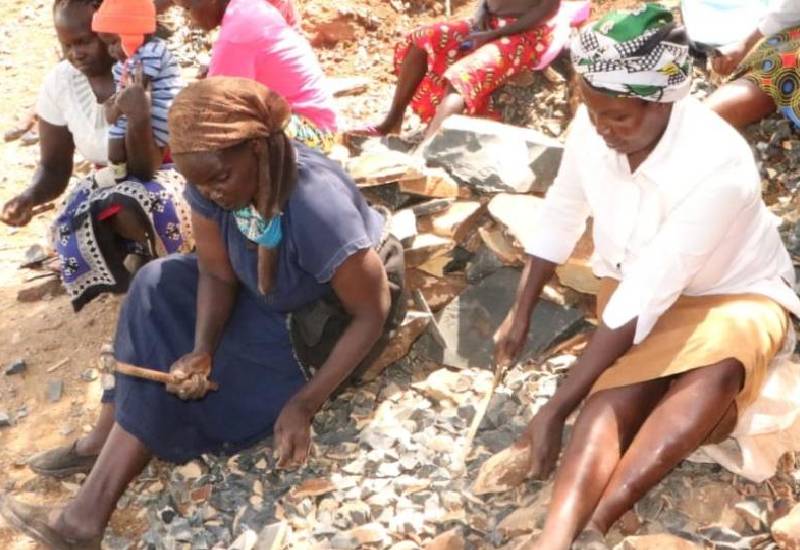 Edward Kosut visits a quarry near Sarwat Village, Nandi County where a group of women have defied cultural stereotypes by establishing a business that helps them put food on the table and see their children through school
Armed with sledgehammers, they navigate the terrain into an open quarry a few kilometers from their home in Sarwat village, Nandi County.
Undeterred by the sweltering heat, the group of 12 women each gather a heap of gravel and, like a synchronised orchestra, they pound the rocks bit by bit.
It is a trade the women, aged between 23 and 65, have mastered in their bid to fend for their families.
Ruth Soy, a member of Chepkemel Women Group, told Eve that, for 12 years, the group has been working in the quarries defying cultural stereotypes and keen on supporting their families.
"We have stood the test of time and, along the way, we resolved to form a self-help group. This has enhanced our activities here," she says.
She adds that when they started crushing stones in 2008, they were about 20 women working in quarries in the area before they dropped to 12.
"We opened a bank account where we now deposit all the proceeds from the sale of gravel. Whenever one of us is facing challenges raising school fees, we use the funds and this has enabled our children to study without disruption," she says.
She adds that they also use the proceeds to buy household necessities and food for their families. "We don't have alternative jobs to earn money," says Mrs Soy, a 65-year-old mother of seven.
She adds that when they arrive at the quarry by 9am every day, they set out to collect stones for crushing, an exercise that takes the whole day.
"I have got grandchildren at home. When schools open, we come with the young ones to the site where we can look after them," she says, adding that she has developed health complications due to her advanced age.
Apart from Mrs Soy, other members of the group include Jane Koech, Evelyn Chirchir, Frida Cheptoo, Joan Koech, Gladys Ng'eno, Irine Koech and Alice Cheruto. Others are Magdaline Koech, Beatrice Kogo, Sheila Mutai and Millicent Akinyi.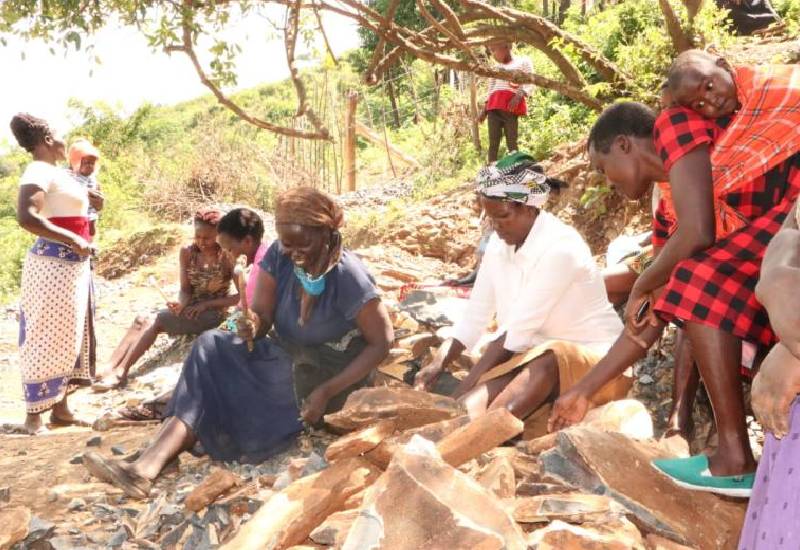 For Mrs Chirchir, working at the quarry has never been easy but the competition they get from a nearby modern quarry has driven prices down forcing them to work even harder to make ends meet.
"Sometimes we can go one month without recording even a single sale. We don't have a choice but to be patient," she says.
She adds, "During the dry season, which occurs from December to March, the harvest we get from food crops cannot sustain our families. This means we have to rely on proceeds from quarrying."
Although the activity puts food on their table, the women say it has left them with scars on their hands and legs due to small accidents sustained during the process of crushing the stone. Sometimes, they take time to heal.
"I don't know if I will sustain this kind of work in the few years to come, my body is growing weak every day. Sometimes, I only do light responsibilities like picking stones," Mrs Soy says.
While the market for gravel has been affected by the Covid-19 pandemic, the women say they are now seeking business from schools in the area to support their venture.
Schools including Kabutye, Fr Poel Kabolebo, Koot Neleel, Sarwat secondary schools, have allowed the women to supply stones to pay school fees.
"It has been a challenge to get enough money to pay school fees for my two children in Form One and Two, and through local arrangements with the school management, they have allowed me to supply them with gravel that is commensurate with the school fees," states Ms Cheruto.
Remmy Butya, a resident, says that the majority of women in area are single mothers or have irresponsible husbands which has forced women to take up quarry jobs to put food on the table.
"They don't have enough capital resources to take up agriculture, including land to cultivate since they live in poor terrain that is unfavourable for farming," he says.
Related Topics