A honeymoon 50 years later
EVE BRIDAL
By - | September 1st 2012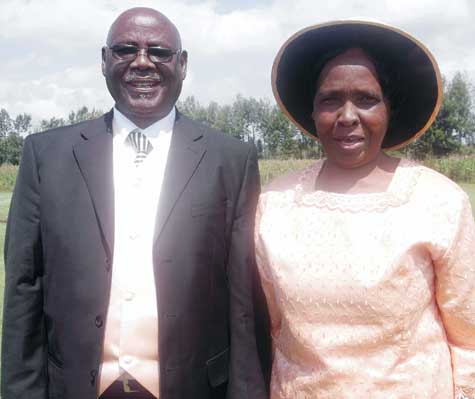 Evanson Njau and Nancy Njeri as they celebrated their 50th anniversary two weeks ago. (Photo:Gardy Chacha/Standard)
Evanson Njau and Nancy Njeri recently celebrated diamond jubilee in marriage and decided to mark this important milestone with their first honeymoon, writes GARDY CHACHA
Evanson and Nancy met in 1961 when they were both working for the Government. At the time, she was employed by the county council while he was a primary school teacher at Mau-Narok. When they met, neither of them thought the casual but easy encounter would bud into a relationship, flower through mutual love and grow into a long-lasting marriage. The couple tied the knot in August 18, 1962 in a colourful ceremony, but because of the odds of the time, didn't celebrate a modern-styled honeymoon.
Njau, in his wits, guts and weasel of a young man, decided to do something unorthodox once he had ascertained his desire to make Nancy his lifelong partner. He approached Nancy's bosses and implored that they move her to the education department, the same docket he was working in, so that he could be close to her. Like in a fairy tale, his wish was grunted, giving him an edge at wooing her.
It was amazing to see that the couple can still remember the nitty-gritty details of their first encounter and how they felt about each other afterwards. Fifty years later and now parents of five sons and a daughter, the couple waltzed down the aisle hand in hand and joyful at the prospect of reliving the memory of their wedding.
"I had been studying her from far but she had no idea I was interested," says Evanson, adding, "I decided to approach her because she fit the criteria of the woman I wanted — very beautiful and well mannered."
They sought the blessings of their parents and she was betrothed to him. A year and a half later, they were made husband and wife before the clergy and a roomful of faithful.
The couple who hail from Njoro, marked their 50th anniversary in front of three generations of family members, a horde of villagers, a cabal of friends and a handful of octogenarians who apart from wanting to witness the occasion, paid attention to a few life's lessons from the stunning couple.
Weathering storms
There was jubilation as the elderly couple affirmed their love for each other. They are now epitomised by other villagers and their peers alike. Asked if she knew who her husband, the love of her life was, Nancy promptly answered to a fervent applause and mundane chuckles from the guests: "Yes I do; his name is Evanson Njau. I still love him and I will continue loving him." For the same question, Njau didn't burt an eyelid as he reiterated his love for Nancy even as they begin, probably another climb of 50 years.
Talking to the couple, I learnt that the 50 years were not all a bed or roses.
"We never fought physically, but had our own share of disagreements, which called for us to ponder over contentious issues. What possibly set us apart is that we were willing to talk and come up with effective solutions," says Njau.
As for Mrs Njau, she points out that fate favoured their union. Working on their marriage together was an added advantage in weathering the storms.
In one unique event that could have potentially changed the course of their marriage, Njau narrates how his wife passed a 'test' given by God: "We had just been married for a few years when my brother was chased home for school fees arrears amounting to Sh250. At the time, I was cash-strapped, but we had a plantation of potatoes, which we harvested and out of it came ten bags, which we sold at Sh25 each. My wife, without considering that we had equal shares in the harvest, used the money to pay my brother's fees. It showed me that her interest wasn't money and that she was selfless."
When Njau was looking for a wife to marry, before everything else, he prayed to God and asked for a woman with certain characteristics. Nancy had been approached by capable young men, but she had already chosen her prince charming for he was "not a drunkard, not a smoker, came home early, was a gentleman and always made me happy."
Over the years, the bride saw her husband bald and the groom saw his wife grow grey, but they could still look into each other's eyes and profess their love. As the celebrations came to an end, the couple received a trip gift to Mombasa. Five decades later, they can at last celebrate a proper honeymoon.