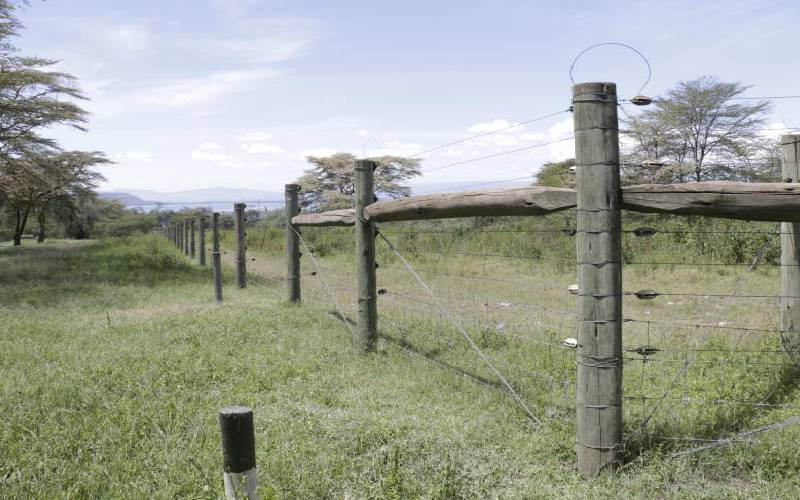 With 25km of electric fence complete and 43km more to go, the ambitious Lake Nakuru National Park's fundraising initiative to put up a fence around the iconic park is struggling to stay afloat.
The annual event, Cycle with the Rhinos, has seen over Sh50 million collected in the past 15 years. But in recent years, collections have significantly reduced particularly after Kenya Wildlife Service (KWS) stopped corporate and adult participation in 2015.
This year's event, the 15th edition has been cancelled.
Corporate event
Cycle with the Rhinos started off 15 years ago following spate of poaching and human-wildlife attacks within the prime park that boasts one of Kenya's best tourism destination. The park is also home to 66 black rhinos and 14 white rhinos.
Since then, the event has evolved from a corporate event to targeting schools for funding. Currently, Sh5 million is in the bank after a halt in construction of the fence pending more contributions to complete remaining 43 kilometres.
Originally, the initiative would attract cyclists across the country who participated in the annual race with contributions getting to as high as Sh8 million per edition. Now, the race struggles even to reach the Sh500,000 mark.
The money would then be used to increase the park's perimetre fencing, mostly to lower incidences of human-wildlife conflict and put an end to poaching.
"Cases of poaching were rampant across the country. Lake Nakuru National Park too, was not an exemption given its location. Residential areas neighbouring the park were coming up, also increasing cases of human-wildlife conflict," Job Leboo chairman of Lake Nakuru National Park Action Committee said.
Besides being an important bird area, a ramsar site, a world heritage site, the park is a rhino sanctuary, one of the oldest in the country, a species which the stakeholders picked as an ambassador species for the funds drive.
"We used rhinos as ambassadors of the event, which finally kicked off in 2004. The aim, was to mobilise for funds to construct a 68-kilometre fence around the park," he said.
Kenya Wildlife Service Assistant Director Central Rift Aggrey Maumo said the initial objective of the project was to identify projects to do within the community for funding.
Putting up an electric fence to stop human-wildlife conflict was among the necessities. "Since then 25 kilometreelectric fence has been put up and several water projects in Ndabibi area have come up as well," he said.
Maumo however says this years' 15th edition, is further hampered by a ban on co-curricular activities during schools' third term.
"We have liaised with the Ministry of Education to run the programmes next year when we also hope to bring back organisations," he said.
Maumo however said vandalism of the fence has been a great challenge and KWS has taken the role to rehabilitate the destroyed fence.
According to 2017/2018 Auditor General report, Lake Nakuru National Park's challenges are exacerbated by urban proximity and technologically superior poachers.
The report further raised issues on lack of current flow on electric fence.
"We want to entirely fence off Lake Nakuru National Park like Aberdares National Park, which has since seen a reduction in poaching and human-wildlife conflict," Maumo said.