Over 2,000 tonnes of trash choking six major Kenyan towns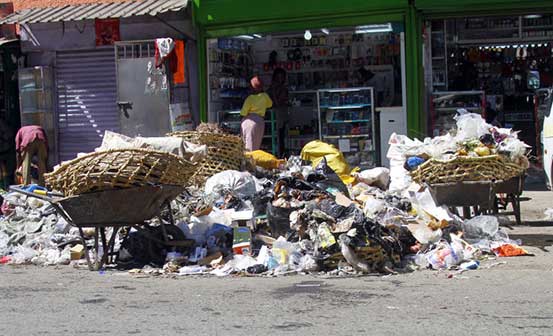 An average of 45 per cent of waste goes uncollected in six major towns across the country, a report by the National Environmental Complaints Committee has revealed.
Nairobi, Kisumu, Thika, Nakuru, Mombasa and Eldoret towns generate an estimated 6,000 tonnes of waste daily. However, only 3,962 tonnes are collected while over 2,000 tonnes remain uncollected.
According to the report, Mombasa tops the list with 770 tonnes of uncollected waste although 65 per cent of the 2,200 tonnes of generated waste is collected daily.
Kisumu County leads in those with the least effort being made to collect daily generated garbage.
Only 20 per cent is collected, according to the report, leaving 80 tonnes uncollected.
Nairobi tops the list in active waste collection - 80 per cent of the daily generated garbage is collected.
However, 240 tonnes of waste still goes uncollected.
Leave behind
Other towns including Eldoret leave behind 270 tonnes daily while Thika and Nakuru leave 60 and 138 tonnes respectively.
According to the report, complaints of waste management are widespread, constituting 26 per cent of all complaints received and investigated by the team.
Air and noise pollution follow with 19 and 13 per cent. Environmental impact assessment and licensing, land use, water pollution and deforestation also form part of the complaints.
The report reveals that 24 million plastic bags are used monthly in Kenya, a situation that has constrained county governments financially.
Some 20 per cent of the waste generated in Nairobi, the report reveals, consists of plastic bags.
"The plastic bags initiative will require tightening of regulations in order to limit production and usage of environmentally-detrimental bags," part of the report read.
It recommends the development of a data bank for plastic waste and appropriate technologies for collection, sorting, transportation, recycling and selling of plastic waste.
According to the committee's chairman John Chumo, the move to ban plastic carrier bags will be key in battling the challenges of waste management in the counties.
"Plastic materials constitute 80 per cent of solid waste. If the move is implemented, this will greatly address the many challenges that has brought about financial implications to both the national and county governments," Mr Chumo said.
Developing a policy on plastics, he said, as well as financial allocations for plastic recycling startups and stakeholder participation, would address the new regulations on the plastics ban.
The committee also recommended the development of alternative packaging materials, waste minimisation and cleaner production with a long-term solution to include revision of school curricular to incorporate formal environmental education.
Speaking at the launch of the country's first training programme on climate change policy, planning and budgeting, environment and natural resources recently, Cabinet Secretary Judi Wakhungu noted that the ministry was set to get rid of plastic carrier bags in the country as a way of addressing the challenges of solid waste.
To fight drought, involve communities
According to the latest information from the Meteorological Department, rainfall will be poorly distributed in April, May and June, and this will have a serious impact on agriculture