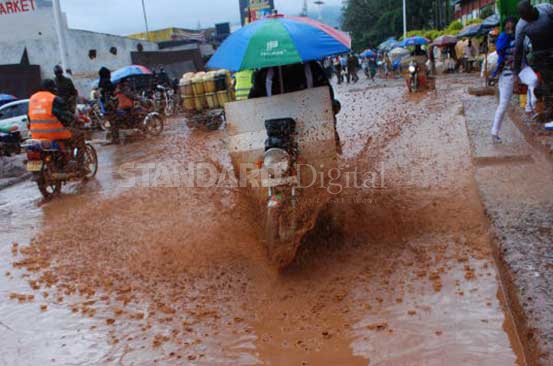 As Kenya and its neighbours continue to wait for the long expected El Niño, every country is putting measures in place to mitigate the possible effects of the impending rains.
The World Meteorological Organisation (WMO) says although this will be the strongest El Niño witnessed since the 1997-98 deluge, its effects, it is believed, will be less destructive. El Niño conditions were formally declared by all major climate forecasting centres in May 2015. The latest forecasts suggest the current rains will continue to be strong and could strengthen in the coming months.
Malaria outbreaks
The International Research Institute for Climate and Society says that in Eastern Africa, El Niño events are usually associated with wetter and warmer conditions during the short rainy season of October-December, and current forecasts for the region indicate above-average rainfall is likely during the season.
Thus, it will be important to monitor rainfall and associated flooding and minimum temperatures given their impact on malaria outbreaks.
Read More
"We are hoping that thanks to scientific advances in better predictions, and in better preparedness, the impact of this El Niño will not be as bad as in 1997/98, when there were really devastating floods," Clare Nullis of the WMO told The Standard on Sunday.
However, Nullis warns, the impact of the rains will be different throughout the region. "The impact on East Africa is not uniform. Generally, it does increase precipitation, so there is a risk of flooding. But in a few southern pockets of Tanzania, there is a tendency towards below average precipitation (and in southern Africa in general)," she said. Apart from the flooding, other dangers too lurk in the more than normal downpours.
"But obviously it's not just climate that will be affected. These rains will have impacts on health and food security as well," she said. "Improvements must be made on disaster management to cut the risk of flooding, and to better manage health impacts. El Niño can affect the incidence of malaria and dengue, as well as water-borne diseases like diarrhoea."
Water and Irrigation Cabinet Secretary Eugene Wamalwa says the country already has a Sh12 billion war chest from the national and county governments to deal with eventualities that may arise.
All El Niño programmes are to be undertaken by a multi-sectoral task force involving the ministries of Water, Education, Devolution, Defence, Health, Agriculture and Interior. Kenyans are being sensitised on how to deal with the floods and landslides that could accompany the heavy rains which are expected to start any time now.
Emergency teams from the National Youth Service (NYS) will help harvest excess water, repair damaged roads and infrastructure, and control floods.
Across the border, the Tanzanian Meteorological Agency (TMA) has warned its citizens on the impact the rains will have on the country's food security.
Danger alerts
"Risk of fungal diseases and excessive soil moisture levels due to heavy rains are likely to impede crop development. Furthermore, high requirement for agricultural inputs is expected to raise production costs. Farmers are advised to prepare their farms and acquire agricultural inputs early while making appropriate land use management and right choice of crop varieties to plant," Agnes Kijazi of the TMA said in a statement earlier this week.
The Ethiopian and Ugandan meteorological bodies have also issued alerts over dangers posed by the rains.
According to the Famine Early Warning Systems Network (FEWSNET), the current El Niño suppressed rainfall from June to September 2015 in some regions of northern Ethiopia and eastern Sudan, resulting in significant agricultural and pastoral impacts.
"Late rains with intermittent dry spells contributed to reduced area planted, late planting, and households planting shorter cycle crops. Forage and water availability are significantly below average," say Fewsnet.