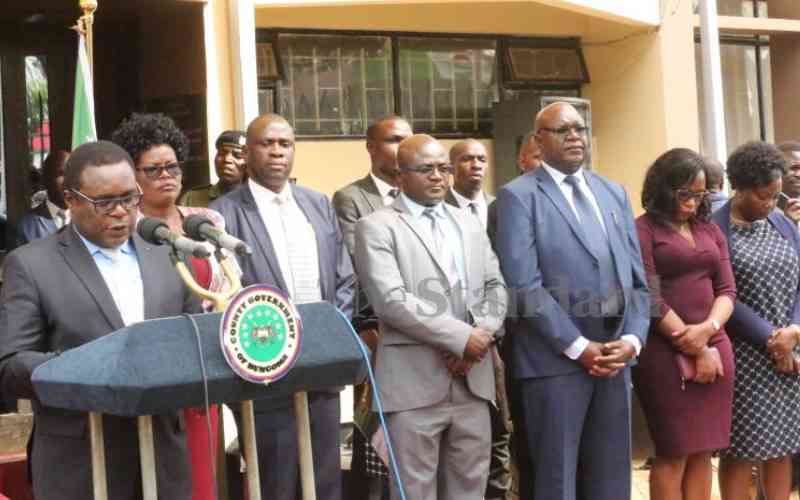 Bungoma governor Ken Lusaka has called on his cabinet to get down to work immediately following Friday's swearing-in.
"Let us work diligently and deliver services to our people as we promised during our campaigns," said Lusaka who spoke at the county headquarters as the County Executive Committee members took the oath of office.
He added: "The people of Bungoma have given me the singular honour of leading the war against poverty, hunger, sickness and illiteracy among other challenges. And as your governor, I am determined to do just that."
The swearing-in follows the approval of the nominees by the county assembly.
The first to take the oath was Mr Benedict Emachar who will head the public administration and management docket.
Others were Ms Monicah Fedha (Agriculture, Livestock, Fisheries, Irrigation and Cooperatives), Mr Douglas Sasita (Lands, Urban Planning, Housing and Municipalities), Dr Andrew Wamalwa (Health and Sanitation), Ms Nancy Kibaba (Gender, Youth, Culture and Sports), and Mr Bonventure Chengek (Roads, Infrastructure, Transport and Public Works).
Also sworn in were Ms Carolyne Khalayi (Energy, Trade and Industrialization), Mr David Wanyonyi (Education and Vocational Training), and Mr Enock Kibunguchy (Environment, Natural Resources, Water and Energy).
"After searching and consulting extensively, it became clear that the county has a rich pool of talented men and women. We were spoilt for choice as we were looking for those to serve in the county cabinet. I am happy with the people we have selected. I am sure they will effectively run the affairs of the county," said Lusaka.
The governor called in the officials to follow the constitution.
"You must realise that you are not here by right. It is a rare honour and privilege bestowed upon you by the people," said the governor even as he lauded MCAs for discharging their constitutional mandate to subject the nominees to rigorous vetting in an efficient and expeditious manner.
He added: "This was yet another demonstration that the House and my administration are working together for the good of our people. The people's expectations on us are very high and we must therefore do everything possible to deliver on our promises."
Related Topics