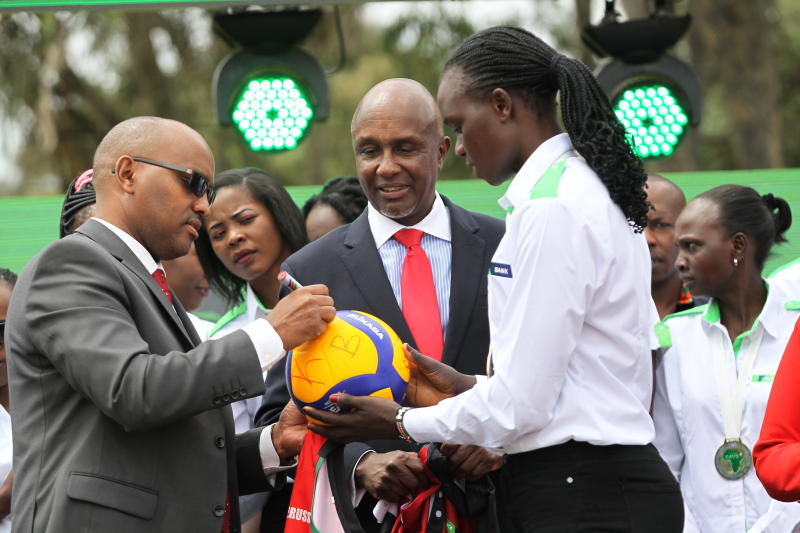 KCB Women's Volleyball team continued their celebration after the institution held a homecoming party at KCB Leadership Centre in Karen.
The bankers who have clinched its ever Women Africa Championship cup title after missing out for over 16 years.
The win was a long time coming for the KCB Lionesses, who suffered previous attempts to hold on to the trophy.
Their achievement has brought smiles to the faces of thousands of the team's fans, with the company CEO Paul Russo declaring a four-million-shilling reward to the team that brought glory to the institution.
Speaking after receiving the trophy from the team on Friday evening, KCB Bank Chairman Andrew Kairu lauded the team for painting the bank in golden colours on the continent's map.
"We as a company are extremely proud of you and I want to wish you well ahead of the Kenya Volleyball Federation National League. We also thank the local federation led by Waithaka Kioni for the support. In addition, I wish to thank KCB Group Director of Marketing, Communication and Citizenship and former national team player Rosalind Gichuru for offering a mentorship program to our team and results are there to be seen," said Kairu.
KCB Technical Director Paul Bitok who doubles up as the Kenya women's team coach promised the nation that the team will strive to retain the standards in order to hold on to the trophy.
"With the win, I wish to assure our sponsor and our fans that this is just the beginning for better things to come. After an outstanding performance, local and international clubs will dangle carrots to persuade our players to switch allegiance. We want to preserve this team and continue professionalising the club," said Bitok.
Team captain Edith Wisa said the token will go a long way to boost the morale of the players.
"With the support from our employer, this will motivate the players and we are grateful to the management for the kind gesture. For sure, as players we will be compelled to do even better in the forthcoming events,'' said Wisa.
Wisa said she knew the team would do well but not to the extreme of winning the trophy.
"I am living a dream; I can't believe it. The wait was long, but finally we did it. We are all happy and proud to win this trophy."
She admitted that the tournament was very stiff and Kenya Prisons and Kenya Pipeline were their main challenge.
''We had anticipated a bruising battle if it turned out to be a Kenyan affair since the two teams were our challengers in our local league. The Al Ahly of Egypt were not that easy to fold since they have international players which we don't have,' she said.
Related Topics