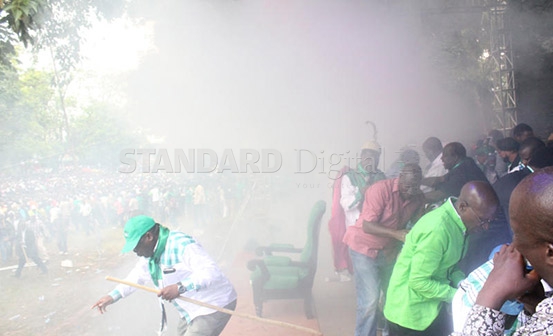 Moses Wetang'ula scampered for safety as tear gas canisters were hurled at the dias moments before he launched his presidential bid at Kakamega's Muliro Gardens.
The cannisters were hurled at the main dias minutes after Mr Wetang'ula, the Ford Kenya leader, and CORD co-principal Kalonzo Musyoka arrived.
This was triggered by a battle between Ford Kenya and ODM supporters as youths clad in green T-shirts and orange shirts fought viciously.
During the commotion, a crowd descended on two suspects with kicks and punches.
Bodyguards offered water to the VIPs who were now behind the podium, to stave off the effects of the stinging tear gas fumes.
The trouble began shortly after Wetang'ula was installed as a Luhya elder, and it was at this moment that fumes engulfed the podium.
The Ford Kenya leader later addressed supporters after ODM youths were ejected from the venue.
Kakamega County Commissioner Kang'ethe Thuku said the injured suspects were admitted at Kakamega County Referral Hospital and were under police watch.
Ford Kenya leaders, who were at the venue before key speakers arrived, warned ODM youths against causing violence reminding them that they were guests and had to behave.
Before the this, youths allied to both Ford Kenya and ODM parties had earlier criss-crossed the streets as they tried to outdo each other in song and dance.
Ford Kenya youth carried placards and banners that read Wetang'ula is the country's saviour while their ODM counterparts had posters of CORD leader Raila Odinga and Kakamega Governor Wycliffe Oparanya.
Kakamega town was painted green and orange, by the parties supporters.
At Muliro Gardens, Ford Kenya youth in-charge of security prevented ODM supporters from accessing the main dias. Bouncers created a ring around the dias and only allowed in people who were dressed in Ford Kenya t-shirts.
ODM youth attempts to storm the main podium were thwarted.
Emcees from time to time pleaded with ODM youth to respect the Bungoma Senator's presidential bid launch while pointing out that Raila and the Wiper leader had also been invited.
Related Topics