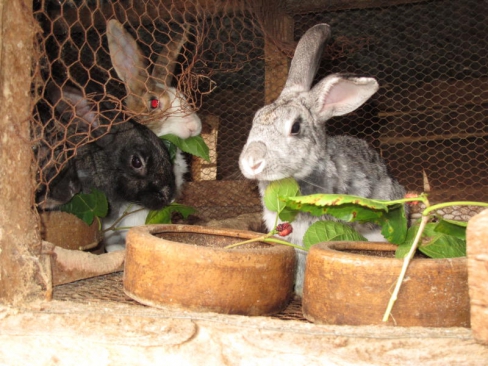 When Gideon Kamau, embraced rabbit farming, he was positive it would bring him good returns. He never imagined it would end with massive losses. Now his hopes and that of fellow farmers have been dashed.
Kamau claims an organisation that calls itself Kenya Commercial Rabbit Council (KCRC) mobilised farmers assured them that they would offer them a market once they enter into a deal with them. But now some farmers are crying foul.
Kamau narrates: "One Reuben Kariuki, a stranger, called me one day in 2011 claiming he was CEO of KCRC and that he was interested in working with rabbit farmers. The 'CEO' said KCRC was also conducting research on value addition and was planning to establish a rabbit factory."
"We organised a meeting and Reuben visited my farm that year and spoke big. I was so impressed, I took him to my friends and he promised us heaven. That time, farmers were struggling with rabbit diseases and this man had carried drugs and vaccines, which he administered on the animals. We later came to learn that they were counterfeits," says the father of one.
High spirits
Mr Reuben appointed Kamau as the director and requested him to mobilise farmers in the county who were to undergo training on production. Kamau mobilised farmers in all sub-counties at Agricultural Society of Kenya show grounds in Nakuru with each farmer paying a fee of Sh1,000 registration.
KCRC promised to purchase each rabbit at Sh3,000 above the normal price of Sh1,500 since demand for rabbit meat was high then.
Reuben also requested farmers to select seven directors, to spearhead KCRC projects in the county. Kamau was one of the directors leading a team of 100 farmers.
To acquire knowledge on value addition, it was mandatory for the directors including interested farmers, to enrol for a three-day training costing Sh5,000. More than 100 farmers enrolled.
According to Reuben, the 'graduation' function in December 2011, was to be graced by Minister for Agriculture though he never attended.
Six months down the line, farmers had multiplied their rabbits but 'KCRC director' went missing in action.
"He never picked our calls nor told us how we could reach him. Farmers suffered massive losses because they had many rabbits with no market."
Kamau says it was later discovered that Reuben and his associates had shifted base to Eldoret.
Missing in action
"My high spirit for rabbit rearing was no more; how could I have been a vessel of lies to a venture that changed my life? I wooed 1,200 farmers to the group. After that saga, I was discouraged, other farmers thought I was part of the scheme," he regrets.
In an interesting twist of events, in 2013 Reuben resurfaced in the area with a urine project.
"I called Reuben asking him the way forward. To my surprise, he said the organisation had stopped dealing with meat and was now focusing on urine production," Kamau says.
Surprisingly, farmers were also required to register with Sh10,000 to access the market. A section of farmers registered.The farmer who was renown to supply rabbits to training institutions, ASK shows, training area, now has only five rabbits from the 420 he used to keep.
Now like Kamau, farmers are feeling duped and want justice. As they await justice the farmers have now resolved to rear rabbit for the local market.
Reached for comment, KCRC's Reuben agrees to having conducted several trainings in Nakuru, but dismisses allegation of farmers that he disappeared after multiplication of rabbits.
Kariuki says his organisation has built cottage industries in Eldoret, Bomet, Nairobi and Kisii counties and has plans of establishing one in Nakuru.
Reuben resurfaces
"I conduct trainings and offer services all over the country but only do value addition on rabbit urine. I have not established an industry in Nakuru because there are less than ten farmers," he said in a phone interview.
Reuben says he trained the farmers on rabbit meat products including meat balls, meat sausages, meat burger and salami, among other products to enable farmers access market.
"I am a food scientist, I encourage farmers to get ready market by practice value addition, packaging and branding of rabbit products," he says.
He adds that the organisation practises green technology farming that's why they ventured into rabbit urine collection.
Because of facing similar challenges as Kamau, another farmer who is almost giving up and has reduced the number of rabbits from 160 to only ten, is one Ng'ang'a from Lanet.
Peter Ng'ang'a, a former employee at Coca Cola Company says he ventured into the project in 2010.
Kenya Agricultural Production Programme (KAPP) coordinator Mr Peter Kimani on his part, encourages more farmers into rabbit rearing on ground that more research is being conducted to find better markets.
He distances himself from the illegal organisation that killed morale of majority farmers saying KAPP was not involved but learned later.
"KAPP learnt about KCRC after it misappropriated farmers' money. Farmers should be cautions of any organisation that claim to work with them not unless its linked to agriculture officers," he warns.
For those who are discouraged, he encourages them to be more vigilant before entering into any dealings and to continue rearing rabbits because project requires less space and can be done anywhere.
Related Topics