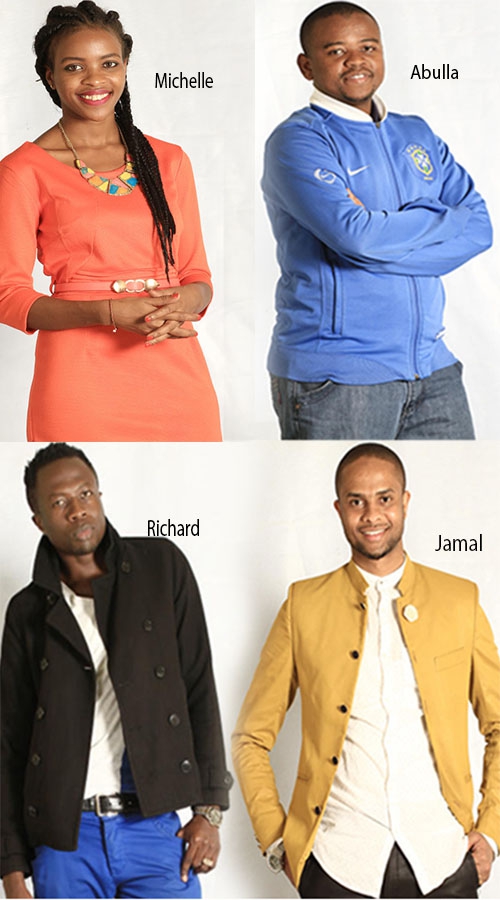 Pulse: During the entire competition, what was the most embarrassing moment on television for you?
Michelle: I was asked to dance to no music on the Jameni Show. My two left feet and I couldn't put up the show. It would have probably been easier if there was a song playing in the background.
Richard: In Episode One, my reactions were quite animated and when I watched myself, I realised I don't even exclaim like that in real life. It was a completely different Richard.
Abulla: There was a time judge Banga called me a civil servant on television because of the way I was dressed. At that moment it was embarrassing but I took it positively and began putting more thought into what I wear.
Jamal: There was a time my fly was open and I noticed much later. Good thing, no one noticed and the editing was in favour of my mishap.
Pulse: If you were to take up a different career, what would it be?
Michelle: Entrepreneurship. Especially agro-preneurship. As I have mentioned, I am a farmer. When I am not on TV or in class, you will find me at the greenhouse tending to my tomatoes.
Richard: TV is my first and second love. I had done community radio and it is almost a given for radio people to transition into TV due to its interrelation.
Abulla: Considering my love for football, I would probably be a football commentator on radio.
Jamal: I would probably be behind the scenes in production, directing and doing camera work... maybe.
Pulse: Some people believe in reincarnation... what animal or creature would you have been?
Michelle: A caterpillar. It blossoms into something beautiful and it doesn't even know the potential it possesses. At the beginning of this show, I was a caterpillar and now I am a butterfly, so to speak.
Richard: I would say a dragon because they embody majesty, power and sultriness and my character is drawn along those lines as I can be feisty sometimes, but at times I can glide along with the situation gracefully.
Abulla: I would have been a bee due to its work ethic. It is such a small insect but works so hard and the results are as good. I also like the lengths the bee would go to protect its own.
Jamal: I would be a German Shepherd (dog) due to its tough and aggressive nature.
Pulse: Who do you see as the most intimidating personality in this competition?
Michelle: That would definitely be Abulla because he is the one I am up against in this category.
Richard: I find myself intimidating even to myself because I surprise myself from time to time; it is in my voice, actions and even expressions.
Abulla: Of course Michelle is the one I find intimidating because we are in the same category. She keeps surprising us as she grows each and every week.
Jamal: Richard, because he questions my every move and action. I switched categories at the last minute so there is a lot I could need guidance on, but at times I do not know if I should take his advice or not.
Pulse: What don't people know about you?
Michelle: I have experience in midwifery as I have helped to deliver five children. I cannot dance to save my life and I love working with children and the less fortunate in society.
Richard: I am such an open book. There is probably very little people don't know about me. I might come out as soft at the onset but I am a tough cookie. I am not easily affected by people's opinions of who I might be to them.
Abulla: I am a very religious person as I put God first before everything. I am also short-tempered but I have learnt to control it over time.
Jamal: I am afraid of heights. I do not drink alcohol and I love tea; it is almost an addiction. I am also into fashion and styling.
Pulse: What is the one thing you would change about...?
Michelle: Richard has a great personality and even better sense of style. The only thing I would ask him to change is his bow tie. It doesn't sit well with me.
Richard: I would be a good teacher to Jamal. I would ask him to be open to the world because this industry is cut-throat and you have very little to yourself so it would be wiser to not let it get to you.
Abulla: Michelle should learn to tone down her smiling or know when to smile while on set.
Jamal: I would teach Abulla how to relax and smile. The facial expression connects you to your audience.
Related Topics