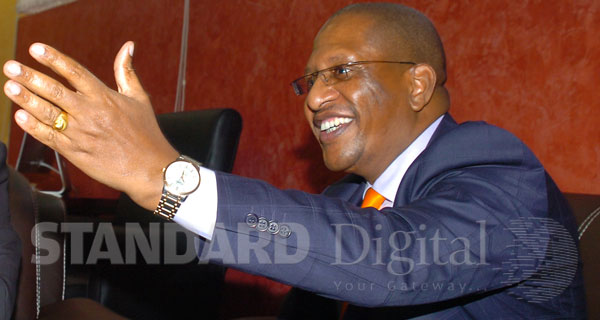 Director of Public Prosecutor Keriako Tobiko. [PHOTO: STANDARD/ FILE]
By ISAIAH LUCHELI
NAIROBI, KENYA: Tech-savvy criminals have been defrauding individuals and institutions in the country of over Sh2 billion annually by use of the Internet and Information and Communication Technology (ICT).
Director Public Prosecutor Keriako Tobiko said yesterday that cyber-crime was now a threat to the country's national security, ICT infrastructure and the enjoyment of constitutional human rights of Kenyans, such as the right to privacy.
The DPP said Kenya was facing challenges in arresting and prosecuting cyber-crime suspects due to lack of effective laws.
He, however, said his office was determined to curb the crime and had established a cyber-crime unit to deal with the rising incidence of cyber theft.
"In recognising that there are inadequate laws currently in place for the prosecution of cyber-crimes, the ODPP has organised a workshop to review existing laws and develop a comprehensive draft Bill on cyber-crime in line with relevant international best practices," said Tobiko.
He said the workshop, which commenced on January 12 and ends tomorrow, was being attended by officials from the Kenya Law Reform Commission, Kenya National Council for Law Reporting, the Deputy DPP in charge of International, Economic and Emerging Crimes, and the Cyber Crime Unit.
CLEAR OBJECTIVES
The DPP added that cyber-crime was becoming increasingly sophisticated through the use of ICT by criminals in and outside Kenya.
"In view of the rising incidents of cyber-crime, the Office of the Director of Public Prosecutions has established a dedicated unit to spearhead the prosecution of cyber criminals. Kenya is losing an estimated Sh2 billion annually through cyber-crime," he said.
The DPP added that once finalised, the cyber-crime Bill would form the basis for robust stakeholders' and public consultations as Kenya moves closer towards the enactment of a comprehensive cyber-crime law in 2014.
Related Topics