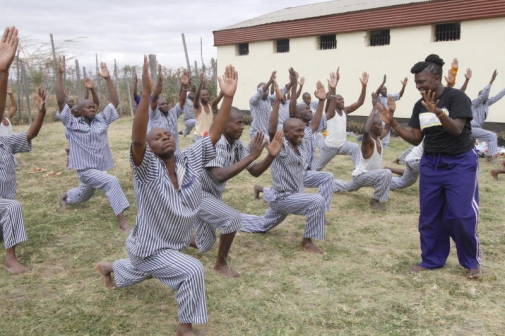 A group of thirty or so men gather together. The navy blue of their jumpsuits is broken by white stripes, immediately giving them away. They are prisoners. Behind them, there is a barbed wire security fence. There are cell blocks to their right and left. In front of them, four prison wardens look on. Behind them there is a watchtower. This is not an environment that one would associate with peace and tranquility. And yet the men have gathered for a yoga class.
This is a most unusual setting for yoga, which ideally should be done in a studio or in the great outdoors, but the circumstances in prison do not usually lend themselves to idealistic expectations.
Aware of this, the inmates at the Athi River GK prison are more than happy to be in that open field. Their trainer, Irene Auma, finds them already assembled and raring to go.
When I arrive, the unusual darkness, which was brought on by the partial solar eclipse experienced earlier this month, has just lifted. The prisoners begin their session as the day breaks for the second time, something that is symbolic of the sliver of light that yoga brings to their dark days of incarceration.
Just over a month since they began their yoga training, they respond to her prompts to get into various positions like 'mountain pose' and 'high plank' with the fluidity of seasoned yogis. They joke about the cold (it was a very cold day), and when Anne asks if anyone has hurt themselves while doing a move, they respond with raucous laughter. Evidently, they love it.
Semo Hajufle, a 33-year-old inmate from Marsabit, is a yoga convert. He describes it as a prayer answered because it gives him a chance to exercise. He used to practice karate before he was imprisoned. Semo was a driver working for the National Youth Service (NYS) when he was convicted of rape in 2010 and sentenced to 20 years in prison. His sentence was later reduced to 10 years. He served part of the sentence at Kamiti and Manyani prisons before he was transferred to Athi River in 2014, which is due to be his last stop.
From his spot at the back, he performs every stance with precision, lines of determination etched on his face. This is likely how he approaches every task at the prison. Unlike the rest of the inmates in stripes, his uniform is a solid navy blue colour, a sign that he is a prison trustee, charged with overseeing other inmates. It is the highest honour an inmate can receive and it is usually a reward for exemplary behaviour.
While at the prison, he has racked up a tidy set of skills, including becoming a skilled carpenter. Semo has also read the entire Koran and feels qualified to teach from it. This new yoga training is only the latest feather in his cap, and he hopes to become good enough to become a yoga trainer.
Their trainer, Irene 'Aus' Auma, hopes that Semo and a few others like him will actually become that good so that they can take up teaching. What she does is completely voluntary, and she does it six days in a week, with the yoga sessions lasting between one and one-and-a-half hours.
For the past eight months, she has been teaching yoga in prison as part of her Peace Within Prisons initiative. She started off in two women's prisons — Lang'ata and Machakos — but is now working with the men as well.
But her yoga programme is only possible because of new approaches to the rehabilitation of prisoners. These approaches have been rolled out on the back of a nationwide prison reform programme. Mary Khaemba, the director of Offender Correction and Rehabilitation at the Kenya Prison Service, says that the programmes built around three main areas: Equipping the prisoners with knowledge (75 per cent are illiterate), empowering them with skills so that they are able to get back into productive employment once they re-enter society, and enabling behavioural and attitude change. This last one is where the yoga programme comes in.
"When someone commits a crime, it means there could be a limitation in their personality, in the way they relate, the way they think and in the way they perceive things," Mary says.
"Yoga as a skill is very important because prison is full of tension — prisoners are thinking about their homes, their families, feeling misplaced and like life is coming to an end. Yoga is very powerful because it reduces stress and depression. It gives them a moment to reflect, to relax and be aware of themselves, to realize that they have a physical body that they can use in a positive way.
"It helps them realise that being in prison is not the end of the world, that they are only being given a moment to look at their challenges and reconstruct the way they think so that they can be productive," she says.
Moses Ekombe, Chief Inspector of the Athi River Prison, says the programme has changed the inmates' way of thinking. Having worked in various prisons for the past 27 years, he says that prisons today cannot be compared to their predecessors. The idea of prisoners doing yoga would have been unthinkable back then. Moses says that even the food is much improved.
Today, guards and inmates are cordial with each other, with both sides saying that they treat each other "like brothers". Inmates are trained based on their interests, and are exposed to educational programmes from primary right up to university. They can also take professional courses such as accounting, hair-dressing, tailoring and IT.
The Athi River GK Prison is famous for industry. Inmates are equipped with skills such as carpentry, soap-making, masonry, tailoring and mechanics. When they have served their sentences, they each leave with a toolbox. "You see it feels like a college!" Moses says.
It does feel like a college (we even bump into one inmate carrying a guitar that he made himself in the prison workshop), but there are still many changes to be made. One area that needs urgent attention is clothing. It was extremely cold when we visited but only a handful of inmates were in bright, orange sweaters. The rest were shivering in their cotton shirts and trousers because the sweaters had run out.
Nevertheless, progress has been made and imprisonment is now geared more towards rehabilitation rather than retribution, which is the reason a yoga programme can exist in the first place.
Irene says that in addition to all the benefits already mentioned, yoga improves discipline and concentration. "Yoga puts you in touch with your body. I believe my home is my body. So where my feet land, that is my home," she says. "I tell them that wherever you are, even if it is in jail, at the end of the day you go back to your body. When you are stressed, you say, 'let me come back into my body, let me come back into my mind and connect with myself. Let me know myself first'."
When the one-hour session comes to an end, the inmates sit in a circle to discuss what they have gained from the sessions. Semo says the sessions have made him feel relaxed, healthy. He says yoga helps him get rid of thoughts that haunt him because of being imprisoned and the reasons why he was incarcerated. Another one, George Owino, says, "It has made me feel relaxed and have balance of mind, body and soul."
Semo, whose sentence was reduced by a further three years, will be out in 2017. He much better prepared to re-enter society now than he would have been if he had been imprisoned in the nineties. He smiles when I ask what his plans are for the future. "First, I will return to Marsabit for a while and start a family," he says. "After that, I will become an Imam."